How Much Are Jay-Z and the Other 2021 Rock and Roll Hall of Fame Inductees Worth?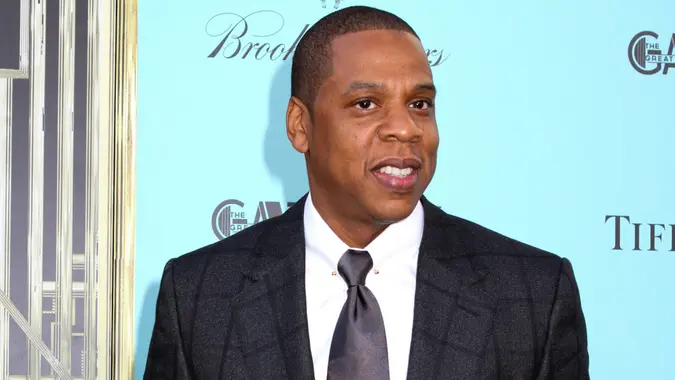 JStone / Shutterstock.com
By the time a musician has made it to the Rock & Roll Hall of Fame, most of them have a pretty impressive career behind them (and some are still in the thick of it). Millions of records sold, Grammys, Billboard hits and a beloved place in the hearts and minds of fans. Here we take a look at just how wealthy some of this year's inductees are worth, and how they've made their wealth.
See: The Richest Celebrity From Every State
Moving On From Hollywood: Former Celebrities Who Have Normal Jobs Now
Todd Rundgren
Rundgren made his break playing garage rock and psychedelia in the 1960s and co-founded the band Nazz. His solo career included recording tracks for other artists including, "Stage Fright" by The Band, "Bat Out of Hell" by Meatloaf, and "Skylarking" by XTC. He still tours today. He is worth $12 million.
The Go-Go's
The '80s all-female band made a splash in 1978 with their high energy, catchy tunes that bridged pop and punk. The band consisted of Belinda Carlisle on lead vocals, Jane Wiedlin on rhythm guitar and vocals, Charlotte Caffey on lead guitar and keyboard, Gina Schock on drums and Kathy Valentine on bass. Some of their most popular songs, like "We Got the Beat" and "Our Lips Are Sealed" were played in heavy rotation on the radio and on MTV. As a band, the total net worth of all members together is $48 million.
Make Your Money Work Better for You
Clarence Avant
Clarence Avant is an American music executive and film producer. He was nationally recognized for arranging the first deal between an African-American artist and a major record company. He has been called the "Godfather of Black Music" or "The Black Godfather," even spawning a Netflix documentary about him. He's worth $50 million.
Carole King
The beloved singer-songwriter has written (or co-written) more than 400 songs that have been recorded by more than 1,000 artists. She was named the most successful female songwriter of 1955-99 by Billboard Magazine and has produced 25 solo albums. Her album "Live at the Troubadour," with musician James Taylor, sold over 600,000 copies in the first week of its release. Her music has earned her four Grammy Awards, and an induction into the Songwriters Hall of Fame and Rock & Roll Hall of Fame for her songwriting. Today she is worth $70 million.
Read: Celebrities Who Are Not as Rich as You Think
LL Cool J
LL Cool J is an American rapper and actor who currently stars in the TV series "NCIS: Los Angeles" (since 2009). He reportedly earns $350,000 per episode. His debut album, "Radio," went platinum, selling over 1.5 million copies. In addition to singing and acting, he's earned money with apparel lines called TROOP, FUBU and Todd Smith. He founded a record label called Boomdizzle in 2009. He's worth $120 million.
Tina Turner
Iconic singer Tina Turner is among the bestselling recording artists, with over 200 million records sold worldwide. Though Ike Turner gave her that first break, inviting her to sing with his band the Kings of Rhythm (and later married), they really hit peak success in 1966 when producer Phil Spector invited them to appear in the concert film "The Big T.N.T. Show." Turner's career had peaks and valleys until 1984 when her song "What's Love Got To Do With It?" was a smash success. Though Turner no longer tours, there is a musical based on her life called "Tina" and she has written several books. She is worth $250 million.
Make Your Money Work Better for You
Foo Fighters
The rock band Foo Fighters began after Nirvana ended in 1994 (with the untimely death of its lead singer Kurt Cobain). Nirvana drummer Dave Grohl had written numerous original songs and put together an album in one week, titled "Foo Fighters." Other members include Taylor Hawkins on drums and percussion, keyboardist Rami Jaffee, Nate Mendel on bass, Chris Shiflett on back-up vocals and lead guitar, and Pat Smear on rhythmic guitar. Together, the band's net worth is $465 million.
Jay-Z
Jay-Z is more than a musician; he has made a business, an empire, even, out of his work as a rapper, producer, songwriter and entrepreneur. He broke into billionaire territory in 2019 through his business dealings, selling shares in Armand de Brignac champagne, Tidal and D'Usse cognac. He's even got equity in SpaceX and Uber, among others. He and his wife, Beyoncé, also own at least $100 million in art. He is worth $1.3 billion.
Posthumous Inductees
Not all of the inductees are alive to see themselves invited into the Rock & Roll Hall of Fame. Here are those considered deeply influential to modern music, even though they're not here to receive the honor:
Kraftwerk is considered "the foundation upon which all synthesizer-based rock and electronic dance music is built," according to the Rock & Roll Hall of Fame. The German band was founded by Ralf Hütter and Florian Schneider in 1970.
Charley Patton, a Mississippi-born musician, might be the godfather of guitar and American music, predating Jimi Hendrix, Chuck Berry and Robert Johnson.
Make Your Money Work Better for You
Gil Scott-Heron, poet, novelist, scholar and musician, left his mark in numerous ways, but particularly in the track "The Revolution Will Not Be Televised," a 1970 single that warned of the ills of mass media. It is still an influence on modern-day hip-hop, and, according to the Rock & Roll Hall of Fame, "remains a call to action for the Black Lives Matter movement."
Billy Preston was a versatile singer-songwriter and touring musician, sometimes dubbed "the fifth Beatle" for his work with George Harrison and the Beatles. The multitalented artist "is an essential part of the fabric of rock & roll, the magic ingredient that could take a song from 'good' to 'legendary,'" according to the Rock & Roll Hall of Fame.
Randy Rhoads is considered one of the most "influential guitarists of all time," according to the Rock & Roll Hall of Fame, bringing his talents to heavy metal bands such as Quiet Riot, and working with Ozzy Osbourne.
More From GOBankingRates
Last updated: Oct. 29, 2021
Methodology: For this piece GOBankingRates looked at the 2021 class for the Rock & Roll Hall of Fame. With these musical acts isolated, GOBankingRates used CelebrityNetWorth.com for net worth figures. For the posthumous inductees no net worth figures were given. For group acts, individual members' net worths were combined to give a group total. All data was collected and is up to date as of Sept. 23, 2021.
Make Your Money Work Better for You