How Much Is John Legend Worth?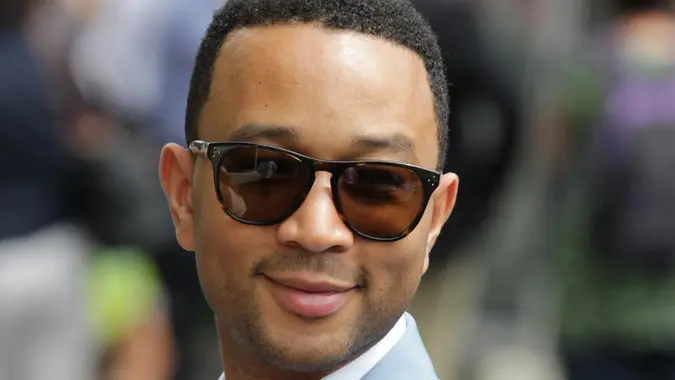 Twocoms / Shutterstock.com
John Legend is a singer, songwriter, pianist, producer and actor who released his first album through Kanye West's G.O.O.D. label in 2004. Since then, he has won the EGOT — all four major North American entertainment awards: Emmy, Grammy, Oscar and Tony — making him the first Black man to have done so. According to Celebrity Net Worth, Legend has a net worth of $75 million.
Read more: 30 Celebrities Who Went From Rags to Riches
Net worth: $75 million
Date of birth: Dec. 28, 1978
Main source of wealth: Singing and performing
Career accomplishments: Winner of nearly 30 major awards, including two Emmys, six Grammys, an Oscar and a Tony
Early Life
Born John Roger Stephens in Springfield, Ohio, Legend's parents were both musically talented — his father was a drummer and his mother sang and directed the church choir. He started performing with the choir when he was 4 years old and began playing the piano at 7. Academically gifted, he excelled in school, entering high school at 12 and graduating at 16. While in college at the University of Pennsylvania, Lauryn Hill hired him to play piano on her song "Everything is Everything."
Make Your Money Work Better for You
See: Justin Bieber, Billie Eilish and Other Musicians Set To Lose Millions to COVID-19
After graduating from college, the future star began writing, producing and recording his own music. He sent his demos to various record labels in an attempt to land a deal. In 2004 he met Kanye West, who signed him to his label. Success came soon enough — Legend's debut album "Get Lifted" won a Grammy for best R&B album in 2006. His friends gave him the nickname "Legend" because of his old school sound, and he eventually adopted it as his stage name.
Read More: 8 of the Most Notorious Music Rights Battles of All Time
Further Success and Stardom
Since his initial album, Legend has had a string of hits and big-venue performances, including the pregame ceremonies at Super Bowl XL in 2006. He has appeared on recordings for such artists as the Black-Eyed Peas, Jay-Z, Mary J. Blige, Carrie Underwood, Wynton Marsalis, Kelly Clarkson, Ludacris, Barbra Streisand and many more. In 2019, People Magazine named Legend "The Sexiest Man Alive."
See: Oprah and 24 More Celebrities With Secret Business Empires
Make Your Money Work Better for You
Personal Life
John Legend is married to model Chrissy Teigen, whom he met when she appeared in the music video for his song "Stereo." They married in 2011 and have a daughter, Luna, and a son, Miles. Teigen earns millions each year from her cookbooks and products, modeling, endorsements and television appearances. The couple owns a house in West Hollywood, two penthouses in New York City and a mansion in Beverly Hills. Legend's philanthropic endeavors include working for better education in poor communities.
More From GOBankingRates
Make Your Money Work Better for You