Here's What Chromatica Oreos, Ivy Park Clothing and Nine Other Super Limited-Edition Products Are Worth Today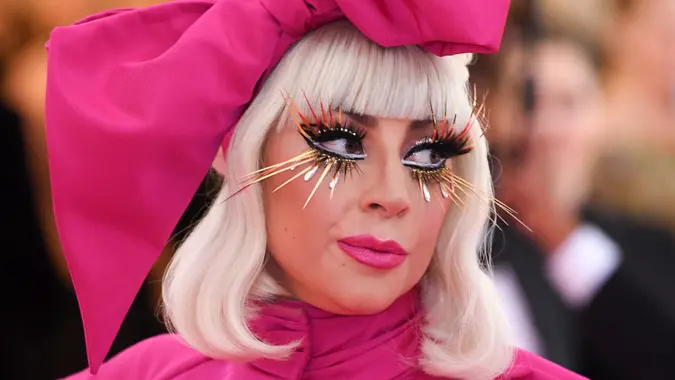 David Fisher / Shutterstock.com
Nothing can motivate potential buyers quicker than the words "limited edition." These sometimes offbeat, always rare offshoots of existing products are made in limited quantities. There's usually a celebrity tie-in, too, which helps drive up publicity and demand before whatever they're selling ends up in stores. This also means these products tend to sell out fast and become extremely hard to come by in the aftermarket. Some can even go for hundreds or thousands of dollars.
Here's a look at some noteworthy limited edition products through the years, and how much they're worth today.
Find Out: Celebrities Who Are Richer Than You Think
Chromatica Oreos
Released as part of the promotion for Lady Gaga's album Chromatica, these limited-edition Oreos were a sought-after item when they first hit shelves in early 2021. The black cookie and white filling were replaced by a pink cookie and dark green filling, and they featured a trio of designs inspired by the album's artwork.
A sealed box of these will run anywhere between $10-$20 on eBay right now, and in the $20-$25 range from sellers on Amazon.
See: Here's How Much Jennifer Aniston and Other Actors Get Paid for Their Reruns
Oakley Madman XRAW
These sunglasses are often known for their ubiquitous mall kiosks, but there are some limited edition Oakleys that can go for big bucks on the aftermarket. The Oakley Madman XRaw was limited to 250 pairs produced and retailed for $400. Today you can find a handful on eBay for around $3,500 each.
Nike Air Mag
These special issue Nikes were patterned after Marty McFly's in Back to the Future Part 2. When they were launched in 2011 they already cost a whopping $6,000. They hover around $20,000 on eBay. Assuming that they're available in your size, of course.
Make Your Money Work Better for You
Daft Punk Coca-Cola
In 2011, the French electronic duo Daft Punk teamed up with Coca-Cola to offer gold- and silver-plated aluminum bottles based on their helmets. Available only in clubs, there was also a special signed box-set that was limited to 20 worldwide. The regular bottles fetch around $60-$80 for the pair on eBay, but one of the 20 box sets is incredibly hard to come by.
Princess the Bear
This special issue Beanie Baby came out in remembrance of Princess Diana after she was killed in a car crash in 1997. Some of the proceeds went to the Princess Diana Memorial Fund, and the product's then-rabid fanbase quickly snatched them up. While tales of their six-figure value tend to be a bit exaggerated, those in mint condition (often containing a rare tag error) are listed anywhere between $2,000 and $8,000. Less pristine examples can go for as low as $20-$50.
The Crocs X Justin Bieber with Drew Classic Clog
This collaboration between pop star Justin Bieber and the infamous footwear company boasted that it pulled "inspiration from the signature yellow of Bieber's personal clothing brand, Drew House, and includes eight custom Jibbitz charms designed to match his good vibes and laid-back style." When they launched in October of 2020 they sold out in 90 minutes. You can find them on the aftermarket from anywhere between $80-$200.
Lis Nas X's 'Satan Shoes'
Another example of a celebrity dipping into the sneaker market – albeit in a much more controversial way. "Old Town Road" singer Lil Nas X released his trademark "Satan Shoes," which were custom-designed versions of Nike's Air Max 97 done in collaboration with Brooklyn art collective MSCHF. Limited to only 666 pairs, the $1,000 shoes sold out in minutes. Aftermarket prices are anywhere between $1,500 and $2,000, with some listings on eBay going up to $5,000.
Make Your Money Work Better for You
Ivy Park
Beyonce teamed up with Adidas for a full line of athletic wear, which sold out within hours of launching in January of 2020. The pop stalwart later thanked "the incredible human beings who stood in those long lines in the snow and rain" on Instagram, before launching a second line of products in October that year – which also sold out in a few hours. What items from that first round do show up online can cost anywhere from $50-$200.
Whoa: 9 Insanely Expensive Things You Can Buy on Amazon Right Now
McDonald's Szechuan Sauce
This special type of dipping sauce was initially part of a McDonald's promotion for Disney's 1998 animated version of Mulan, and quietly faded away. However, a mention on the animated hit Rick & Morty sparked a big enough outcry that the Golden Arches brought it back – a couple of times. While a regular packet can run anywhere from $15-$25, the actual Rick & Morty-branded packets can go for $300 or more.
Peanut Butter & Banana Cream Reese's
Back in July 2007, Reese's Peanut Butter Cups added banana cream to its recipe for a limited run of snacks inspired by Elvis Presley's favorite snack. A single pack of two can cost $75 today, and an unopened box will leave the building for around $250.
Supreme Spalding Basketball
This Supreme-branded Spalding basketball hit stores way back in 1996, only two years after the clothing brand was founded. While they've made several basketball designs since, it's estimated that there are only 70 of these in existence. Which, of course, means they're pulling in between $4,000-$7,000 on eBay.
More From GOBankingRates
Make Your Money Work Better for You
Last updated: Oct. 14, 2021