'Max Steel' Movie, the Franchise, and Breakout Star Ben Winchell's Net Worth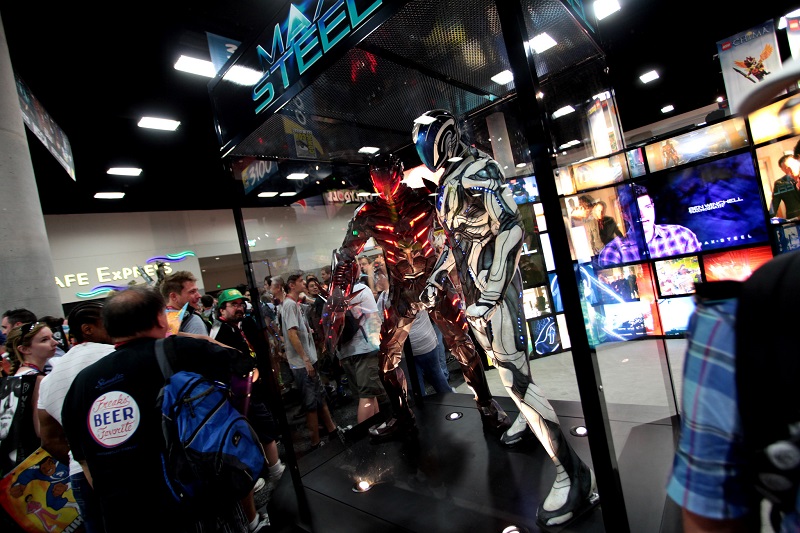 On August 28, the Max Steel superhero franchise moves from the small screen and toy store to the big screen. The film is an origin story of how teenager Max McGrath and his alien companion, Steel, join forces to combat mysterious forces threatening the world.
Mattel, Dolphin Entertainment and Open Road Films are teaming for a series of "Max Steel" movies, each with a budget between $5 million and $25 million. Although the Max Steel franchise has been wildly successful, Mattel has hefty competition in the toy-based movie industry. "Age of Extinction," Hasbro's most recent "Transformers" installation, earned $1 billion at the worldwide box office. "The Lego Movie" raked in nearly $500 million.
The "Max Steel" movie features a cast of Hollywood heavyweights, including Andy Garcia, Maria Bello and breakout star Ben Winchell. The film is being produced by Charlie Cohen, directed by Stewart Hendler and written by Christopher Yost, the writer behind the "X-Men: Evolution," "The Batman" and "Teenage Mutant Ninja Turtles" TV series.
Related: How Much Is Stan Lee Worth as Marvel's 'Ant Man' Movie Comes Out?
'Max Steel' Movie and the Hit TV Series Franchise
The Max Steel franchise began with an action figure released by Mattel in 1999. Although the toy was pulled in the U.S. in 2001, it was a massive success in Latin America, outselling even Barbie and Hot Wheels. Over a decade later, Mattel sought to reintroduce Max Steel toys to today's more media-savvy children with a new round of actions figures in the $16.5 billion retail toy industry.
In 2013, an animated Max Steel TV series launched on Disney DX, along with graphic novels, mobile gaming and the online hub MaxSteel.com, which engages kids with videos, music, Max Steel games and franchise-related updates. Now, a big screen film will draw fans to theaters while boosting the net worths of these "Max Steel" movie actors.
Ben Winchell Net Worth: $2 Million
21-year-old Ben Winchell is a rising star in Hollywood with his portrayal as Max McGrath in "Max Steel" his biggest role to date. Winchell's $2 million net worth can be attributed to his parts as Troy in Lifetime's highly-rated "Pregnancy Pact," Dixon in season three of "A.N.T. Farm" and Eric in season two of "Necessary Roughness." He also has a role in "Labor of Love" — announced earlier this year — and in "Carrie Pilby," due out in 2016.
Josh Brener Net Worth: $1.5 Million
Josh Brener, who plays the voice of Steel, earned much of his $1.5 million net worth through his role as Nelson "Big Head" Bighetti in the HBO series "Silicon Valley." He also starred in "Glee," "The Big Bang Theory," "Californication" and "The Middle." He has several projects slated for release in 2016, including "The Belko Experiment" and "Unleashed."
Maria Bello Net Worth: $8 Million
Maria Bello plays Max McGrath's mother, Molly McGrath, in "Max Steel." The actress, author and activist traces her $8 million net worth to roles in movies like "A History of Violence," "Secret Window," "The Sisters" and "McFarland USA." In 2016, she will appear in "Wait Till Helen Comes" and "The 5th Wave."
Andy Garcia Net Worth: $20 Million
Andy Garcia takes on the role of Dr. Miles Edwards, a mysterious and brilliant scientist who plays a critical part in "Max Steel." The actor might just be the biggest star to lend his name and talents to the movie. Andy Garcia began accumulating his $20 million net worth in 1981 with a small part in the pilot of "Hill Street Blues," and in the ensuing 34 years, he has earned both Oscar and Golden Globe nominations. He has racked up more than 80 credits as an actor, including a role as the mayor of New York City in the 2016 "Ghostbusters."
'Max Steel' Movie First Look
Photo credit: Gage Skidmore / Flickr