Mila Kunis' Net Worth as She Stars in 'The Spy Who Dumped Me'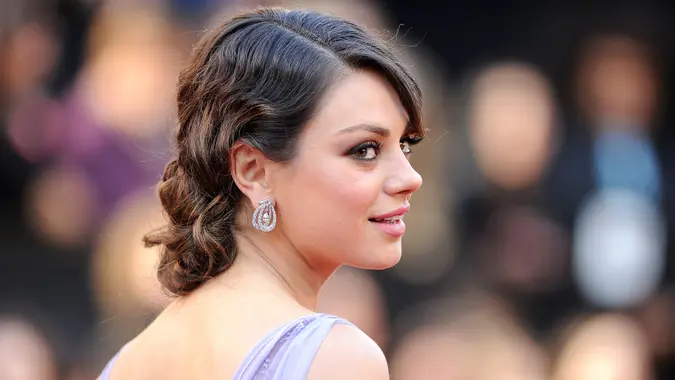 Jason Merritt / Getty Images
Breaking up is painful enough, but how would it feel like if your boo were a secret agent? Actress Mila Kunis gets to find out in her next feature film, "The Spy Who Dumped Me," out in theaters Aug. 3. The comedy also stars Kate McKinnon, Sam Heughan, Justin Theroux and Gillian Anderson. This is Kunis' first film role since 2017's "A Bad Moms Christmas," a holiday sequel to 2016's "Bad Moms."
Click to see the net worth of this former TV actress as she gears up for the movie's premiere.
Mila Kunis Net Worth: $55 Million
Mila Kunis' net worth rounds out to $55 million, according to Celebrity Net Worth.
Check Out: The Salaries of the Richest Actresses vs. the Richest Actors
Mila Kunis' Acting Beginnings
Kunis' breakthrough role came in the form of the sarcastic, stuck-up Jackie Burkhart in "That '70s Show," a role she gained by taking some liberties with her age. Before that she made appearances in several popular shows, including "Days of Our Lives," "Baywatch," and "Walker, Texas Ranger." Her first credited role was a younger version of Hope Brady, according to IMDB. In 1999, she was cast as the voice actress for Meg Griffin on the second season of "Family Guy," a role she continues to this day.
Make Your Money Work Better for You
'That '70s Show' and Ashton Kutcher
Kunis played the role of Burkhart for all eight seasons of "That '70s Show," from 1998 to 2006. While on set, she met her future husband, fellow actor Ashton Kutcher, who played the dim-witted Michael Kelso. The two played a bickering couple on-screen; Kutcher was even Kunis' first kiss.
Kutcher was previously married to Demi Moore, whom he divorced in 2013. Kunis, who'd been dating Macaulay Culkin up until 2010, eventually reunited with Kutcher thanks to a failed blind date. Kunis and Kutcher married in 2015, turning their previous on-screen romance into reality.
Related: Here's Ashton Kutcher's Net Worth and Rise to Multimillionaire
Mila Kunis Filmography and Sources of Income
Her success on "That '70s Show" and "Family Guy" paved the way for Kunis to land bigger and bigger roles. Her big break on the big screen occurred when she starred as the love interest in "Forgetting Sarah Marshall," which grossed $105 million worldwide. She received universal acclaim for her role as Lily in "Black Swan," including a nomination for a Golden Globe Award for best supporting actress. The film grossed almost $107 million domestically, and went on to net $329 million globally. For both her movie roles, and for her voice-acting talents on "Family Guy," Kunis earns millions each year. Her catalog is lucrative enough that she landed a spot on Forbes' list of highest-paid actresses of 2017.
Make Your Money Work Better for You
Other movies featuring Mila Kunis include:
"Max Payne"
"The Book of Eli"
"Friends With Benefits"
"Oz the Great and Powerful"
"Jupiter Ascending"
Click to keep reading about how much "That '70s Show" stars and other actors get paid for their reruns.
More on Celebrities and Net Worth