Dr. Dre, Katy Perry and More: The Net Worths of the Super Bowl's Richest Halftime Performers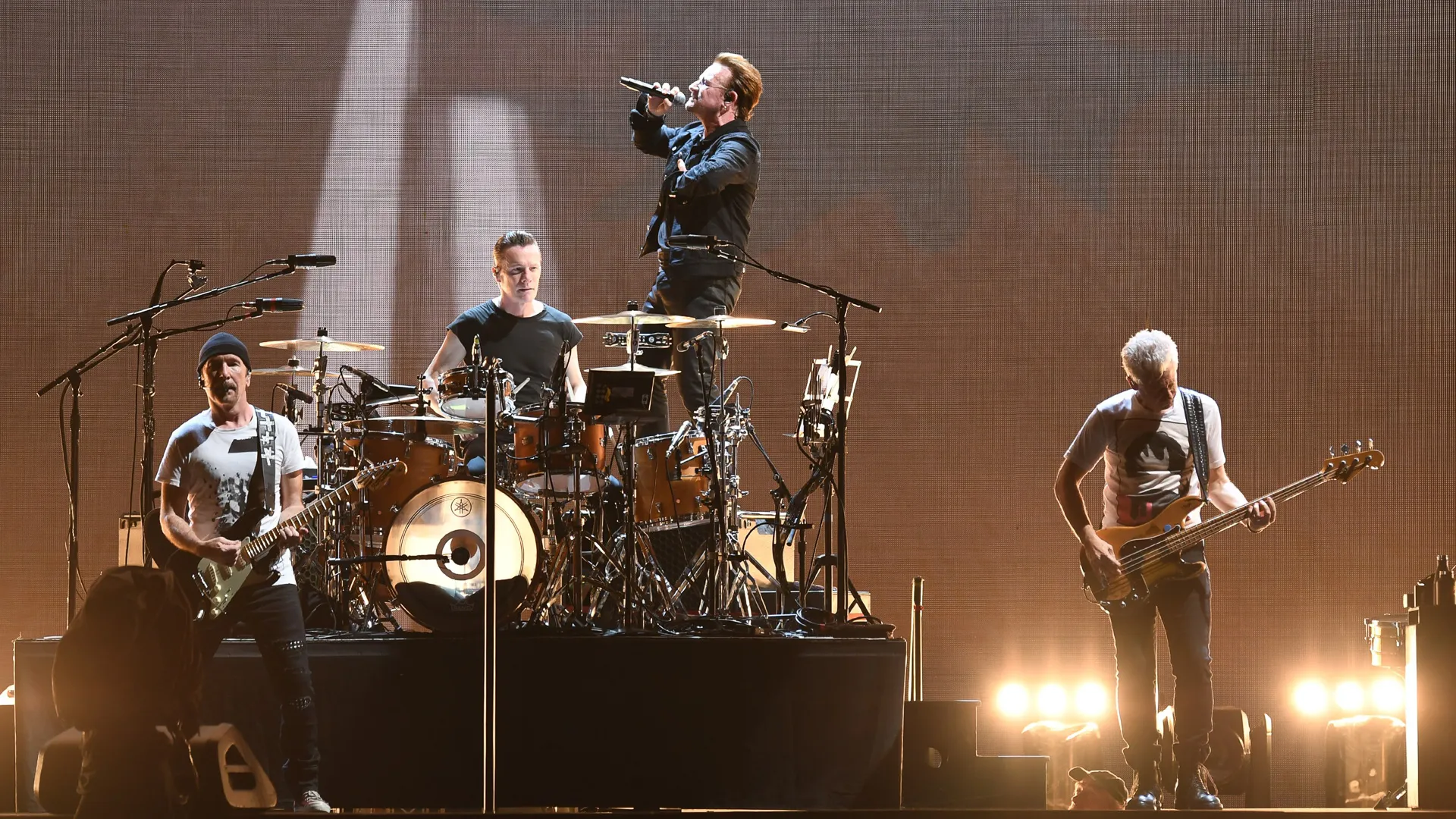 Rihanna will take the stage at halftime of Super Bowl LVII with one game record already in her pocket. The 34-year-old will be the richest solo act ever to perform at the Super Bowl, eclipsing the wealth of entertainers such as Paul McCartney and Madonna.
The Philadelphia Eagles and Kansas City Chiefs are playing in the game on Feb. 12 at State Farm Stadium in Glendale, Arizona, but Rihanna has a game plan of her own for the day.
"I want to incorporate different aspects of entertainment and things that I just enjoy and bring it to the stage," she said, per The Hollywood Reporter. "I want to celebrate the music that I've made."
While performers can rake in more than $1 million per concert when they're on tour, they don't get paid a penny for their Super Bowl appearances. Instead, Super Bowl halftime performers make money from increased sales of music and concert tickets after the game.
Rihanna can afford to work for free. Forbes pegs her net worth at $1.4 billion, amassed from her entertainment earnings and her companies, which include cosmetics giants Fenty Beauty.
Which halftime performer has fared the best financially in recent history? Here's a look at the net worths of the richest halftime performers from 1994 to 2022. For those who are deceased, the net worth listed is their net worth at passing. For bands and musical groups, the net worth is calculated based on a sum of the individual members' net worths, as estimated by Celebrity Net Worth.
Even though they don't get paid for the Super Bowl, these musicians are making bank.
Christina Aguilera Net Worth: $160 Million
The new millennium kicked off with a Disney-sponsored halftime show with big-name headliners that included Christina Aguilera, Enrique Iglesias, Phil Collins and Toni Braxton. Despite the star power of the 2000 show, many fans were disappointed that the performers sang little-known ballads instead of their more popular hits. Case in point, Aguilera joined Iglesias for a duet of the song "Celebrate the Future Hand in Hand."
ZZ Top Net Worth: $170 Million
The blues reigned supreme at the 1997 Super Bowl halftime show that featured the Blues Brothers (made up of Dan Aykroyd, Jim Belushi and John Goodman), James Brown and ZZ Top. The band performed its hits "Tush" and "Legs." Currently, band member Billy Gibbons is worth $60 million and Frank Beard is worth $50 million. Dusty Hill was worth $60 million at the time of his death in 2021.
Make Your Money Work Better for You
Bruno Mars Net Worth: $175 Million
Bruno Mars was the first performer to appear on a halftime show twice in just a three-game span. His performance at the 2014 Super Bowl XLVIII halftime show was such a hit that he reappeared as a guest act with Coldplay and Beyoncé in the 2016 Super Bowl 50 halftime show.
His performance at the 2014 halftime show started off innocently enough with children holding hands singing an excerpt from "Billionaire." Mars made his grand entrance on a moving drum stage, beating the skins as an intro to "Locked Out of Heaven."
Mars' showmanship once again did not disappoint the audience in the Super Bowl 50 halftime show. After he performed "Uptown Funk," he danced with Beyoncé before he ended his set with Coldplay lead singer Chris Martin joining him for a rendition of the song.
Usher Net Worth: $180 million
Usher rappelled onto the stage in 2011 alongside headliners The Black Eyed Peas to sing his hit "OMG," which features will.i.am. The show also featured Slash of Guns N' Roses, who performed a duet of "Sweet Child O' Mine" with Fergie.
Janet Jackson Net Worth: $180 Million
It's not often a performer makes a major ripple in the world within seconds. But that's just what Janet Jackson did in her 2004 performance with Justin Timberlake at the Super Bowl XXXVIII halftime show.
In an event that became known as Nipplegate, Jackson's bare breast emerged as Timberlake pulled at the front of her bustier during the last lines of "Rock Your Body." The move was supposed to reveal a red lace bra, but the garment failed, which brought the term "wardrobe malfunction" into common use.
Although Jackson's music sales rocketed in the weeks following her performance, the move negatively impacted her career. She was banned from that year's Grammy Awards and blacklisted from music video and radio channels for several years.
Make Your Money Work Better for You
Tony Bennett Net Worth: $200 million
You might have seen crooner Tony Bennett in two Super Bowl halftime shows. He first sang at Super Bowl XXIX in 1995 along with Patti LaBelle, Teddy Pendergrass, Arturo Sandoval and Miami Sound Machine. The show was sponsored by Disney and was themed "Indiana Jones and the Temple of the Forbidden Eye" to promote their newest Indiana Jones attraction at Disneyland.
Bennett made his second appearance in 2017 when he introduced Lady Gaga via video. Now 96, Bennett has retired from performing.
Prince Net Worth (Deceased): $200 Million
The 2007 Super Bowl XLI halftime show featuring headliner Prince began with pyrotechnic flames shooting into the sky. Queen's "We Will Rock You" got the hearts and feet of viewers pounding in rhythm. After another burst of pyrotechnics around the stage, the lights dimmed to Prince's voice intoning, "Dearly beloved, we are gathered here today to get through this thing called life."
Dressed in a teal suit and coral shirt, Prince captivated the audience with a medley of three of his hits, "Let's Go Crazy," "1999" and "Baby I'm a Star." The real surprise came when he switched from his own songs to pay homage to other artists' classics.
Prince transformed "Proud Mary" by Creedence Clearwater Revival, "All Along the Watchtower" by Bob Dylan and "Best of You" by Foo Fighters with a style distinctly his own.
Jessica Simpson Net Worth: $200 Million
Jessica Simpson kicked off Super Bowl XXXVIII in 2004 by leading the Spirit of Houston and Ocean of Soul marching bands out to the field where they performed Outkast's hit "The Way You Move." Her appearance was overshadowed by the Janet Jackson wardrobe malfunction that occurred at the end of the show's performances.
Boyz II Men Net Worth: $200 Million
Michael McCary net worth: $20 million
Nathan Morris net worth: $60 million
Wanya Morris net worth: $60 million
Shawn Stockman net worth: $60 million
In 1998, Boyz II Men headlined a halftime show dedicated to the 50th anniversary of Motown. The show opened with a video montage of celebrities — including Whoopi Goldberg and Martha Stewart — singing along to "The Way You Do The Things You Do" before the live show began. In addition to Boyz II Men, the show included performances by The Temptations, Smokey Robinson, Martha and the Vandellas, and Queen Latifah.
Make Your Money Work Better for You
No Doubt: $225 Million
Gwen Stefani net worth: $160 million
Tony Kanal net worth: $25 million
Tom Dumont net worth: $20 million
Adrian Young net worth: $20 million
In a remarkably short halftime show, No Doubt performed between Shania Twain and Sting at Super Bowl XXXVII in 2003. The band performed its hit "Just a Girl" before lead singer Gwen Stefani joined Sting to sing "Message in a Bottle." Joining Stefani in the band were bassist Tony Kanal, guitarist Tom Dumont and drummer Adrian Young.
Maroon 5 Net Worth: $225 Million
Jesse Carmichael net worth: Not available
Sam Farrar net worth: Not available
Matt Flynn net worth: Not available
Adam Levine net worth: $160 million
Mickey Madden net worth: $45 million
PJ Morton net worth: Not available
James Valentine net worth: $40 million
Maroon 5 headlined 2019's halftime show, opening up with their first-ever single, "Harder To Breathe," followed by another early hit, "This Love." The band –joined onstage by both Travis Scott and Big Boi — also sang "Sugar" and "Moves Like Jagger" during a performance that included a number of costume changes by lead singer Adam Levine.
After the performance, sales of Maroon 5's entire catalog jumped by 488%, Billboard reported.
The Who Net Worth: $240 Million
Roger Daltrey net worth: $90 million
Pete Townshend net worth: $150 million
The two remaining members of The Who, Roger Daltrey and Pete Townshend, took the stage for a pyrotechnics-filled rock 'n' roll halftime show in 2010. The 12-minute performance included a number of their top hits like "Won't Get Fooled Again."
The performance boosted sales of the band's "Greatest Hits" album: Sales rose to 8,000 (up 102%) the week of the Super Bowl, and the following week, they jumped to 14,000 (up 84%), Billboard reported.
Eminem Net Worth: $250 Million
Super Bowl LVI in 2022 marked Eminem's first time on the game's halftime stage, but he appeared in Super Bowl ads in 2011. Eminem is a multi platinum-selling American rapper and producer but he admitted before the game that his Super Bowl performance with Mary J. Blige, Dr. Dre, Snoop Dogg and Kendrick Lamar had him nervous.
"I'm gonna tell you, it's … nerve-racking," he said in a SiriusXM interview. "To me, there's nothing more final than live TV. You know what I'm saying?"
Make Your Money Work Better for You
Justin Timberlake Net Worth: $250 Million
At the 2004 Super Bowl XXXVIII halftime show, Justin Timberlake became momentarily infamous for having a hand — quite literally — in Janet Jackson's wardrobe malfunction.
Timberlake ascended the stage as Jackson completed "Rhythm Nation" to perform a duet of his hit "Rock Your Body," the show's finale. At the song's concluding lyric, "I bet I'll have you naked by the end of this song," the history-making wardrobe malfunction happened.
Despite the controversy, Timberlake was invited back as a headlining performer in 2018. Donning a camouflage suit, Timberlake played a medley of his past and present hits, including "SexyBack" and "Can't Stop the Feeling," as well as a spirited tribute to Prince.
Diana Ross Net Worth: $250 Million
Diana Ross got the honor of entertaining the crowd as the NFL celebrated the 30th anniversary of the Super Bowl in 1996. The former member of the Supremes put on a 12-minute solo show that included nine wardrobe changes and a dramatic exit via helicopter.
Ross sang some of her classics but included two new songs in her performance — a cover of Gloria Gaynor's "I Will Survive" and an original song, "Take Me Higher" — off her then-current "Take Me Higher" album. The album sold 3,000 units the week after the show, an increase of 74%, Billboard reported.
Shakira Net Worth: $300 Million
Shakira co-headlined the 2020 Super Bowl LIV halftime show with Jennifer Lopez. She sang several of her hit songs including "She Wolf" and "Wherever, Whenever," and also performed a few duets with J.Lo.
Make Your Money Work Better for You
NSYNC Net Worth: $303 Million
Justin Timberlake net worth: $250 million
Lance Bass net worth: $20 million
JC Chasez net worth: $16 million
Chris Kirkpatrick net worth: $10 million
Joey Fatone net worth: $7 million
In 2001, NSYNC took the stage as part of a star-studded lineup that included Aerosmith, Mary J. Blige, Britney Spears and Nelly. The boy band performed "Bye Bye Bye," "It's Gonna Be Me" and collaborated with all the performers for a rendition of "Walk This Way."
Lady Gaga Net Worth: $320 Million
As the headlining act for the 2017 Super Bowl LI halftime show, Lady Gaga was no stranger to the Super Bowl — you might remember her singing the national anthem at the 2016 Super Bowl 50.
While she killed her rendition of the national anthem, her halftime performance surely will be remembered as one of the greatest of all time. Gaga began by jumping off the roof, and through a series of costume changes and pyrotechnic displays, sang her way through both high-energy hits like "Poker Face" and soulful ballads like "Million Reasons." She ended her set by jumping off the stage — while catching a football, of course.
All of Gaga's prep for the show paid off in a big way. She sold roughly 150,000 digital albums and songs in the U.S. on the day of her performance, an increase of more than 1,000% compared to the day before, Billboard reported.
Katy Perry Net Worth: $330 Million
Katy Perry made her grand entrance at the 2015 Super Bowl XLIX halftime show singing her hit "Roar" on a 16-foot-high lion puppet that weighed nearly 1,600 pounds. But it was a shark that stole the show. "Left Shark's" free-frolicking moves seemed random and out of sync with "Right Shark's" tight moves, which made the clip go viral.
Perry's 12 1/2-minute performance included four wardrobe changes. From 20-carat diamond earrings to more than 22,000 Swarovski crystals bedecking her dresses, microphones and shoes, Perry's designer Jeremy Scott delivered the fashion bling for which she's known.
The Blues Brothers Net Worth: $345 Million
Dan Aykroyd net worth: $250 million
Jim Belushi net worth: $50 million
John Goodman net worth: $45 million
It might be hard to believe, but in 1997, a fictional blues and soul band headlined the actual Super Bowl halftime show. Dan Aykroyd and the late John Belushi's brother, Jim Belushi, took the stage as The Blues Brothers for the year's show, a full 17 years after the group's eponymous movie was released. "Roseanne" star John Goodman joined the duo. John Belushi, who died in 1982, had a net worth of $2 million.
They were joined by legitimate musicians on stage — James Brown and ZZ Top — but the performance has still gone down in history as one of the worst halftime shows of all time.
Make Your Money Work Better for You
Phil Collins Net Worth: $350 Million
As part of 2000's Disney-themed halftime show, Phil Collins sang the theme from "Tarzan." Other performers that year were Christina Aguilera, Enrique Iglesias and Toni Braxton.
Shania Twain Net Worth: $400 Million
Shania Twain opened up the halftime show in 2003 during Super Bowl XXXVII, performing "Man! I Feel Like a Woman" and "Up!," off her album of the same name that had just been released two months prior. The performance proved to be good publicity for the album — it sold 67,000 units, an increase of 41%, in the week after the show, Billboard reported.
Jennifer Lopez Net Worth: $400 Million
Jennifer Lopez took the stage for 2020's Super Bowl halftime show alongside Shakira. J.Lo played many of her greatest hits including "Jenny from the Block," "Ain't it Funny," and "On the Floor," in addition to doing two duets with Shakira.
Red Hot Chili Peppers Net Worth: $415 Million
Flea net worth: $160 million
Anthony Kiedis net worth: $155 million
Chad Smith net worth: $90 million
Josh Klinghoffer net worth: $10 million
At Super Bowl XLVIII in 2014, Red Hot Chili Peppers took the stage with headliner Bruno Mars to perform their hit "Give it Away." The band members – bassist Flea, drummer Chad Smith and then-guitarist Josh Klinghoffer — later admitted they struggled with the request to pre-record their music tracks for the show, but thought since singer Anthony Kiedis was performing live, they could still bring their signature energy to the performance.
Coldplay Net Worth: $460 Million
Chris Martin net worth: $160 million
Guy Berryman net worth: $100 million
Jonny Buckland net worth: $100 million
Will Champion net worth: $100 million
Coldplay headlined the Super Bowl 50 halftime show in 2016, which also included performances by Bruno Mars, Beyoncé and Mark Ronson. The whole crowd got to be involved in the performance, holding up placards that created designs and phrases across the entire stadium during the show.
Following the Super Bowl, sales of Coldplay's full discography jumped 365% in the U.S., and the band's latest album at the time, "A Head Full of Dreams," rose up in the Billboard 200 chart from No. 16 to No. 4, Forbes reported.
Make Your Money Work Better for You
Michael Jackson Net Worth (Deceased): $500 Million
Michael Jackson's 1993 performance during Super Bowl XXVII is credited as the origin of the superstar-packed halftime show. Prior to his performance, the show was more about marching bands and card stunts, Billboard reported.
The King of Pop set a high bar for this new halftime show format. He began his set by letting the tension build for 90 seconds as he stood motionless on the stage, and then went on to perform an energy-packed medley of five songs: "Billie Jean," "Jam," "Black and White," "We Are the World" and "Heal the World."
Jackson took a chance as the first performer to appear in this star-focused halftime show, and the gamble paid off. Sales of "Dangerous" increased 83% for one of its best sales weeks ever, and the album rose from No. 88 to No. 41 on the Billboard 200 chart. The album sold over 50,000 units for the next six straight weeks, Billboard reported.
Dr. Dre Net Worth: $500 Million
Dr. Dre made his halftime show debut at the 2022 Super Bowl. Dre got his start in rap group N.W.A. before becoming a solo artist, then a producer for fellow halftime performers like Eminem. He also co-created the electronics company Beats by Dre with Jimmy Iovine. Apple acquired the brand in 2014. NBC News reported the purchase price was $3 billion.
Gloria Estefan Net Worth: $500 Million
Gloria Estefan has performed as a halftime show headliner twice — first in 1992 and again in 1999. The 1992 show was a winter-themed production featuring ice dancers with the game in chilly Minneapolis, while 1999's halftime show was all about dance — swing dancers, tap dancers and salsa dancers were all part of the spectacle. For the latter show, Estefan was joined onstage by Stevie Wonder, Big Bad Voodoo Daddy and Savion Glover. She and her Miami Sound Machine also were part of the 1995 Indiana Jones-themed halftime ensemble.
Make Your Money Work Better for You
Beyoncé Net Worth: $500 Million
Posing before a pyrotechnic display of herself, Beyoncé opened the 2013 Super Bowl XLVII halftime show by belting out a snippet of "Love on Top." She packed nine of her hit songs into the 14-minute show, surrounded by dramatic special effects and tightly choreographed backup dancers.
Beyoncé's former Destiny's Child bandmates joined her onstage for three songs. The reunited trio rolled through fan favorites including "Independent Women Part 1" and "Bootylicious" before finishing with Beyoncé's own "Single Ladies."
Beyoncé returned to the Super Bowl stage in 2016 for a guest appearance. She performed her newly released single "Formation," danced with Bruno Mars to "Crazy in Love" and joined Mars and Coldplay's Chris Martin for a rendition of "Uptown Funk."
Aerosmith Net Worth: $530 Million
Steven Tyler net worth: $150 million
Joe Perry net worth: $140 million
Tom Hamilton net worth: $100 million
Joey Kramer net worth: $100 million
Brad Whitford net worth: $40 million
The 2001 Super Bowl marked a new direction for the halftime show. In previous years, there was less of a focus on current artists and more of an emphasis on beloved stars from the past, Billboard reported.
The 2001 show was a pop fan's dream come true with a mashup of hits performed by some of the biggest acts of the time: Britney Spears, 'N Sync, Aerosmith, Nelly and Mary J. Blige. Aerosmith sang some of their most popular songs during the show, including "I Don't Want To Miss a Thing" and "Walk This Way" — the big finale that included all the performers in one iconic halftime show moment. The band also used the platform as an invaluable promotion opportunity by performing "Jaded," the lead single from their upcoming album "Just Push Play," which was due out the following month.
Make Your Money Work Better for You
Sting: $550 Million
Sting closed out Super Bowl XXXVII in 2003 with No Doubt, singing the 1979 hit "Message in a Bottle" from Sting's time with The Police.
Bruce Springsteen Net Worth: $650 Million
Bruce Springsteen opened the Super Bowl XLIII halftime show by addressing the viewers at home, not in the stadium. "Ladies and gentlemen, for the next 12 minutes, we're going to bring the righteous and mighty power of The E Street Band into your beautiful home!" He advised viewers to step back from the guacamole dip, put the chicken fingers down and turn the volume up.
The Boss broke into "Tenth Avenue Freeze Out," and about two minutes into it took a running slide toward the camera and crashed into it. Springsteen used a runway to get up close with the crowd while fireworks shot off in time to the music.
Springsteen's Super Bowl appearance coincided with the release of "Working on a Dream" earlier that week. The album landed in the top spot on the Billboard 200 chart for the week ending Feb. 1, with a total of 224,000 albums sold.
Madonna Net Worth: $850 Million
Madonna entered the 2012 Super Bowl XLVI halftime show on an elaborate chariot borne by a parade of marching Roman warriors. Twelve minutes later, she disappeared in a dramatic plume of smoke. Between the two events, she held millions of viewers spellbound.
Viewers saw Madonna transform from exotic princess to cheerleader to choirmaster and more as she danced and sang with guests Nicki Minaj, M.I.A. and Redfoo. She rode a bejeweled human serpent, danced with a tightrope trickster and vogued with a contortionist and break-dancing lyre player.
She also debuted a song from her then-upcoming album "MDNA" — "Give Me All Your Luvin'" — with Minaj and M.I.A. The album received 50,000 preorders by the end of Super Bowl Sunday. Her appearance boosted her other music sales, too. Her older albums saw a rise of 410% and fans downloaded 115,000 copies of her new single by week's end.
Make Your Money Work Better for You
Sean Combs: $900 Million
Sean Combs — known then as P. Diddy — co-headlined the 2004 Super Bowl XXXVIII halftime show. The halftime show was produced by MTV and focused on its Choose or Lose campaign that encouraged people to vote in that year's elections.
Paul McCartney Net Worth: $1.2 Billion
The 2005 Super Bowl XXXIX halftime show opened with a decidedly retro feel as Paul McCartney launched into "Drive My Car" from his days with The Beatles. Other oldies but goodies included "Get Back" and the set's finale "Hey Jude." In between, McCartney sandwiched a favorite from his Wings days, "Live and Let Die."
McCartney was no stranger to the Super Bowl. Although 2005 was his first time headlining the event, he sang "Freedom" at the 2002 Super Bowl XXXVI pregame show. At halftime that year, he harmonized with Fox Sports broadcaster Terry Bradshaw — the duo belted out a short rendition of "A Hard Day's Night."
The Rolling Stones Net Worth: $1.4 Billion
Mick Jagger net worth: $500 million
Keith Richards net worth: $500 million
Charlie Watts net worth: $250 million
Ronnie Wood net worth: $200 million
No special effects were necessary at the 2006 Super Bowl XL halftime show. The Rolling Stones did what they do best — played rock and roll.
All eyes were on Mick Jagger as he shook and wiggled down the giant, tongue-shaped stage "licking" into the audience. The band played just three songs during its 12-minute set. The Stones kicked things off with "Start Me Up" and then rolled into "Rough Justice" during the first half of their performance. They devoted the second half entirely to the crowd-pleasing song "Satisfaction," which lasted more than six minutes.
The Rolling Stones saw only a minimal increase in music sales — around 9% — immediately following their performance. However, the performance coincided with their "A Bigger Bang" tour, which became the highest-grossing tour of all time in 2007.
Make Your Money Work Better for You
U2 Net Worth: $1.85 Billion
Bono net worth: $700 million
Adam Clayton net worth: $400 million
The Edge net worth: $400 million
Larry Mullen Jr. net worth: $350 million
Had Janet Jackson only said yes to her invitation to sing at the 2002 Super Bowl XXXVI, Nipplegate might never have happened. However, she didn't feel comfortable headlining the halftime show after the 9/11 attacks happened just a few months before.
U2 was a natural choice for the NFL's top marketing executive, John Collins. Shortly after Jackson declined, he watched U2 play at Madison Square Garden. As the band performed one of many encores that night, the names of those killed in the terror attacks just weeks before scrolled across the arena's domed ceiling. It was riveting as people started recognizing victims' names.
U2 brought the concept with them to the Super Bowl XXXVI halftime show. After they opened with "Beautiful Day," a towering screen behind the stage scrolled the names of those killed while the band rolled through "MLK" and "Where the Streets Have No Name."
The scrolling came to an end when the screen suddenly dropped down, mirroring the World Trade Center's collapse. The emotional set concluded with Bono opening his jacket to reveal the American flag on its inside lining.
More From GOBankingRates
Jami Farkas, Sam DiSalvo and Jodi Thornton-O'Connell contributed to the reporting for this article.
Methodology: GOBankingRates used CelebrityNetWorth.com to identify all Super Bowl Halftime performers. All data was collected on and up to date as of Feb. 5, 2023.