How Much Is Oprah Worth?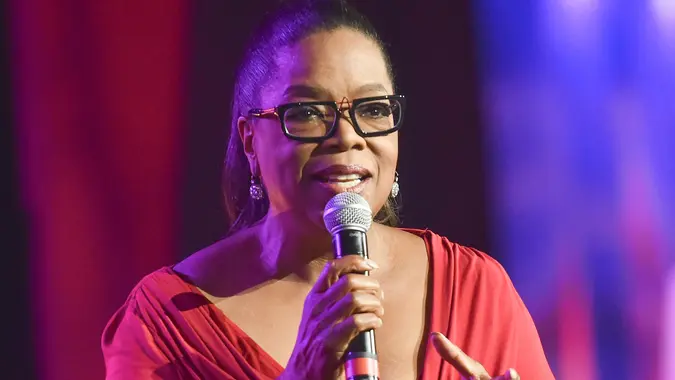 Paras Griffin / Getty Images
Talk show host-turned-media mogul Oprah Winfrey has amassed a net worth of $2.6 billion, according to Forbes. In addition to her talk show earnings, Winfrey has added to her wealth through her cable network OWN, her stake with Weight Watchers, and a multi-year deal with Apple TV+. In honor of Winfrey's massive accomplishments, take a look at how the 68 year-old became a billionaire.
See: 5 Collector's Items Worth Selling for Extra Cash
Find: 22 Side Gigs That Can Make You Richer Than a Full-Time Job
Net worth:

$2.6 billion
Date of birth: Jan. 29, 1954
Primary sources of wealth: TV shows
Career highlights: Served as host and supervising producer of "The Oprah Winfrey Show" for 25 years
Oprah Winfrey's Net Worth: $2.6B
Winfrey has been able to parlay the success of her long-running talk show into a media empire. According to Forbes, she has built the reinvested profits from "The Oprah Winfrey Show" into $2 billion.
In 2011, she launched the cable channel OWN and maintains a 5% stake in the network. In 2020, she sold over 25% of her ownership in the company to Discovery channel for over $36 million in stock, according to Forbes. She is also a brand ambassador for Weight Watchers and has a 4.8% stake in the company. In 2018, she signed a multi-year partnership deal with Apple to create original content for its streaming platform, Variety reported.
Make Your Money Work Better for You
In addition to these income streams, Winfrey has had success as a producer through her company Harpo, which has developed several long-running syndicated talk shows that include "Dr. Phil," "The Dr. Oz Show" and "Rachael Ray." She has also produced several Academy Award-winning features through Harper Films, including "Selma." Winfrey has also appeared in front of the camera in a number of notable films, like "Lee Daniels' The Butler" and "A Wrinkle in Time."
On top of all of that, Winfrey runs her own magazine, O, The Oprah Magazine, and has published several books, including The New York Times bestselling cookbook "Food, Health and Happiness."
Oprah Winfrey's Real Estate
Winfrey's main residence is in Montecito, California, a coastal community outside of Santa Barbara. In 2001, she purchased her home — which she nicknamed "The Promised Land" — for $50 million, Realtor.com reported. The estate includes six bedrooms, 14 bathrooms and 40 acres of land that house a pool, stables, vegetable gardens and a pond. In 2015, she added to her estate with a $28.85 million purchase of an additional 23.26 acres, and most recently, she purchased Jeff Bridges' former Montecito home for $6.85 million, bringing her total acreage in the area to almost 70 acres.
Make Your Money Work Better for You
She has also purchased over $40 million worth of real estate in Maui, Hawaii, several properties in Chicago, a $10.85 million property in Mountain Village, Colorado, and an $8.2 million property on Orcas Island, off the coast of Washington State.
Oprah Winfrey's Philanthropy
Winfrey has concentrated much of her charitable giving on education. After a 2000 visit to South Africa, she contributed more than $40 million toward the creation of the Oprah Winfrey Leadership Academy for Girls. It opened in South Africa in January 2007 and now serves grades 7 through 12.
More From GOBankingRates
Make Your Money Work Better for You