Rapper Pitbull's Net Worth Reaches $65 Million on His 35th Birthday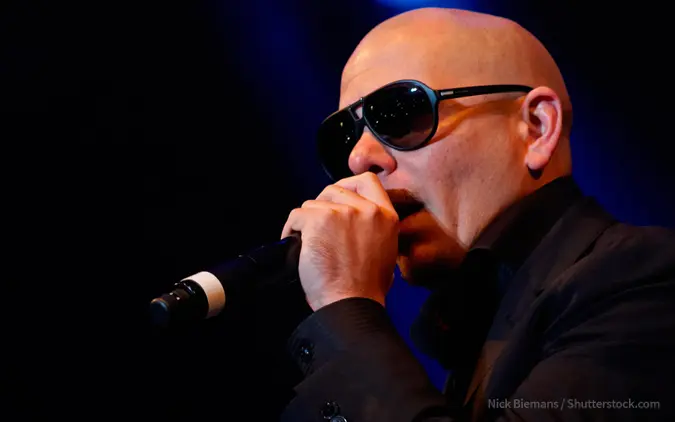 Armando Christian Perez — known by millions of fans worldwide as Pitbull — will turn 35 on Jan. 15. The rapper, songwriter, producer and actor is not just a successful artist, he's one of this generation's greatest collaborators. He has made guest appearances on a seemingly endless list of popular tracks and albums, not to mention appearances on TV shows.
Although he hasn't made public his plans for this year's celebration, the Cuban-American Miami native celebrated his 34th birthday in 2015 surrounded by school children and powerful Florida dignitaries at the Sports Leadership and Management Academy. He even spent $15 million to open this charter school in his home city. Here's a look at Pitbull's career, net worth and his impact on the entertainment industry and as a entrepreneur.
Related: Why 2016 Is the Year of the Entrepreneur
Pitbull Net Worth: $65 Million
Pitbull's net worth is $65 million, according to CelebrityNetWorth. He earned $6 million in 2011 — and his annual salary has only grown every consecutive year. In 2012, he brought in $9.5 million, followed by $11 million in 2013. In 2014, he earned $12 million, which was his best year to date until 2015, when he broke all of his financial records by pulling in $17 million.
Pitbull: Music Career and Top Hits
The world was introduced to Pitbull in 2002, when he rapped on Lil Jon's "Kings of Crunk." Two years later in 2004, he released his debut album "M.I.A.M.I. (Money is a Major Issue)." Since then, he's enjoyed a run of successful albums.
Make Your Money Work Better for You
In 2006, Pitbull earned $190,000 from his "El Mariel" album which sold 189,499 copies. He sold 32,084 copies of "Boatlift," earning him $33,000 in 2007. He earned $253,000 from 2009's "Rebelution," which sold 249,000 copies, and "Planet Pit" sold 477,000 copies after being released in 2011, landing Pitbull a $480,000 payday. In 2012, he released "Global Warming," which sold 355,000 copies and brought in $360,000 for Pitbull.
Fans gobble up Pitbull online, as well. His 2014 album "Globalization" reached No. 26 on the HipHopDX charts with 16,835 album sales and more than 3.5 million online streams. The Los Angeles Times called "Globalization" a "successful formula of mixing salsa with hip-hop, hip-hop with EDM, EDM with pop and all of it with a cocky sense of humor and some of the worst pickup lines ever." In 2015, he also released "Dale," his second Spanish-language album. Some of Pitbull's top hits include "Krazy," "Give Me Everything" and "I Know You Want Me."
Pitbull: Endorsements and Business Deals
Pitbull isn't just a music genius, he's also a savvy businessman and entrepreneur. He has a TV development company and line of fragrances for both men and women — not to mention a slew of lucrative endorsement deals. However, Pitbull's endorsement deal earnings have not been publicized.
The bilingual Cuban American has successfully leveraged his ethnicity into major marketing deals. The two Bud Light ads he has appeared in were part of multicultural campaigns featuring his music, and he touts his status as the son of Cuban immigrants in a Dr. Pepper commercial. He has a significant equity stake in sandwich chain Miami Subs Grill and is an investor in EcoloBlue, a company that sells filters designed to create water from air. Pitbull is also not just a spokesperson for Voli Vodka, but a partner.
Make Your Money Work Better for You
Pitbull: Children and Family Life
Pitbull is the father of six children, ages 2 to 12. Two of his children are with Barbara Alba, who sued the rapper in 2011 to increase the $3,000 monthly paternity payment he had been paying her without a formal agreement. The two came to an agreement and the matter was resolved, though the new payment amount was never revealed.
Pitbull 'Time of Our Lives' Music Video
Pitbull's hit "Time of Our Lives," which reached No. 9 on the Billboard charts, had over 135 million views on YouTube by the end of 2015.
Pitbull's dynamic career shows no signs of slowing down. He opened at the World Cup, hosted the American Music Awards, took center stage at Pitbull's New Year's Revolution on December 31st on Fox and even launched his own Sirius XM radio station. It appears that Mr. 305 is fulfilling his dream of becoming Mr. Worldwide.