How Rich Is MSNBC Host Rachel Maddow?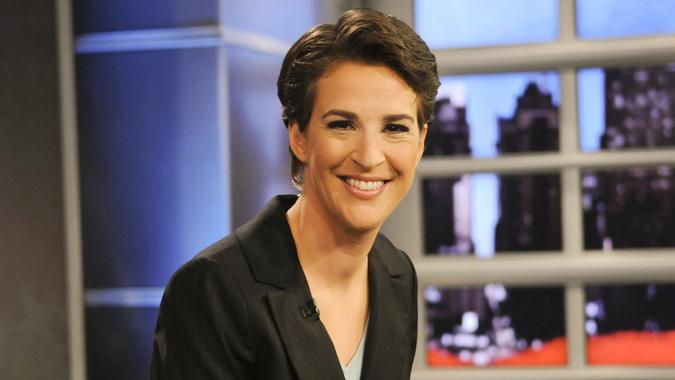 Ali Goldstein/NBC-TV/Kobal/REX/S / Ali Goldstein/NBC-TV/Kobal/REX/S
Rachel Maddow got her start with MSNBC as a political analyst and launched her eponymous show on the network in 2008. She has gone on to become one of the highest-paid TV stars, with a multimillion-dollar salary. Here's what you need to know about Maddow and her net worth.
Find Out: Jessica Simpson and 25 More Celebs Who Got Richer From Their Second Jobs
Net Worth
Rachel Maddow has a net worth of $25 million, according to Celebrity Net Worth. Much of her net worth comes from her salary as host of "The Rachel Maddow Show," but is also the author of the New York Times bestseller, "Drift: The Unmooring of American Military Power."
Adding to Maddow's wealth are her real estate holdings, which include a pre-Civil War farmhouse in Western Massachusetts. In 2010, she bought an apartment in New York City from Michael Stipe, lead singer of REM, for $1.25 million. The property changed hands again in February 2021, selling for $2.25 million.
Related: Anderson Cooper Net Worth — His Fortune at Age 54
Salary
Rachel Maddow gets paid a lot to discuss current events. Her MSNBC salary is reportedly $7 million, according to E! News.
Make Your Money Work Better for You
More than 10 years after its launch, "The Rachel Maddow Show" continues to resonate with viewers. In the first quarter of 2021, she was the most-watched host in cable news, with her show averaging 3.6 million viewers each night, according to Forbes. As of April 2021, the show had topped programming in the 9 p.m. weeknights slot for 95 straight months, per MSNBC.
Learn More: Oprah and 24 More Celebrities With Secret Business Empires
Education
Maddow's resume was impressive even before she became the host of her own talk show. She received a bachelor's degree in public policy from Stanford University and then went on to earn a doctorate in political science at Oxford University, which she attended on a Rhodes Scholarship.
Before appearing on MSNBC, Maddow was a host on Air America Radio, where she worked from its inception in 2004. Prior to that, she was a host on two local radio stations in Massachusetts.
Check Out: Do You Invest Like These Millionaire Stars?
Book
Maddow published her book, "Drift: The Unmooring of American Military Power," in 2012. The book discusses America's drift into a state of perpetual war. It reached No. 1 on the New York Times bestseller list and was praised by the Washington Post and Kirkus Reviews.
Make Your Money Work Better for You
Read Next: The Richest Celebrity From Every State
Honors and Awards
Maddow has received numerous awards for her journalistic efforts, including:
Gracie Allen

Individual Achievement Award for Outstanding Host-News Program (2009)

Television Critics' Association Award nomination for Outstanding Achievement in News & Information (2009)
The Interfaith Alliance's Walter Cronkite Faith & Freedom Award (2010)
Martha Heasley Cox Center for Steinbeck Studies' Steinbeck Award (2012)
National Television Academy's News and Documentary Emmy Award for Outstanding News Discussion and Analysis (2011, 2017) and for Live Interview (2017)
More From GOBankingRates
Jami Farkas contributed to the reporting for this article.
Last updated: July 15, 2021