How Much Is Ryan Gosling Worth?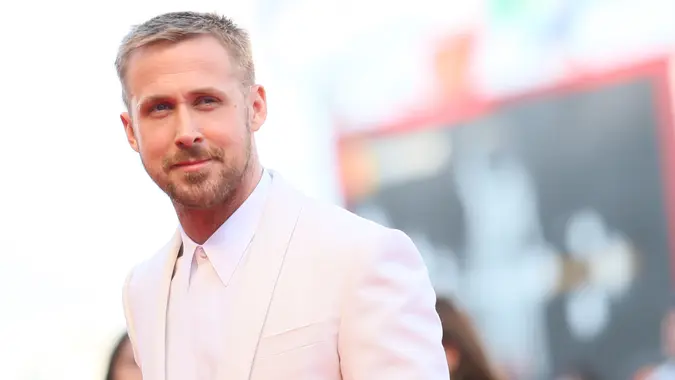 Denis Makarenko / Shutterstock.com
Canadian actor, writer and director Ryan Gosling catapulted his career to stardom with his 2004 role in "The Notebook" alongside actress Rachel McAdams. If you haven't seen him in any of his long list of movie credits, which include "La La Land," "Drive" and "Crazy, Stupid, Love," you may recognize him from the "Hey, girl…" memes. While those memes didn't net him any money, his movie career and other ventures have made him a wealthy man as he turns 42.
Net Worth: $70 million
Date of Birth: Nov. 12, 1980
Primary Source of Wealth: Acting
Career Highlights: Best known for playing Noah opposite Rachel McAdams in "The Notebook"
Check Out: 45 Richest Child Stars of All Time
Read More: If Your Credit Score Is Under 740, Make These 4 Moves Now
Growing Paychecks
While Gosling's net worth, estimated at $70 million by Celebrity Net Worth, is impressive, his movie paydays have yet to reach the stratospheric level of some of his contemporaries. Insider reports Tom Cruise earned more than $100 million for his starring role in "Top Gun: Maverick," and Leonardo DiCaprio is being paid $30 million for the upcoming "Killers of the Flower Moon." Still, Gosling earns a whole bunch more than he did when he appeared in "The All New Mickey Mouse Club" in the mid-1990s with Justin Timberlake, Britney Spears, Christina Aguilera and Keri Russell.
Make Your Money Work Better for You
Gosling earned $1 million for "The Notebook," according to CheatSheet. He earned $6 million and $8 million, respectively, for "Crazy, Stupid, Love" and "La La Land." His pay skyrocketed up to $10 million for "Blade Runner 2049," less than 10% of the movie's $155 million budget.
But his salary per film has gone way up. Cosmopolitan reported he is being paid $12.5 million for his role as Ken in the "Barbie" movie, scheduled for a July 2023 release. And Gosling also earned about $20 million for the 2022 spy thriller "The Gray Man" for Netflix, where he has a multipicture bonus, according to Variety.
Take Our Poll: What's the First Thing You Would Do if You Won a Big Lottery Jackpot?
Ryan Gosling's Other Pursuits
In addition to his acting, Gosling co-owns a Moroccan restaurant called Tagine in Beverly Hills. He also released a Halloween-themed album of original music as part of a duo called Dead Man's Bones with his friend Zach Shields.
Ryan Gosling has donated to numerous charities over the years, including PETA, the Silverlake Conservatory of Music, Mercy for Animals and several others, LookToTheStars.org reports. In 2005, after Hurricane Katrina wreaked havoc in the New Orleans vicinity, Gosling helped the cleanup effort in Biloxi, Mississippi.
Make Your Money Work Better for You
This summer, Gosling teamed with Chris Evans, his co-star in "The Gray Man," to raise about $275,000 for Boston-based Christopher's Haven, which provides housing for pediatric cancer patients and their families during treatments, People reported.
Personal Life
Ryan Gosling has been in a relationship with fellow actor Eva Mendes since 2011 when they met during the filming of "The Place Beyond the Pines." An intensely private couple, they've revealed little about their relationship through the years. They have two daughters: Esmeralda, born in 2014, and Amada, who followed in 2016.
In December 2021, the real estate website Dirt reported the couple had sold two properties in the Los Angeles area in private, off-market transactions, part of their plan to raise their children outside the bright lights of Hollywood. Rumors abounded they would relocate to the Toronto area, where Gosling is from, but it isn't clear where they have decided to make their permanent home.
Make Your Money Work Better for You
More From GOBankingRates
Make Your Money Work Better for You