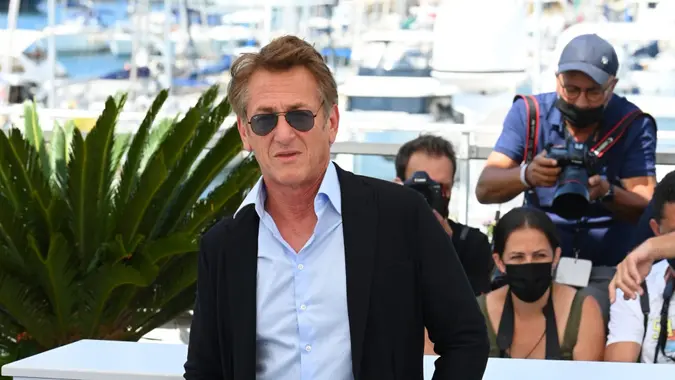 ©David Fisher/Shutterstock
Though Sean Penn has acted in and directed more movies than many actors his age, he may be most famously remembered for his role as the goofy stoner Jeff Spicoli in the '80s teen flick "Fast Times at Ridgemont High" alongside other '80s icons, such as Erik Stoltz and Phoebe Cates. His actual film debut was a year earlier, in a serious role in the 1981 film "Taps." It would be his role in the drama "Bad Boy" in 1983, however, where he made his mark as the serious kind of actor he has become known to be.
See: The Richest Celebrity From Every State
Read More: 15 Highest-Grossing Actors of All Time
Sean Penn's Net Worth: $70 Million
Penn's salary reflects that he has spent most of his adult life working. Celebrity Net Worth estimates his net worth at $70 million, though it was much higher before he divorced ex-wife Robin Wright, whom he's reported to have paid as much as $50 million in their divorce settlement. They were married from 1996 to 2010 and have two children together.
Sean Penn's Acting Career
Penn was busy in the 1980s, with such movies as "Racing with the Moon," "The Falcon and the Snowman," "At Close Range" and the flop "Shanghai Surprise," in which he starred alongside his wife at the time, singer Madonna.
He took a break from acting in the 1990s to focus on his directing career but returned to acting in 1993's "Carlito's Way." That role earned him a Golden Globe Award nomination for best supporting actor. He also received an Academy Award nomination for best actor for 1995's movie "Dead Man Walking" where he starred opposite Susan Sarandon. His first Academy Award win came in 2003 for best actor in the crime drama "Mystic River."
Make Your Money Work Better for You
The Richest of the Rich: See How Much Tom Cruise, Tom Hanks and More A-List Movie Stars Are Worth
Penn's penchant for the dark and serious has defined his career in many ways, and shaped the roles he has taken. After starring in "The Assassination of Richard Nixon" in 2004, he was invited to join the Academy of Motion Picture Arts and Sciences. He won his second Academy Award for 2008's biopic "Milk," where he played gay rights icon and politician Harvey Milk.
Find Out: Scarlett Johansson, Jennifer Aniston and 25 of the Richest Actresses of All Time
Directing and Writing
Penn didn't stop at acting, however. He has directed quite a few films, including "The Pledge" and "The Last Face" and several music videos for singers Shania Twain, Lyle Lovett and Peter Gabriel.
In 2018, Penn also published a novel, "Bob Honey Who Just Do Stuff."
Real Estate
Penn purchased a number of homes over the years, in Los Angeles, Malibu and the Hollywood Hills. After fires and thefts, he and Wright bought a $2.1 million home in Ross, California, 30 minutes north of San Francisco in Marin County. When they divorced, they listed the home for sale in 2008 for $15 million, but were only able to get $8 million for the home in January 2010. After the divorce, Sean purchased a $3.8 million home in Malibu, California, in May 2009.
More From GOBankingRates
Make Your Money Work Better for You
Last updated: August 30, 2021