The Hunger Games Investment Series — District 6: Transportation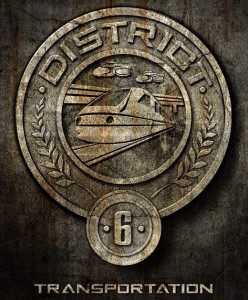 Image: Facebook.com/District6PN
In The Hunger Games, District 6's industry is transportation. The book suggests that addiction to "morphing," a morphine-like pain medication, is widespread in this district.
So we've got the folks responsible for transporting — be it via driving, flying, navigating, conducting — with the addiction issue. That sounds like a literal train wreck. Let's hope the tributes (entrants in Games) stick to the Games, and steer clear of conducting for the top stock tribute I'm throwing into the investment arena!
Let the Games begin!
The Hunger Games District 6: Human Tributes
Only one tribute is mentioned by name in the book, and he's former tribute, not one in the 74th or 75th Games:
Titus: Titus was a male tribute in an unspecified Games, who is mentioned in the book. Titus' weapon was cannibalism. Though the Games are a no-holds-barred competition, cannibalism was even too much for the Capitol audience (I won't provide details so as not to be a spoiler).
Both tributes in the 75th Games were addicted to morphing, and together are referred to as "the Morphlings."
The Hunger Games District 6: Transportation Industries
Here's a chart showing the commonly used transportation industry classifications (according to Morningstar Inc., which supplies this data to many financial sites), the number of stocks within each that trade on a major U.S. stock exchange and the top 1-year performer within each industry.
| | | | |
| --- | --- | --- | --- |
| Industry  | # Stocks | Top Performer  (Ticker), Country | 1-Year Return (%)* |
| | | | |
| Air Deliver & Freight | 12 | Radiant Logistics (RLGT), US | 57.2 |
| | | | |
| Major Airlines | 7 | TAM, S.A. (TAM), Brazil | 22.4 |
| | | | |
| Railroads | 16 | Kansas City Southern (KCU), US | 37.1 |
| | | | |
| Regional Airlines | 12 | Copa Holdings (CPA),  Panama | 51.4 |
| | | | |
| Shipping | 49 | Golar LNG (GLNG), Bermuda | 90.9 |
| | | | |
| Trucking | 23 | XPO Logistics (XPO), US | 91.2 |
(*S&P 500 up 8.8% over period. Data to 3/14/12)
The Hunger Games District 6: Transportation Stock Tributes
Methodology for Tribute Selection
I limited the entrants for top stock to the top 1-year performing stocks in each of the transportation classifications. I considered past-performance (such as the 5-yr), as I believe it's relevant. That said, past performance is no guarantee of future performance, so I chose stocks where the current stats look promising for the future performance.
As for the poor stock, I decided to a highlight a major airline, as that industry is notorious for volatile and generally poor longer-term performance. The U.S. has long had an over-capacity issue, which drives prices down. Additionally, airline stock prices are quite sensitive to oil prices — as, as most know, oil prices have soared over the past decade or so.
That said, the poor stock could very possibly perform well in the near future — simply because it's stock price has been beat down so much. In fact, it's likely to bump up over the short-term as the economy continues to improve and people fly more.
There is no doubt I could find smaller transportation company stock that look less promising in the near future. But I think showing just how poorly a major airline performed not only over the 1-year period, but most especially over the 5-year period (see chart), in comparison to a major railroad company is much more illustrative.
Transportation Stock Tributes
Top Stock:  Kansas City Southern (KSU)
Poor Stock:  U.S. Airways (LCC)
KSU & LCC Vs. S&P 500 (5-Year)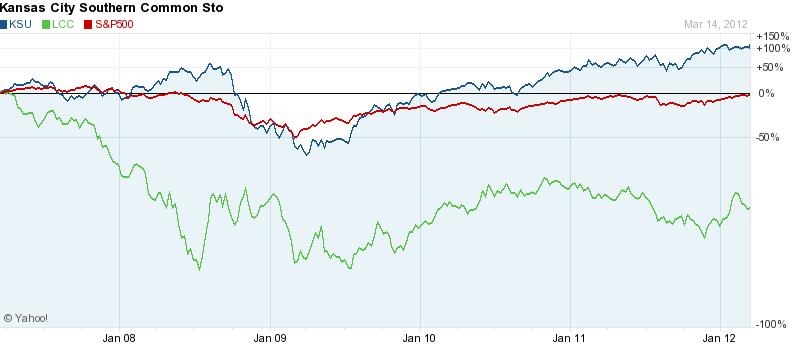 Kansas City Southern ($8.1 billion market cap)
Kansas City Southern, based in Kansas City,  MO, is in the freight rail business. It serves various industries, including electric utilities, chemical and petroleum products, paper and forest products, agriculture and mineral products and automotive products.
It has rail routes between Kansas City and various ports along the Gulf of Mexico in Alabama, Louisiana, Mississippi and Texas. It also has rail lines between Mexico City and Laredo, TX, serving various Mexican industrial cities and three seaports; a rail line from Laredo to the port city of Corpus  Christi, TX; and owns half of the rail bridge at Laredo.
Additionally, the company holds a concession to operate a railroad located adjacent to the Panama Canal, as well as operates commuter and tourist passenger services. It also operates a bulk materials handling facility at Port Arthur, TX, that stores and transfers petroleum coke from rail cars to ships primarily for export.
The stock returned 37.1% over the past 1-year period. Operating and profit margins are 28% and 16%, respectively, which are considerably higher than industry averages (industry average operating margin is 18%). Last quarter's revenue growth was almost 11%, while earnings grew 75% (earnings growing faster than revenue = expanding margins, a positive). Trailing (12 mos.) P/E (Price-to-Earnings) is 24, and forward P/E is 18. Return-on-Equity (ROE) is 11.5%.
One reason for KSU's recent out-performance is it's exposure to coal (about 14% of total revenue) is lower than its peers', and coal has been in a slump.
KSU should continue to benefit if the U.S. and global economies continue to strengthen.
US Airways Group ($1.2 billion market cap)
US Airways Group (LCC), based in Tempe, AZ, provides passenger air service in the U.S, Mexico, Europe, the Middle East, the Caribbean and Central and South America; and hourly shuttle service between Boston, LaGuardia (NYC) and Washington National. It operates hubs in Charlotte, Philadelphia and Phoenix; and a focus city in Washington, D.C.
The stock returned -20.5% over the past 1-year period. Operating and profit margins (trailing 12 mos.) are 3.5% and 0.5%, respectively. Last quarter's revenue growth was 8.5%, while earnings were down over 33%.
All aboard for the next stop in our Hunger Games Investment Series…District 7: Lumber.