The Verdict Is In: Judge Judy Is the World's Highest-Paid TV Host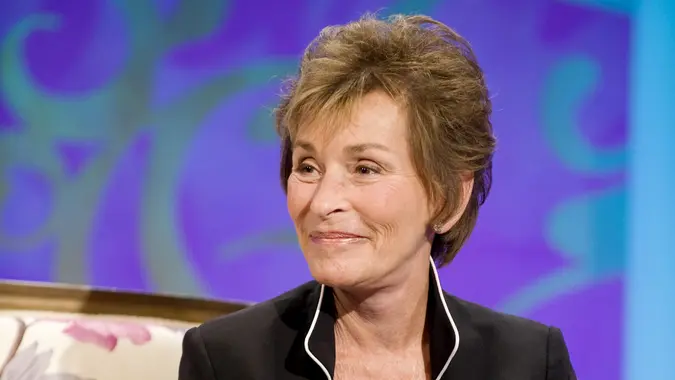 Ken McKay/REX/ / Shutterstock.com
For over two decades, Judith Sheindlin — better known as Judge Judy — has run her popular syndicated daytime courtroom television show with an iron fist and sharp tongue.
Sheindlin's decisiveness and no-nonsense style send chills through the spines of plaintiffs and defendants. And there's another thing that all who stand before her have in common: They're in the presence of a multimillionaire. Keep reading to see just how much this powerful woman is worth.
Birthdate: Oct. 21, 1942
Net worth: $420 million
Sources of income: TV show host; former family court prosecutor; best-selling author
Career highlights: Published author; world's highest-paid TV host
Judge Judy Net Worth: $420M
A career of upholding the letter of the law and throwing the book at perpetrators has made Sheindlin an incredibly wealthy woman. Last year, the 76-year-old took home $147 million and is now the world's highest-paid TV host, according to Forbes. She's worth a reported $420 million, according to Celebrity Net Worth.
Judge Judy's Sources of Income
Sheindlin earns an eye-popping salary of $47 million for her eponymous show that is watched by an average of 10 million viewers per week.
On top of that, the 76-year-old has a diverse stream of income: The legal eagle has authored six best-selling books, launched her own advice-giving website and works the highly lucrative speaking engagement circuit.
Make Your Money Work Better for You
In 2014, Sheindlin added the roles of producer and creator to her impressive resume. "Hot Bench" airs on CBS and is a courtroom-style TV show in which three judges sit on a panel to hear cases.
The master negotiator was able to balloon her net worth after she struck a deal with CBS. In exchange for the ownership of 5,200 episodes of "Judge Judy," and all future episodes through 2021, the network paid Sheindlin an estimated $100 million in 2017.
'Real Housewives,' 'Bachelor' and More: Reality TV Salaries Revealed
How Judge Judy Spends Her Money
When she's not wielding the gavel on the Los Angeles set of "Judge Judy"– an entire season of the show is filmed in just 52 days — she's living the high life at one of her five ultra-luxurious properties around the country.
Sheindlin's real estate portfolio contains an $11 million penthouse and an $8.6 million mansion in Naples, Fla., a $13.2 million mansion in Greenwich, Conn., a $10.7 million condo in Beverly Hills, Calif., and an $8.5 million New York City duplex. When Sheindlin feels like a change of scenery and climate, she doesn't fly commercial like the rest of the world — she travels via private plane to jet between her homes.
Related: This Tax Loophole Has More People Buying Private Planes
Judge Judy's Career
Before she took to the bench, the Brooklyn, N.Y., native headed to Washington, D.C., for college only to return to New York City for law school. Upon graduation from New York Law School, she quickly became a fast-rising family court prosecutor in New York. Her outspoken style caught the attention of former New York City Mayor Ed Koch and she was appointed to her seat as a supervising judge.
Make Your Money Work Better for You
It wasn't until she was the subject of a segment on "60 Minutes" in 1993 that the nation was introduced to her outspoken and tough exterior. Three years later, "Judge Judy" premiered to a national audience.
Click through to keep reading about the richest reality stars of the 2000s and where they are now.
More on Net Worth
We make money easy. Get weekly email updates, including expert advice to help you Live Richer™.