15 Unbelievable Ways Taylor Swift Has Given Back to Fans
Taylor Swift's birthday is Dec. 13. See why the singer is so beloved.
Many celebrities claim to have a deep love for their fans, but Taylor Swift puts her money where her mouth is. The generous popstar has made a habit of shelling out cash to do nice things for her beloved followers.
Swift's birthday is Dec. 13 and she'll be 27 years old. In honor of her special day, take a look at ways she's given back to the fans who made her an international superstar.
1. Attended a Fan's Bridal Shower
In 2014, Swift super fan Gena Gabrielle invited the singer to her bridal shower in Ohio, but never thought the singer would actually show. Not only did Swift surprise her by attending, she showed up with gifts, including a KitchenAid mixer, Barefoot Contessa cookbook and a framed watercolor painting made by the artist herself.
Find Out: How Much Does the Average Wedding Cost?
2. Surprised a Fan With Toys for Her Son
Years ago, Swift connected with a fan — Stephanie Barnett — on social media. At the time, Barnett was having trouble getting pregnant, and she admitted the pop star's music was helping her through an emotional time. When Swift learned years later that Barnett had given birth to a child, she showed up to the fan's New Haven, Conn., doorstep bearing gifts for her little one. This included a toddler-sized Mercedes, valued at approximately $150.
3. Helped a Fan Get a Therapy Dog
In February 2016, cousins Jordan Fox and Makaylee Duhon made a YouTube video covering "Blank Spaces" to raise funds for an autism service dog for Fox's 5-year-old brother. Word got back to Swift, who donated $10,000. She and her mother left a kind message on the family's GoFundMe page.
4. Made 'Swiftmas' Happen
The 2014 holiday season was extra magical for a number Swift fans, who received FedEx boxes filled with personalized gifts from the star. Rather than sending random fan merchandise, she researched each recipient's social media pages to find gifts they really wanted. Two super fans, Rebecca Cox and Victor Vinson, each received a Swiftmas box worth a combined total of $4,150, according to Billboard. Gifts included a Fujifilm Instax Mini 90 Polaroid camera, Ray-Bans and a Burberry scarf.
See: 50 Hottest Holiday Gifts to Buy This Season
5. Helped Pay for a Fan's Funeral
When Swift fan Katie Beth Carter died in a car accident on Labor Day 2016, the singer donated $5,000 to the family's GoFundMe page to help cover funeral expenses. She also left a kind note for Carter's sister.
6. Donated $50,000 to the Seattle Symphony Orchestra
In December 2015, Swift donated $50,000 to the Seattle Symphony Orchestra, saying she was inspired by John Luther Adams' "Become Ocean," which was commissioned by the group. She noted the song brought back memories of her grandmother taking her to the local symphony.
7. Gave to a Young Fan Fighting Cancer
In July 2015, 11-year-old Naomi Oakes — who had recently been diagnosed with acute myelogenous leukemia — went viral when her family posted a YouTube video of her receiving a gift from Swift. Because Oakes was unable to attend one of the singer's concerts, her family tried to get a message out to Swift over social media — and succeeded. The singer sent in a $50,000 donation to help the family pay for treatment, plus a personalized note for Oakes.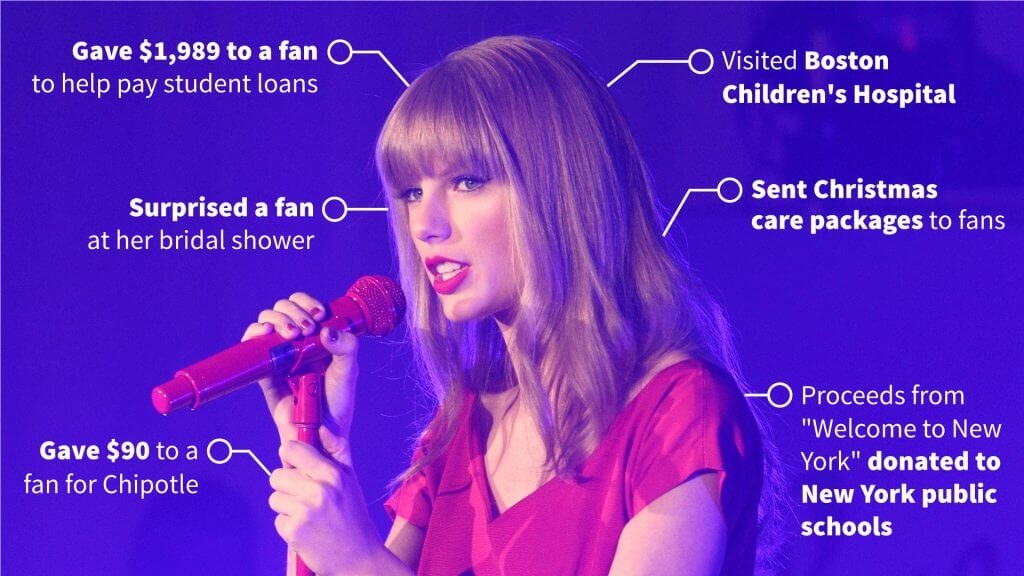 8. Surprised a Fan at His Wedding
Fan Max Singer and his bride, Kenya Smith, got a surprise at their June 2016 wedding in Brant Beach, N.J. After receiving a letter detailing Singer's mother's death, Swift agreed to attend the wedding. She arrived with a handmade gift for the couple and posed for photos with guests.
9. Gave $1,989 to a Fan for Student Loans
After sharing a video she made inserting Swift's squad into the "Friends" intro, Rebekah Bortnicker caught the eye of her idol. The fan received a FedEx package from the star with a handwritten letter, Polaroids, gifts and a $1,989 check to help pay off her student loans.
10. Donated $1 Million for Louisiana Flood Relief
After Louisiana faced severe flooding in August 2016, Swift announced plans to donate $1 million to assist victims. Among the singer's donations was $50,000 for Ascension Public Schools, the Greater Baton Rouge Food Bank and the Salvation Army.
11. Gave $90 to a Fan for Chipotle
In July 2014, a fan rowing in New York City's Central Park spotted Swift doing an interview with Rolling Stone magazine. The girl rowed over to the pop star to take a photo. Swift chatted with the girl and found out it was her birthday and that she and her friends were going to celebrate at Chipotle. The singer pulled $90 out of her wallet and gifted it to cover the Tex-Mex meal.
12. Donated to Doctors Who Saved Her Godson's Life
Swift is godmother to Leo Thames Newman, son of actress Jamie King. Newman suffers from a congenital heart defect and, at just 20 weeks old, had to undergo surgery. Swift made a generous donation to the doctors who helped save her godson's life.
13. Gave $50,000 for a Baby's Cancer Treatment
In September 2015, a GoFundMe page was set up to help support the family and treatment for Ayden, a 13-month-old battling cancer. After hearing the family's story — and how Ayden's mother lost her job for missing work to care for him — Swift donated $50,000.
14. Donated Proceeds From 'Welcome to New York'
Instead of pocketing cash from her No. 1 song "Welcome to New York," Swift donated the proceeds to New York City public schools. In February 2015, Forbes reported the singer had made a $50,000 donation to the city's Department of Education.
15. Visited Boston Children's Hospital
In 2014, Swift visited 6-year-old Jordan Lee Nickerson at Boston Children's Hospital. He has Williams Syndrome, a genetic disorder, and leukemia. During her visit, Swift and Nickerson played games, and she sang to him.