What Is Kenan Thompson's Net Worth?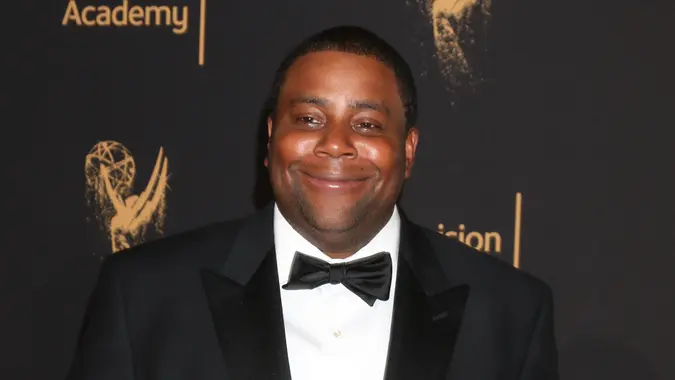 Kathy Hutchins / Shutterstock.com
NBC has confirmed a second season for "Kenan," which premiered in February earlier this year, according to Variety. "Saturday Night Live" comedian Kenan Thompson stars in the sitcom as an Atlanta morning show host/widowed father of two daughters.
Find Out: Just How Rich Are Jeff Bezos, Donald Trump and These Other Big Names?See: How Rich Are Tom Brady, Aaron Rodgers and 18 Other Past NFL MVPs?
"Kenan" is the latest work the actor has executive produced and starred in, alongside writers Jackie Clarke and David Caspe and executive producers Lorne Michaels, Ken Whittingham and Andrew Singer.
You can catch also catch Thompson on NBC's "Saturday Night Live," premiering its new season on Oct. 2.  This will be Thompson's 19th season with the show; he is the longest-running cast member on the sketch show.
Take a Look: How Rich Are Megan Rapinoe, Alex Morgan and These Big-Name US Soccer Stars?
Kenan Thompson Net Worth: $13 Million
The veteran comedian makes on average $25,000 per episode on "SNL," according to Celebrity Net Worth.
His net worth in 2021 is an estimated $13 million.
During the star's extensive career on "SNL," he has been nominated five times and won one Emmy in 2018 for outstanding original music and lyrics for a song featured on "Saturday Night Live" with host Chance the Rapper titled "Come Back, Barack."
Find Out: 65 Splurges of the Filthy Rich
Check Out: The Richest Celebrity From Every State

'All That' in the '90s
The 43-year-old has been "all that" among the comedy scene since the '90s, when he got started with Nickelodeon.
Make Your Money Work Better for You
Born May 10, 1978, in Atlanta, Thompson began acting at the age of 5 and performed in local plays and church theater productions, according to Looper.
The comedian and producer got his first notable role as one of the original cast members on the Nickelodeon sketch comedy series "All That," which was on air from 1994 to 2005.
He was only 16 when the first episode aired.
He and Kel Mitchell were featured in many notable skits on the show, solidifying themselves as a comedic duo, before going on to make their own show, "Kenan and Kel," from 1996 to 2000.
The duo went on to put out the 1997 movie "Good Burger," based on a skit from "All That." Thompson then went on to join the "SNL" cast in 2003.
Other Work
Thompson served as executive producer of the "All That" revival series in 2019 and 2020, alongside original creator Brian Robbins and co-star Kel Mitchell.
In 2015, Thompson signed on to become the face of the movie ticketing company Fandango as a part of its "We Love Movies" marketing campaign, featuring 20 appearances.
He has also been in movies like "The Mighty Ducks" (1992, 1996), "Big Fat Liar" (2002), "Fat Albert" (2004), "Snakes on a Plane" (2006), "The Smurfs" (2011, 2013) and "The Grinch" (2018).
In 2017, Thompson launched an unsuccessful Kickstarter campaign for his apparel brand, Smile Parade, which only managed to raise $734 of the $25,000.
According to Vulture Magazine, the business idea was to create a clothing line that would feature cartoons created by Thompson's highlighted younger artists that would be funded by fans pledging money.
Make Your Money Work Better for You
The star currently has a weekly pop culture podcast titled "You Already Know," which he co-hosts with friend Tani Marole.
More From GOBankingRates