What Is Sacha Baron Cohen's Net Worth?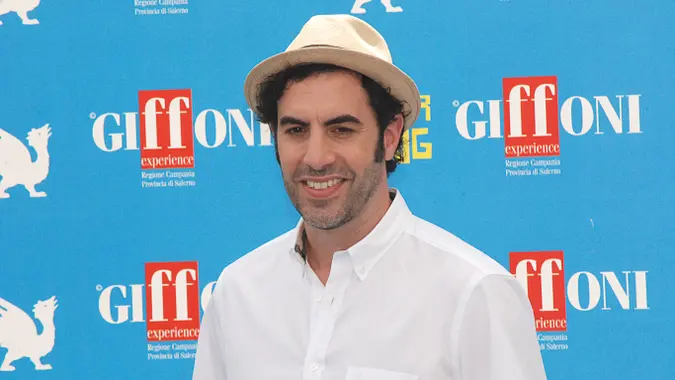 GIO_LE / Shutterstock.com
One of the wealthiest actors nominated for an Academy Award in 2021, Parade.com lists Sacha Baron Cohen's net worth at $160 million. The eclectic and multitalented actor, comedian, writer, director, producer and musician was most recently nominated for an Oscar for his role in "The Trial of the Chicago 7" and for the screenplay for "Borat Subsequent Moviefilm."
See: How Rich Are Tom Hanks, Renée Zellweger and More Past Oscar Winners?
Sacha Baron Cohen Net Worth: $160 Million
Baron Cohen's earnings from movies, including his most recent, are not deeply held secrets. Parade reported that he earned $4.25 million for his role in the original "Borat," and $17 million for the feature film "The Dictator." Performance bonuses for "The Dictator," including 30% of box-office revenue if the movie took in more than $53 million, increased his earnings to $53.7 million, Parade.com reports. The same article states the actor received $80 million for the "Borat" sequel, which is available on Amazon Prime's streaming service.
Check Out: The 28 Richest Actresses of All Time
Baron Cohen and his wife, actress Isla Fisher, put some of their vast earnings into real estate, holding a $14 million Beverly Hills mansion. In 2016, he sold a 2,800-square-foot home in Hollywood Hills for $2.5 million. Celebrity Net Worth reports he paid $2.45 million for it in 2005, and began leasing it for nearly $11,000 per month in 2011.
The couple also donates a portion of their earnings to various charities, including Save the Children, the International Rescue Committee, Feeding America and the Anti-Defamation League, according to reports in Celebrity Net Worth and Parade.com.
Make Your Money Work Better for You
More From GOBankingRates
Last updated: April 20, 2021
Make Your Money Work Better for You