Dating Tips: How and When To Disclose Your Net Worth to a Partner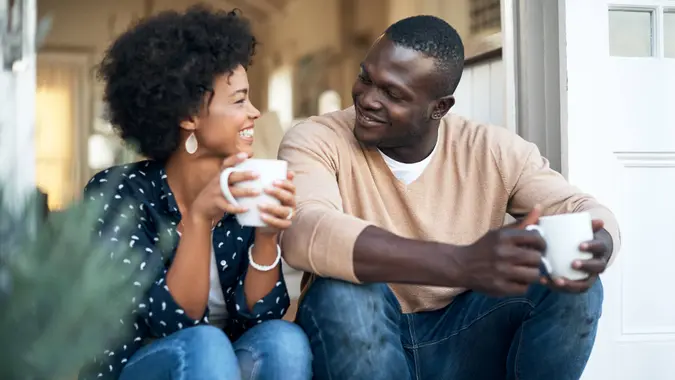 shapecharge / Getty Images
You are dating someone special, and things are getting quite serious in the relationship. You and your partner are sharing values that matter to each of you and the conversation is inching closer to finance. While there are certain money conversations you will need to have before getting married, you may wonder when, and how, you should disclose your net worth to a partner. 
Here It Is: Our 2022 Small Business Spotlight
Read More: 7 Things You Should Never Do When Planning For Retirement
Whether you earn more than your partner, or your partner earns more than you, here's what you need to know about how to speak (and not speak) about your financial status.
Don't Turn Net Worth Into a 'Big Conversation'
Samantha Daniels, dating expert and founder of Samantha's Table Matchmaking, discusses the topic of when and when not to discuss net worth with her clients on a regular basis. 
Make Your Money Work Better for You
Net worth, said Daniels, should not turn into having a "big conversation" or making it a bigger deal than it needs to be. This is especially true in today's day and age where social media and Google make it easy for either partner to be aware the person they are dating is wealthy.
The best approach is for this information to come up in a casual, organic way. Instead of making it a whole conversation, Daniels said it's better to demonstrate that money is a "nice" thing but doesn't change anything about the relationship or how they interact.
"One's wealth, even if it's a lot of wealth, is part of who one is, but it shouldn't define them," Daniels said.
Take Our Poll: Do You Tip For Service?
How To Make Net Worth Less Intimidating
Let's say the topic of net worth comes up between a couple. Daniels recommends addressing it quickly and moving on. But, what if someone is worried their net worth might intimidate the other person? In situations like these, Daniels said it's best to downplay it a bit until the other person feels more connected in the relationship so they don't go running to the hills.
Make Your Money Work Better for You
How does one downplay their net worth and genuinely connect to the person they are interested in with the intention of keeping their interest? Daniels uses the example of a situation in her matchmaking company where she was working with a billionaire. She set the billionaire up with a woman who wasn't as wealthy as him. The woman admitted to Daniels she was intimidated by the billionaire's wealth. 
Daniels then had a very direct conversation with the billionaire about how to keep her from running off scared.
"I told him it was important to show her who he was as a person — his personality, his kindness, his intelligence, his connection to family and keep the wealth in the background until the two of them had a strong and lasting connection," said Daniels. 
The billionaire did exactly what Daniels told him to do. Now, the couple has been dating for the past five months. 
Make Your Money Work Better for You
Simple Ways To Navigate a Net Worth Conversation
As you navigate a relationship as a couple and you start to have more of a sense of who the other person is, their financial situation may begin to become noticeable. The sensitivity of money has the power to change a relationship, leaving the other partner feeling as though they can't keep up or experiencing feelings of jealousy. 
While the topic of money can be tricky to navigate, it doesn't have to be. Susan Trombetti, matchmaker and CEO of Exclusive Matchmaking, offers these tips for carefully navigating a conversation on your net worth.
Let's talk: Trombetti recommends starting off the conversation by saying "There is something I want to make you aware of." You don't say how much at first. Just let it set in and marinate. 
Meet in a quiet, relaxed environment: Do not discuss your net worth or have any serious money conversations over happy hour at the bar. Further, this discussion should be between the couple only. "Make sure it's just the two of you and not your parents asking them what they think of all the money," Trombetti said.
Make sure your gifts don't outshine their gifts: As mentioned by Daniels earlier, both partners should be able to show one another who they are as a person for a lasting connection. One nice way to bring up or address net worth, Daniels said, is to discuss it in terms of being proud of one's success instead of in terms of material wealth.
More From GOBankingRates
Make Your Money Work Better for You