America's Debt Reaches Record Levels — Here's How to Cope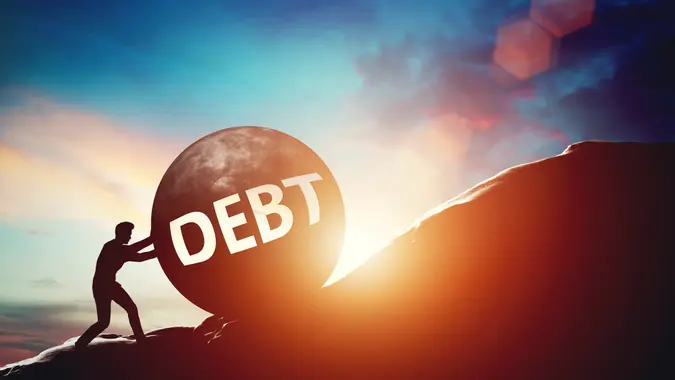 NiseriN / Getty Images/iStockphoto
America's debt situation is officially a crisis. A new report triggered a national conversation about the state of borrowing in the U.S., and the results are that in most measurable categories, the masses are breaking all the wrong records. 
Learn: Why Stealth Wealth Is the Best Way To Handle Your Money
Discover: 3 Signs You're Serious About Raising Your Credit Score
If you feel like you're drowning in debt, you can take cold comfort in the fact that you have a whole lot of company. 
First, a Look at Some Very Scary Numbers
On April 3, a respected weekly global markets newsletter called The Kobeissi Letter (TKL) tweeted some alarming statistics that several top financial publications quickly ran with. The tweet read:
"Auto loan and credit card interest rates just hit a new record high. Average interest rates: 
Credit Card: 24.5% 
Used Cars: 14.0% 
New Cars: 9.0% 
Meanwhile, we have record levels of debt: 
Total Household Debt: $16.5 trillion  
Auto Loans: $1.6 trillion 
Credit Card Debt: $986 billion 
The worst part? 
Student loans just hit a record $1.6 trillion. 
Interest on student loans has been suspended since 2020 but is set to resume this year. 
The debt crisis is real."
Make Your Money Work for You
Unfortunately, It's Mostly All True
First, are the TKL numbers real?
Different analysts and organizations often report conflicting statistics. For example, Forbes says the average credit card rate is more like 20.4% than 24.5%, and LendingTree says it's 23.65%. But even the St. Louis Fed's lowball of 19.07% would be an all-time record high.
When factoring in the multitudes who have shaky credit, Car and Driver roughly confirmed the new and used car loan averages that TKL published.
The New York Fed reports that total household debt is even higher than TKL reports — $16.9 trillion instead of $16.5 trillion — and confirms the claim of $986 billion in credit card debt exactly.
As for student debt, the Education Data Initiative says that TKL's $1.6 trillion figure is low — it's actually more like $1.76 trillion.
So, whether the TKL data is accurate to the dollar is inconsequential. Its central thesis as described in its closing statement is indisputable: "The debt crisis is real." 
High Inflation Plus Stagnant Wages Equals Record Debt
High inflation is the obvious culprit for America's growing debt — but inflation is manageable when income rises along with prices. The problem, according to the Economic Policy Institute, is that wages haven't increased in any meaningful way for decades.
Make Your Money Work for You
"The fact that such an overwhelming majority of Americans are currently in debt says a lot about the disparity between wages and the cost of living," said Jake Hill, CEO of DebtHammer. "Inflation has driven the cost of living higher and higher over the years, but wages have consistently failed to keep up. However, personal debt has now reached crisis levels in this country for many and is an indication that something must be done to help the average American live more comfortably."
Carter Seuthe, CEO of Credit Summit Consolidation, agrees. 
"This long-lasting inflationary period has essentially caused the cost of everything to go up," he said. "Everyday necessities like groceries, gas, and even rent and utilities have increased in price — but for most Americans, salaries aren't increasing alongside that. So, many people are relying on credit cards to buy the things they need simply in order to survive. Credit cards provide access to the funds people need but don't actually have right now. This is causing increased debt that will likely take years or even decades to fully get out of."
Make Your Money Work for You
Revisit Your Debt — and Your Budget
If your household is part of America's debt crisis, start with the unenviable task of confronting what you owe, to whom you owe it and the rates you're paying for each of your debts. Then and only then can you come up with a strategy to get out from under.
"I would advise people to prioritize repaying different kinds of debt according to their respective interest rates, with priority being given to those debts with the highest rate of interest," said Tim Doman, an investment analyst, former private equity investment fund executive and the newly appointed CEO of TopMobileBanks. "Therefore, if someone has both student loan debt and credit card debt, they should focus on repaying the credit card debt first. When it comes to taking action, I recommend developing a budget that takes into account debt payments, as well as other regular expenses. This will help an individual to determine how much loans cost per month and then calculate how much can be realistically saved and invested in order to work towards their financial goals."
With a Long Enough Perspective, a Bright Side Emerges
After you get over the initial shock of America's stunning level of debt, you can find some peace of mind in the historical context that surrounds it.
"I think it's important to always look at data on a relative basis," said Chikako Tyler, chief financial officer at California Bank & Trust. "In absolute terms, credit card debt balances are at an all-time high. We are also seeing an increase in credit card debt as a percentage of all consumer debt if you compare the second half of 2022 relative to 2020-2021 when consumers were flush with stimulus checks. However, when you look at historical data and in the context of all consumer debt across the country, credit card debt as a percentage of all consumer debt has been declining over the last two decades. Also, again, in the context of longer-term trends, credit card delinquency rates are still historically low. That said, there is no doubt that the cost of living has increased faster than wages. This had led to consumers needing to tap into their credit cards, leading to the overall increase in debt."
Make Your Money Work for You
(Interest rates are accurate as of 4/5/2023 and are subject to change.)
More From GOBankingRates
Make Your Money Work for You