Consolidating Credit Card Debt Saves an Average $3,000, Study Shows — But There Are Pitfalls, Too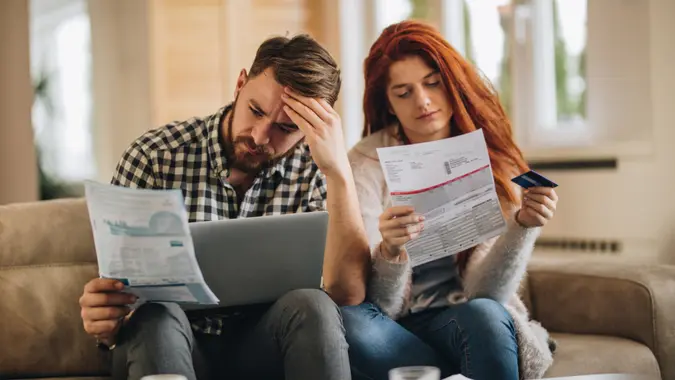 skynesher / Getty Images
Credit card debt is the bane of many consumers' financial lives, but there are ways to reduce it. One clever method could be to consolidate credit card debt — a move that can save you $3,000, on average, and reduce your repayment timeline by 10 months, according to a new study by LendingTree. 
LendingTree analyzed personal loan inquiries on its platform to calculate average annual percentage rates for borrowers with different credit scores and determine how much borrowers would save if they were to consolidate their credit card debt using a personal loan with a lower interest rate. The study found that by consolidating $10,000 of credit card debt into a personal loan, borrowers could save up to $3,000. 
Consolidating credit card debt sounds like a no-brainer, but note: whether you consolidate via a loan or lower-rate credit card, there is some fine print that goes along with this maneuver. 
You Need A Good Credit Score 
LendingTree's analysis found that consumers with a credit score of 760 or higher could save $3,000 by choosing a $10,000 personal loan over $10,000 in credit card debt at the same monthly payment. A borrower with a credit score between 720 and 759 could save up to $1,874 and cut six months off their repayment term by doing the same approach. Still substantial, but not as big an "oomph." 
Make Your Money Work for You
Consolidating Debt Could Ding Your Credit Score 
Consolidating your debt can lower your monthly payments and help you pay off your debt fast, but applying for new credit can give your credit score a light lashing. The hard inquiry on your credit report will only be a temporary hit, but it's important to know about if you're applying for a new lease, auto loan or anything that requires lenders to investigate your score. 
There May Be Upfront Fees Involved 
Taking out a new loan, you may have to pay origination fees. Additionally, many credit cards offering 0% promotional APRs on balance transfers charge a transfer fee. Be sure to calculate these fees into your overall debt consolidation plan to see how the savings stack up after.
You May Not Qualify for a Great Offer  
LendingTree's analysis was based on borrowers who have pretty good credit scores. If yours isn't as stellar, you may not be able to land a debt consolidation loan or balance transfer credit card that is worth the trouble. 
It Won't Get to the Root of Your Debt Problem 
Consolidating credit card debt can save you time and money, but it won't fix a spending problem or whatever else is at the root of your debt. Bear in mind that some behavioral changes may also be necessary to tackle your debt holistically. 
Make Your Money Work for You
More From GOBankingRates