Is Social Media Influencing Your Holiday Spending?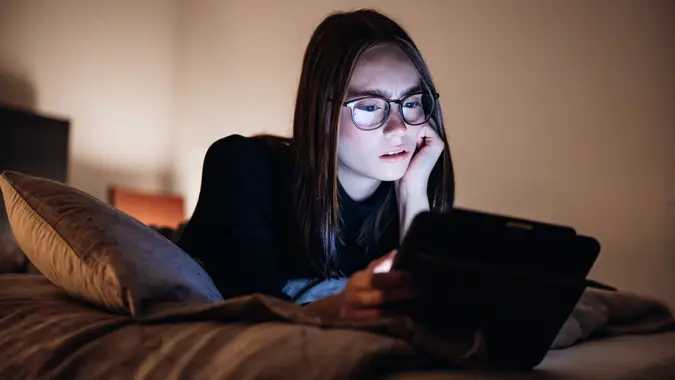 Finn Hafemann / iStock.com
Your social media scrolling could be having a major effect on your wallet. More than 1 in 3 Americans consider social media "very influential" on their spending habits, with 59% reporting that influencer posts have influenced them to make a purchase from social media, a recent Point survey found.
Explore: GOBankingRates' Best Credit Cards for 2023
More: If Your Credit Score Is Under 740, Make These 4 Moves Now
"I have talked to people who admit that because they spend so much time on social media, it's easy to fall into the routine of making purchases there," said Molly Ward, an advisor with Equitable Advisors. "Social media paints the people we follow in such a fabulous light, it becomes hard not to want to 'keep up with the Jones's' and have it all just like they do — causing people to overspend."
And sometimes, this spending gets out of control — especially during the holiday season.
Social Media Is Causing Some Users To Go Into Debt
We are all guilty of making impulse purchases now and then, but this becomes an issue when these purchases exceed our budget — and this is often what happens when people make purchases after seeing something on social media. Fifty-five percent of the Americans surveyed by Point reported that social media influenced them to go over budget or spend more money than intended on a particular product, and 45% have gone into debt to purchase an item they saw on social media. This is an issue that affects people of all age groups.
Make Your Money Work for You
"Millennials feel the influence of social media especially, and it's an added debt stress for that audience in particular," Ward said.
But older users also succumb to social media pressures — the survey found that 52% of respondents ages 76 and older report going into debt to purchase an item from social media. Resisting this temptation becomes even harder around the holidays, when you can more easily "justify" making an impulse buy because it's a gift.
Take Our Poll: How Long Do You Think It Will Take You To Pay Off Your Credit Card Debt?
Fashion and TikTok Content Are the Most Influential in Purchase Decisions
According to the survey, 26% of Americans said fashion content on social media inspires them most to make a purchase. Other popular categories of social media-driven spending are food (20%), skincare (15%) and fitness (12%).
Different social media platforms also have different levels of spending influence. Over a third of those surveyed (36%) prefer TikTok's content over Instagram's and have made purchases on the platform because of it, compared to 32% who said they prefer Instagram; 19% say they like
both platforms' content equally.
Make Your Money Work for You
Warning Signs Social Media Is Causing You To Spend Too Much
If you're part of the 45% of Americans who have gone into debt to purchase an item they saw on social media, consider this a red flag.
"Warning signs [that your social media spending is getting out of hand] include, first and foremost, debt," Ward said.
But this isn't the only warning sign — some are less obvious.
"Feeling social pressure or stress over purchases, or feeling like you need to make these purchases or you're not 'in the loop' or successful [if you don't are also warning signs]," Ward said.
You should also consider how you are paying for these purchases.
"If you are buying things from social media on credit cards or with other debt, your social media spending has gotten out of hand," said Jay Zigmont, CFP, founder of Live, Learn, Plan, a financial planning firm based in Mississippi. "The core test is, are you buying things you need or things you want? Social media tends to encourage people to buy things they want or feel they 'deserve.'"
Make Your Money Work for You
How To Reduce or Eliminate Your Social Media-Influenced Spending
If any of these warning signs ring true to you, it's time to make a real effort to cut back on your social media-influenced spending.
"The best thing would be to delete all social media, but that is hard for most," Zigmont said. "The second option would be to delete the apps you buy on. The third option is to remove your credit cards from all apps and use a pre-paid debit card for all online purchases."
Using a pre-paid debit card ensures you only spend the amount you have allotted for the month.
"The other thing to consider is to set a 24-hour rule for all purchases — you can add items to your cart, but don't finish the purchase for 24 hours," Zigmont said. "What will happen is you will either not want the item the next day, or you may get lucky if the site sent you a coupon to finish the sale."
Another way to reduce this spending is to be mindful of the accounts you are following.
"If you stop following your favorite brands/stores/influencers and you see [them in the] feed less often, you are much less likely to buy," Ward said. "And, you save time by not mindlessly scrolling through beautiful and endless pages of the perfect backyard patio."
More From GOBankingRates
Make Your Money Work for You