The Reality of Living $116,000 in Debt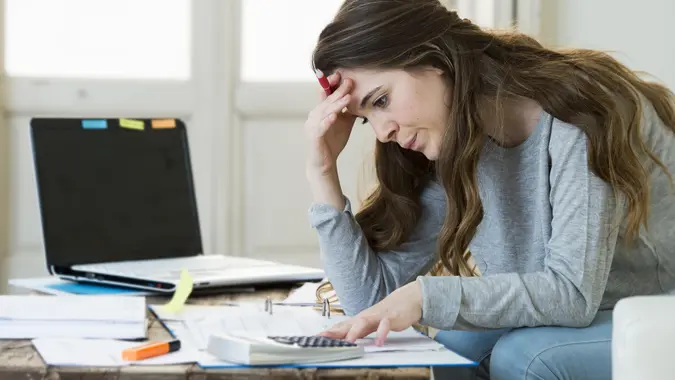 Marcos Mesa Sam Wordley / Shutterstock.com
Like many Americans, Melody Kaelin has debt. The $116,000 she owes isn't an astronomical amount. In fact, it's less than the average amount of debt that a GOBankingRates' survey found Americans with debt have — $140,113. But it's been a burden she has carried for years and, at times, one that has almost been too much for her to bear.
Unlike people whose debt is manageable because their monthly payments are small enough or their income is high enough, Kaelin has gone through periods where she could barely make ends meet. She fell behind on debt payments. Her car was almost repossessed. She even had to borrow money from her parents.
Kaelin said she now has a handle on her debt thanks to a steady paycheck and a big effort on her part to take control of her finances.
"I'm able to keep my head above water and not feel like I'm drowning," she said.
But the reality of being in debt for Kaelin has been extremely trying, to say the least. Here's what it's like living with debt.
Falling Into Debt
The bulk of Kaelin's debt is her mortgage.
In 1999, she borrowed $82,000 to buy a three-bedroom home in Bowling Green, Ky. She had been working in retail but quit her job to go to cosmetology school in 2000. Kaelin qualified for financial aid but, as a single mom, had to borrow $18,000 in federal student loans to cover living costs for her and her son while she was in school.
Make Your Money Work for You
"I worked at a bar just to make enough money to make ends meet and still qualify for financial aid," she said. "We were barely making ends meet."
Are You a Single Mom? See the Best and Worst States for Single Parents to Raise a Family
At the time, she also had a car loan for a 1997 Ford Escort but had fallen a couple months behind on her payments. Although she made arrangements with the bank, someone showed up late one night to repossess her car. Through tears, she explained the deal she had made with the bank and was able to keep her car.
By the time she finished cosmetology school, got her license and started working as a hair dresser, Kaelin thought she could get her finances under control and handle the debt she had. But "in reality, when I got out of school, it was a struggle to build clientele," she said.
However, business picked up, and she decided to open her own salon in 2009.
Sinking Deeper Into Debt
To get her salon up and running, Kaelin added to her debt load by opening a $34,000 home equity line of credit — a revolving line of credit secured by equity in her home.
She was making about $700 to $1,000 a week, so she could handle her monthly debt payments. These included the line of credit, her mortgage payment of about $600, student loan payments and a $200 monthly payment for a used 2006 Ford Fusion she bought to replace the Ford Escort.
But then business dropped off as competition from other hairdressers increased. "Salons were just popping up everywhere," Kaelin said. She couldn't keep the booths she rented to other stylists filled and had to take money out of her own pocket to make ends meet at the salon.
Make Your Money Work for You
Without enough business at Kaelin's salon, it became hard for her to stay on top of her debt payments and other expenses.
"There were times I struggled to pay my rent on my salon," she said. Fortunately, she had a great landlord who cut her slack and didn't make her pay late fees. Still, Kaelin ended up getting hit with late fees on her mortgage because she waited until the end of each month to have enough money to make her payment. She also started tapping the home equity line of credit to pay bills.
"Because I wasn't making enough money, I would draw on the line of credit," Kaelin said. "I ended up maxing it out." Then, she couldn't keep up with monthly payments on her line of credit, either.
Struggling to Pay for Necessities
Without debt, it would have been a little easier for Kaelin to get by when her business started to suffer. But having to cover debt payments on a limited income left her little money for much else — even things she and her son needed, like food.
"I went to the grocery store once a week," Kaelin said. "I bought just what we could afford, what we could live on every week." She stuck to inexpensive generic brands, bought ingredients for dishes that she could make in large batches and stretch over several days — such as chili — and avoided nonessential items such as soda.
But there were other things she couldn't afford, including health insurance. She was able to get coverage for her son through Medicaid, but she didn't qualify for herself because her income exceeded the limits. Yet, she wasn't making enough to pay for coverage on her own.
Make Your Money Work for You
"It was very stressful because the debt I had and the fact I couldn't afford insurance," Kaelin said.
Get Help: How to Get Free Money When You Need Help Paying Bills
The Wreckage of Her Credit Score
Kaelin's credit score also became part of her debt's collateral damage. Because she had maxed out her line of credit, was making late payments and was missing payments, her score tumbled. "My score was in the 400s," she said.
The most commonly used credit score — the FICO score — ranges from 300 to 850. A score of 670 to 739 is considered a good credit score. A score higher than that is very good or exceptional. Kaelin's score would have been considered very poor.
She felt the effect of her poor score when she applied for credit. "I could not get a credit card," Kaelin said. "My score and my income were so low."
Forced to Change Careers
Saddled with debt she was struggling to pay, Kaelin decided to close her salon and rent a booth at another salon to lower her costs. But not all of her clients followed her to the new salon.
"Things got worse and worse," she said. "I was borrowing money from my parents to make ends meet. But there came a point when they couldn't help anymore."
Kaelin picked up some part-time work to supplement her income, but it wasn't enough. So, she started looking for a full-time job. In 2015, Kaelin landed a position with a factory — she made $12.72 an hour.
Make Your Money Work for You
"There are people out there who say they can't find work," she said. "There is work out there if you don't think you're too good to do that work. I decided I'm not too good to work in a factory."
It's not the career she wants, though, and she doesn't plan to stay at her current job long-term. But, Kaelin is now earning $15.50 an hour, which is helping her get back on track financially.
The Fall and Rise of Her Emotional Well-Being
Kaelin said being in debt has had a debilitating effect on her emotional life and self-esteem. "There came a point when I closed the shop and said, 'I can't do this anymore. I'm in personal debt. I'm in personal financial hell,'" she said.
She has clinical depression, and living in debt made it worse, Kaelin said. But since she started earning a steady paycheck at the factory, she's been able to take control of her debt. For example, she got a secured credit card with a $200 limit and paid off purchases as soon as she made them to start building credit.
Then, she qualified for a credit card with a $500 limit from her credit union. Kaelin now has a $2,500 limit on that card. Having two credit cards in good standing has boosted her credit score. She now has a FICO score of 690, she said.
Kaelin said her self-esteem has risen along with her credit score. "Having worked so hard for it and still working toward it, I feel like a stronger woman."
Make Your Money Work for You
The Difficulty of Breaking the Debt Cycle
Although she's paid off her student loan and is whittling down her mortgage and home equity debt, Kaelin hasn't been able to break the debt cycle yet. She hasn't been able to build an emergency fund or save for the future, so she's had to rely on debt recently to cover some unexpected costs.
For example, Kaelin got a $5,000 personal loan earlier this year to replace her home's 30-year-old heating and cooling unit, which had stopped working.
Recently, she borrowed about $30,000 to buy a new car. Kaelin said she wasn't planning to buy a car because she wanted to keep raising her credit score. "But the poor old Fusion decided to interrupt my plan," she said.
Her Ford started having transmission problems that would have been expensive to repair. Plus, she drives 35 minutes to work, so Kaelin didn't want to risk having the transmission go out while she was on the road. Although she's not sure if buying a new car was the smartest financial move, she's proud her credit score was high enough to get approved for a loan without a co-signer — and to get a good interest rate.
Reducing Payments and Planning to Save
Thanks to her good credit score, Kaelin is in the process of refinancing her mortgage so she can roll it and her personal loan into one FHA loan. The 3.99 percent rate will reduce her monthly loan payments by $200, she said. Kaelin plans to put that extra money toward her auto loan repayment.
Make Your Money Work for You
However, she's not sure if she'll ever be debt-free. "My plan is to dramatically lower my debt over time," said Kaelin. And, she wants to be able to start saving for retirement.
She's also started blogging about what she's learned about credit and debt at What's Up With Mel. Kaelin said her main goal is "to live a happy life without feeling like the floor is going to come out from underneath me."
Click to discover how other real people have made massive debt payoffs.