Student Debt Is Growing for Women of Color: Here Are Your Options To Shrink Your Burden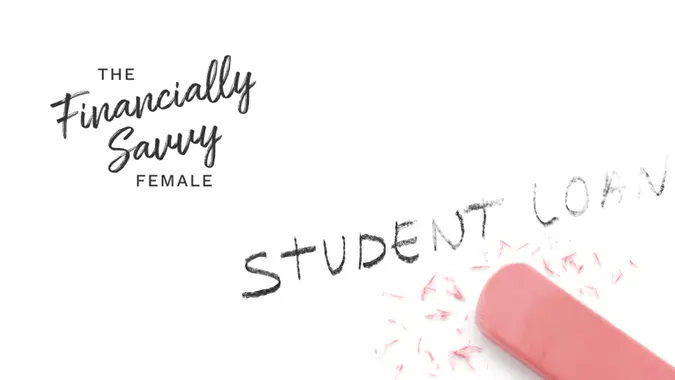 subjug / iStock.com
Women hold more student debt than men, and Black women, in particular, are bearing the brunt of the burden. The average Black woman graduates with $37,558 in student loan debt, while the average white male graduates with $29,862, according to the American Association of University Women. And even when Black women make consistent payments, their student debt burden tends to grow. After 12 years of repayment, Black women owe an average of 13% more than they borrowed, the Education Data Initiative reported. In this "Financially Savvy Female" column, we chat with Shelly-Ann Eweka, CFP, ChFC, senior director of advice strategy at TIAA, about why Black women tend to have such high student loan burdens and what their options are to shrink their debt.
The stats show that Black women are more likely to have student loan debt and that their debt burden is growing. What are some of the reasons behind this?
Traditionally, women have been paid less than men. It's 82 cents on the dollar for all women — Black women earn 63 cents on a dollar and Latina women earn 53 cents. Those stats are staggering. So even though [Black women are] making 12 years of payments, after that 12 years, their student loan debt is growing by 13% because sometimes their payment amounts don't keep up with the amount of interest that's going onto their loan. They're struggling to be able to cover some of their bills and make payments and just cover their regular, everyday expenses. And because of that, they can't use the standard payments, and because their payments are based on their income — which is lower — their interest is increasing their balance.
Make Your Money Work for You
You mention standard and income-based repayment plans as the two main options for paying back federal student loans. What are the pros and cons of each?
With the standard plan, you get a fixed monthly payment amount. You pay some principal and some interest, and that payment plan is designed so that your loans are paid off within 10 years. The other category is based specifically on your income. The income repayment plans in general won't be more than 10 to 20% of your income. If you are eligible for forgiveness, that outstanding amount is eligible for forgiveness after 20 or 25 years from the time that you started [making payments].
Some private lenders are making provisions and they have similar options, but you need to contact your private lender to really get an understanding of what your options are.
If you have the income to support the standard payment plan and you don't work in public service so won't be eligible for forgiveness, that is going to help you pay off your loan within that 10-year period, which is probably the lower period than the income repayment option.
This may surprise some people, but sometimes it's advantageous to wait a little longer to pay because this is going to allow you to have additional cash flow to build your emergency fund and to be able to pay for retirement.
Make Your Money Work for You
There's another option though — consolidation. You may be able to consolidate your loans, but because some people have federal and private [loans], it's very important that if you are considering consolidation that you really think about if it's really going to be the best option for you. For a lot of people, that is not the best choice because if you do consolidate your federal and your private together, you'll lose the provisions that come with a federal loan. If you're in the public sector and you may be eligible for forgiveness, you could be taking away that potential benefit.
Once a woman has decided on the repayment option that's best for her, how can she make sure she is actually getting out of debt, rather than just have the amount she owes continue to increase due to interest?
The key to financial success is managing your expenses. It's true, you have less income, so therefore you really have to pay attention and be more adamant about what you're spending. Use an app or financial software, and really get a grasp on where you're spending your money. That's going to help you prioritize your expenses.
You might be paying for a gym membership. What can I do to reduce those expenses? Can I work out at home? Can I get a friend that we work out together inside our homes? Reduce that expense. Can you invite friends over for dinner and have a movie night instead of going out to eat?
It may not be exactly what you'd choose, but there are ways for you to really pay attention to your expenses and see, what can I cut? Once you have that additional cash flow because you've cut your expenses, then you can use that additional cash flow to make payments that will be able to help you reduce the debt. I also always ask that people talk to a financial advisor because they can really help you tailor a plan. 
Make Your Money Work for You
Are there other resources women can use to reduce their overall student loan debt?
Ask your lender, 'What options do I have that will keep me in good standing?' There's forbearance, there's deference, so there are different options that people have available to them to help them with those decisions.
If you've gone on to get additional education, does your employer provide tuition reimbursement? If you do work for a nonprofit organization, you may be eligible for student loan forgiveness through the PSLF program. Look into some of these programs.
GOBankingRates wants to empower women to take control of their finances. According to the latest stats, women hold $72 billion in private wealth — but fewer women than men consider themselves to be in "good" or "excellent" financial shape. Women are less likely to be investing and are more likely to have debt, and women are still being paid less than men overall. Our "Financially Savvy Female" column explores the reasons behind these inequities and provides solutions to change them. We believe financial equality begins with financial literacy, so we're providing tools and tips for women, by women to take control of their money and help them live a richer life.
More From GOBankingRates