Should I Pay Off Student Loans With My Savings?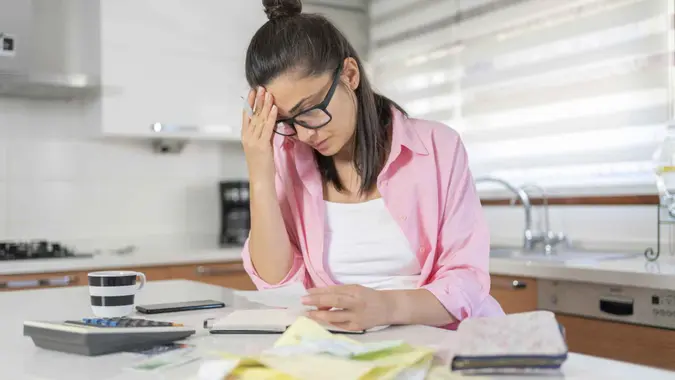 aquaArts studio / Getty Images
With the debt ceiling deal legislation anticipated to sunset the student loan pause, borrowers are preparing to start making reinstated student loan payments. Those with an emergency fund or savings may be wondering if they should put either fund toward paying off their debt.
GOBankingRates spoke to Derek R. DiManno, CFP and founding advisor at Flagship Asset Services, to learn more about the pros and cons of using an emergency fund or savings to pay off student loans. Here's which funds he said to consider putting toward student debt.
Emergency Fund: Pros and Cons
Thinking about putting some of your emergency fund toward paying off student loans? DiManno said borrowers who dip into this fund to pay off student loans can save money in the long run. Eliminating student debt means avoiding making additional interest payments and ultimately becoming debt-free. 
The drawback, however, is dipping into this fund without immediately replenishing it. If you use your emergency fund to pay off loans, you may be left with insufficient funding to cover other unexpected expenses like car repairs or medical bills. DiManno said this could lead to the need to borrow money again — putting you right back into debt if you paid it off in full or adding to your existing debt burden.
Savings: Pros and Cons
Much like dipping into an emergency fund, putting your savings toward paying off student debt saves money over time and allows you to become debt-free. Borrowers who reduce their debt or pay it off in full can also improve their credit scores and put any extra money allocated for loans toward saving for retirement or reaching other financial goals.
Make Your Money Work for You
The con of using savings to pay off your student loans, DiManno said, is it might deplete your retirement or other savings accounts. This could leave borrowers with inadequate funds to reach their financial goals and delay milestones like buying a house or starting a business.
Which Funds Should You Use To Pay Off Student Loans?
Stuck on whether to use your emergency fund or savings to pay off student loans? There isn't a right or wrong answer to this question. DiManno said this is a personal choice depending on several factors including the loan amount, the interest rate, the borrower's income and their financial goals.
Those who are financially able to do so are recommended by DiManno to pay their student loan balance in full. However, if you are unsure about what to do, DiManno recommends seeking advice from a financial advisor to make an informed decision.
More From GOBankingRates