Suze Orman Says Paying Down Debt Shouldn't Be Your Top Financial Priority: Here's What To Do Instead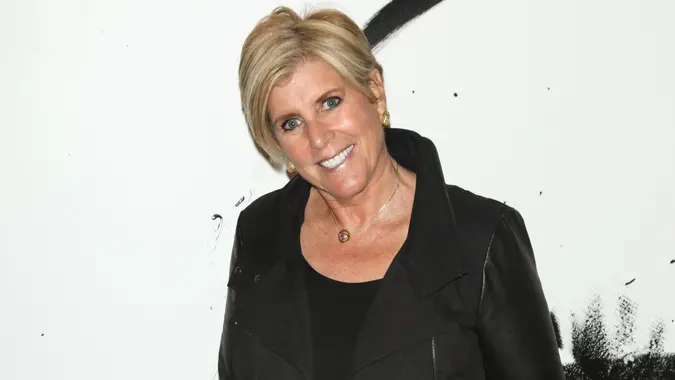 Mediapunch / Shutterstock.com
Suze Orman is one of the most well-known and respected experts on personal finance, and has been named a Top Money Expert by GOBankingRates. She is the host of the "Women & Money" podcast, proudly sponsored by Alliant Credit Union, former host of the long-running TV show "The Suze Orman Show" and the author of numerous New York Times bestsellers, including "Women & Money, The 9 Steps to Financial Freedom," "The Courage To Be Rich," "The Road to Wealth," "The Laws of Money," "The Lessons of Life" and "The Money Book for the Young, Fabulous & Broke."
GOBankingRates had the opportunity to chat with Orman about the biggest threat to your finances, why she doesn't agree with conventional advice to prioritize paying down debt, and why she believes you can manage your money better than anyone else.
Want to vote for Suze as your favorite money expert? Click here and go to her expert page.
High Interest Rates Are the 'New Financial Problem Child'
Many Americans are concerned about how inflation is affecting their finances, but Orman said that interest rates are actually the bigger issue right now.
"Inflation is something that is starting to come down; the new financial problem child on the block is high interest rates," she said. "Combine the closure of Silicon Valley Bank, etc. and the increase of the Fed funds rate — lenders do not really want to lend right now. You can have a great FICO score and still pay really high interest rates on car loans, credit cards, mortgages, HELOCs and small business [loans]. We are now faced with another equally difficult economic environment."
Make Your Money Work for You
The best way to weather this storm is to avoid taking out loans until rates settle back down, Orman said.
"Postpone anything that requires financing right now," she said. "Pay off HELOCs and credit cards if you can, and live below your means but within your needs."
Your Money Mindset Affects Your Finances More Than Anything Else
Orman believes that our feelings about money determine how successful we will be when dealing with our finances.
"You will never be powerful in life until you are powerful over your own money — how you think about it, how you feel about it and how you invest it," she said. "Before we can get control of our finances, we must get control of our attitudes about money."
Orman notes that negative attitudes about money can often trump our knowledge about the "right" things to do with our money.
"Managing money is far more than a matter of balancing our checkbooks or picking investments," she said. "Many of us know what we ought to be doing with our money, yet often don't do it. People need to really evaluate their relationship with money so they can break through the barriers that hold them back — really evaluate why you keep spending money on things you can't afford."
That's why Orman believes figuring out why you overspend is more important than simply focusing on getting out of debt.
"Too many experts teach that getting out of debt is the first step to financial success or freedom. I disagree," she said. "I have helped people get out of debt only to have them six months later be right back in debt and filing for bankruptcy. You have to find out why you're spending money you don't have. Otherwise, you will end up right back in debt."
Make Your Money Work for You
Orman notes that how you relate to money says a lot about you.
"Your personal problems always show up in your money," she said. "Money is the physical manifestation of who you are."
'Nobody Is Going To Care About Your Money More Than You Do'
Orman said it's best to be the one in control of your money, even over a professional, as you are the only person who is truly invested in your financial success.
"Nobody is going to care about your money more than you do, so don't give it to someone else to manage," she said "How your money is invested, spent and saved impacts you more than anyone else."
This is a lesson Orman learned the hard way when she secured a loan from friends in the 1980s, and put it in the hands of a financial advisor who did not have her best interests in mind.
"When friends gave me $52,000 to open my own restaurant, I gave it to a financial advisor at a major firm to invest, thinking I was doing the smart thing, to only end up having him quickly lose it all," she said.
Orman later found out while she was being trained as an account executive at Merrill Lynch that the advisor had used her money to invest in options, and because he was a high-producing representative in the office, his actions went unchecked.
Make Your Money Work for You
"[I was] left with nothing," she said.
Now, she advocates for everyone to manage their own money. "With so much on the line, it makes no sense to not be engaged and on top of your finances."
Gabrielle Olya contributed to the reporting for this article.
More From GOBankingRates