The Pros and Cons of Borrowing Money From Your Life Insurance Policy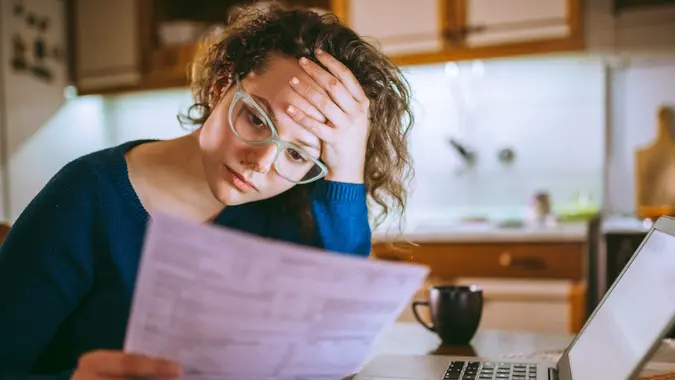 urbazon / Getty Images
You need cash, and you're thinking about borrowing from your life insurance policy. Right now, you're on the fence, because you don't know whether this idea is brilliant or extremely unwise.
The last thing you want to do is make a move that will have a detrimental impact on your financial future, so you need to make a fully informed decision. Here's a look at the pros and cons associated with taking a loan from your life insurance policy.
Watch Out: 16 Key Signs That You Will Always Be In Debt
Read: 10 Credit Score Myths You Need To Stop Believing
Pro: No Fees
"You can take out cash without paying any initial fees," said Justin Nabity, CFP, CLU, ChFC, founder and CEO at Physicians Thrive, a full-service financial planning company for doctors.
This can be very wise, if it's your only source of available liquidity in the event of a personal or business emergency, said Howard Sharfman, senior managing director at NFP Insurance Solutions in Chicago. He said one of his clients took advantage of this no-fee loan to borrow from a large key person insurance policy in their business that had accumulated significant cash value.
Make Your Money Work for You
"At the beginning of COVID-19, the client's bank froze all of their lines of credit and the client turned to his life insurance company to fund the business until their PPP loan came through and their business returned," he said. "They have since prepaid the policy loan and see the value of having significant cash value in a life insurance policy."
See: What Not To Do While Trying To Get Out of Debt
Con: Reduction in Death Benefit
If you borrow from your life insurance policy, you might end up leaving less money to your loved ones.
"When you take out a loan from policy, the total outstanding balance gets deducted from the death benefit," Nabity said. "This means that less money will be handed to your beneficiaries after your death."
Pro: Low Interest Rates
If taking out a traditional loan is your only other option, you might face much higher interest rates.
"The interest rate on this type of loan is adjusted and low in comparison to the personal loan you take from the bank," Nabity said.
Make Your Money Work for You
In fact, it's possible you even took your life insurance policy out with a loan in mind. If you designed the policy to accumulate excess cash for the purpose it is being used, Sharfman said proceeding with this plan is a good idea.
"For example, if we designed an accumulation life insurance policy so we can have supplemental retirement income or help to pay for college education, it is wise to withdraw or borrow funds from the policy tax-free," he said.
Related: 23 Tips To Build Your Emergency Fund
Con: You Could Be Charged Interest
Borrowing from your life insurance policy might have a lower interest rate than a personal loan, but you still have to pay it back.
"If you do not pay back the loan, the interest will be charged on the remaining cash, reducing the cash value," Nabity said. "And if the loan is not paid even after a long period of time, chances are, your policy will be canceled."
Make Your Money Work for You
Pro: Easy Access
Since the life insurance policy is already yours, getting the money is a notably simple process.
"There is no lengthy application that you need to fill out in order to take out a loan as the insurance company uses your cash-value account as collateral," Nabity said.
Additionally, borrowing from your life insurance policy won't affect your credit score, said Simon Huften, president of Life Insurance Canada.com.
"Since you are essentially borrowing money from yourself, there is no approval process or credit check," he said. "As a result, you are free to use the cash to pay for any expenses such as bills, financial emergencies or vacations."
Read More: 30 Ways To Dig Yourself Out of Debt
Con: Possible Tax Consequences
You might be borrowing from your own policy, but that doesn't mean you can't be hit with a tax bill. "If you are unable to repay the loan, you could owe tax on the money you have not paid back," Nabity said.
Digging a bit deeper, Sharfman explained that cash-value life insurance policies are usually taxed on a first in, first out (FIFO) basis. "For this reason, when one withdraws money from a policy, the first money taken out is considered principle and there is not income tax," he said.
After the policy owner has withdrawn all of the basis, he said they can borrow from the policy and receive additional funds tax-free. "The catch is, if the policy ever lapses or is surrendered before death, all of the gain received from the policy would be considered ordinary income and taxed at ordinary income tax rates," he said.
Ultimately, borrowing from your life insurance policy can be a savvy move or a seriously unwise one, based on your individual circumstances. Thoroughly cover the bases with your research before deciding which route is best for you.
More From GOBankingRates
Last updated: August 11, 2021
Make Your Money Work for You