The State of Debt in America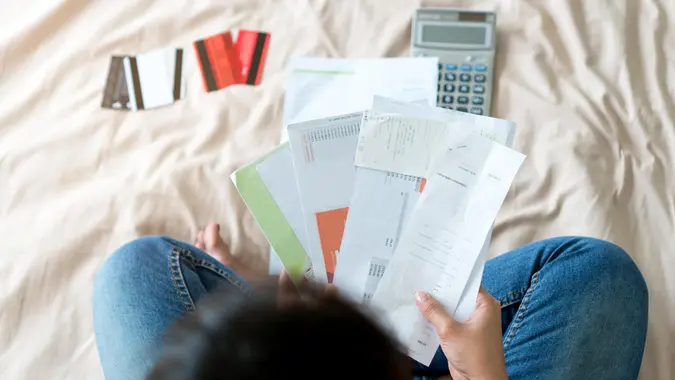 Pormezz / Shutterstock.com
Inflation is starting to show some signs of cooling off — down to 7.1% in November — but the latest data is not assuaging Americans' anxiety about the future of the economy and, in turn, the state of their finances and their debt.
A new survey by Spinwheel, a debt management platform, found that 85% of Americans said recent economic conditions affected their overall financial situations. These findings come against the backdrop of mounting debt, soaring rates and economic uncertainty. 
Credit Card Debt Jumped in 2022
Spinwheel said 64% of Americans are living paycheck to paycheck. In addition , the average debt of Americans with unpaid credit card balances is $6,569 and Americans' total credit card debt is up to $887 billion, a 13% increase from the second quarter of 2021 — the largest year-over-year jump in 20 years.
Spinwheel co-founder and CEO Tomas Campos said this can be directly attributed to the one-two punch of historic inflation and rising interest rates.
"The realities of our current inflationary economy and the threat of recession are threatening the financial wellness of Americans," Campos said. "So long as our current economic pressures persist, we will likely see Americans continue to face more debt due to the combined pressures of inflation and increasing interest rates."
To put this in context, credit card rates have had the largest calendar-year increase since 1985, according to Ted Rossman, senior industry analyst at Creditcards.com.
Make Your Money Work for You
"The average credit card charged 16.3% at the start of the year, and it's a record-high 19.4% now," Rossman said, adding that there's a significant cumulative effect to that.
"For someone making only minimum payments toward $5,000 in credit card debt," he said, "the rate hikes have added seven months to the payback cycle and cost an additional $1,166 in interest."
More Than Half of Americans Are in Debt
The Spinwheel survey also found that debt is pervasive. More than half of the repondents — 53% — reported having credit card debt, with 42% saying they have auto loans, 21% medical debt, 19% personal loans and 11% buy now, pay later loans.
While the fact that debt is currently widespread is unsurprising, Campos said, the demographics being affected by this debt and the speed with which they are accruing debt is remarkable.
"During the pandemic, credit card balances dropped dramatically and Americans were saving more than ever," Campos said. "Now it's the exact opposite as nearly every generation is tapping into savings and accruing more debt. For example, just last year, the Fed reported the highest wealth gain ever for Gen X as they were hitting their prime earning years and benefitting from a housing market boom. In the year since, the economy has fully reversed that earnings course."
'Everyone Is Feeling the Squeeze'
Another key finding of the survey is that debt transcends credit brackets, despite the common misperception that people with lower incomes or lower credit scores have less access to debt and therefore have less of it.
Make Your Money Work for You
"The reality is that they have a different mix and it's more expensive," Campos said. "With inflation running rampant, it's no surprise that everyone is feeling the squeeze."
He added that the kinds of debt being taken on by people of different credit levels is different. For example, more than 60% of people with credit scores under 740 carry balances on their credit cards. In addition, people with credit scores under 670 were most likely to have BNPL loans, while 43% of people with credit scores under 580 have medical debt.
Women and Millennials Stress Most
In terms of gender and age brackets, women and the 30- to 44-year-old group (i.e., millennials) are the most stressed about debt.
Campos said the survey found that women have more student loan debt, carry credit card balances more often and report more personal loans than men.
In addition, 50% of millennials have credit card debt.
"They have lived through the 2008 recession — with many of them graduating into it or recently employed when it hit — and they are wary about taking on debt during a time of economic turmoil," Campos said. "The average American household has more debt than savings and investments combined."
The data highlights that, while monitoring credit scores is important, Americans want better outcomes and to feel smarter about their debt, Campos said.
"This means saving money, planning, refinancing and more," he said. "There is a pressing need for tools to help Americans organize and prioritize how they tackle debt of all kinds."
Make Your Money Work for You
More From GOBankingRates