Best Money Management App Reviews: Mint, YNAB, LearnVest and More
Keep your finances straight with a money management app.
Money management is a challenge for many — you might have a hard time saving money for a goal, paying off debt or planning for bigger goals like retirement. Fortunately, there are a lot of mobile apps that can help, and the best ones will empower you to create and stick to a budget. So you can more easily find the right tool for setting and meeting your financial goals, check out these reviews of the best finance apps available.
Best Money Apps
The "best" money management app is the one that works best for you. Consider the features that are most important to you — be it a beautiful interface, graphs showing your progress or a free sticker price — pick the app that will make you excited about managing your money. Here are the best money management apps:
You Need A Budget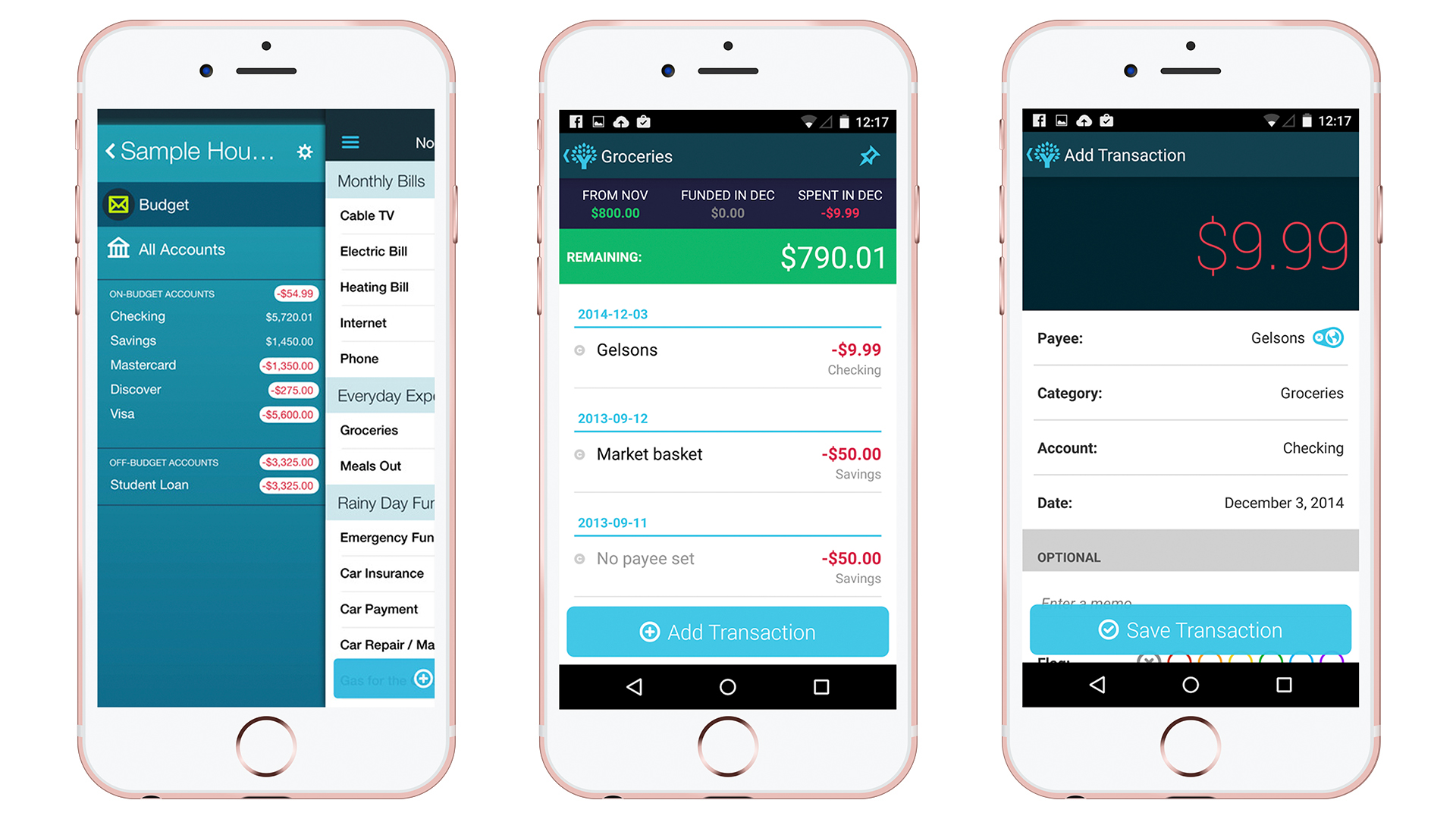 Who needs a budget? You do, according to YNAB. This money management app links all your accounts and lets you access the information in real time from any device. You'll want to set things up on your desktop or laptop first, and then use the app for ongoing budgeting.
Pros of YNAB:
Continuously syncs between devices, so partners can share an account and always be up-to-date
Connects directly to your accounts, so you don't have to enter information manually
Includes workshops to help with budgeting and money management
Cons of YNAB:
Strictly a budgeting app — doesn't track investments or integrate with tax software
Price: YNAB offers a 34-day free trial. After that, it's $4.17 a month.
Devices: Apple, Android and online
Find Out: 17 Biggest Budgeting Mistakes You're Making
Personal Capital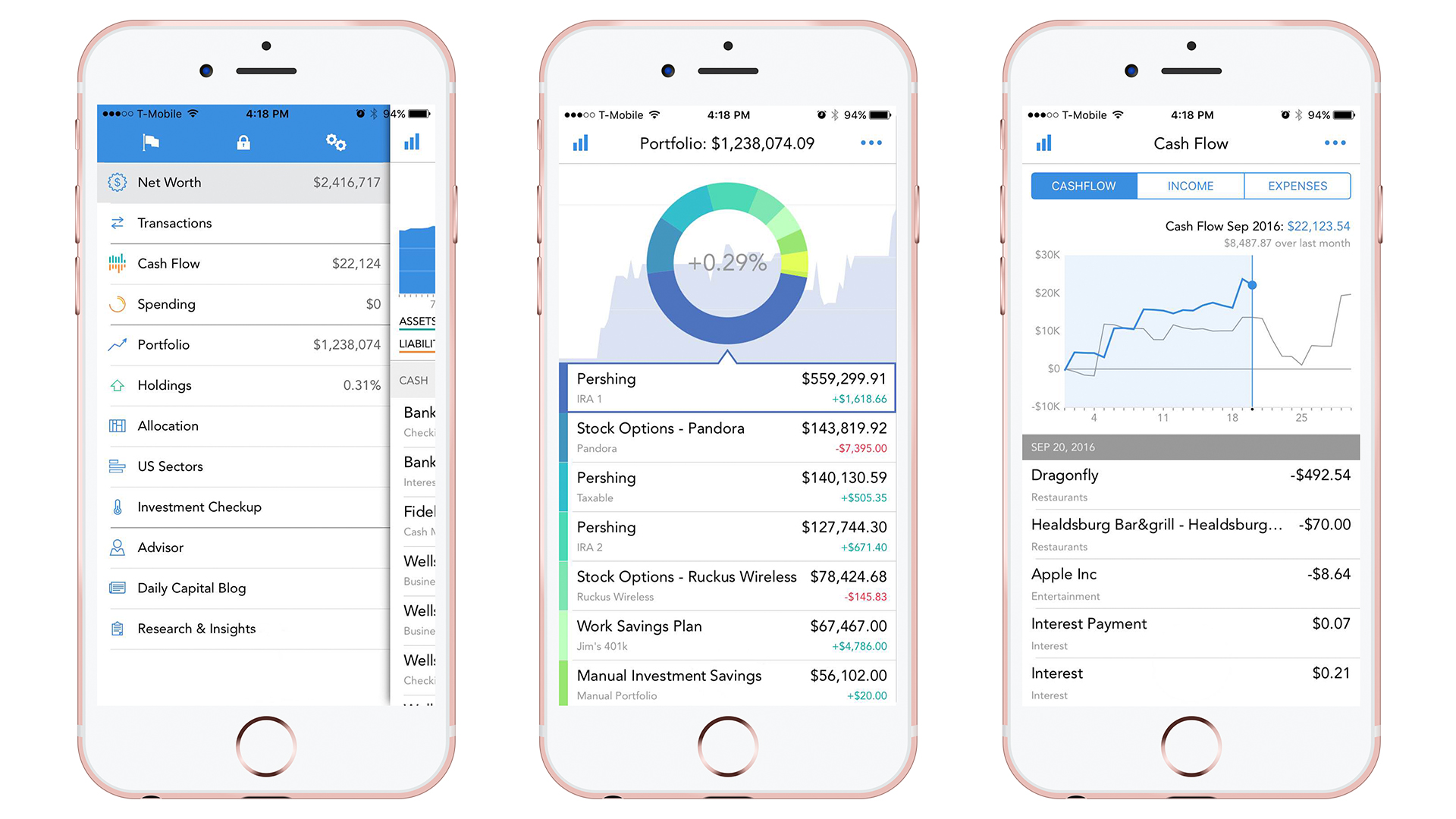 Personal Capital is personal finance software, so it includes budgeting and spending features along with investment management capability. It's designed for those who want to develop and execute a long-term financial strategy that will take them to retirement and beyond. It's truly a virtual money manager.
Pros of Personal Capital:
Integrates financial accounts, including bank accounts, investments, loans and credit cards
Shows progress over time for all financial categories as well as overall net worth via visual graphs
Focuses on long-term financial goals
Investment, wealth management and private client services available for sophisticated and high-net-worth investors
Cons of Personal Capital:
Intended for those who have savings and investments already, and are looking to optimize them
Price: Free
Devices: Apple, Android and online
Mint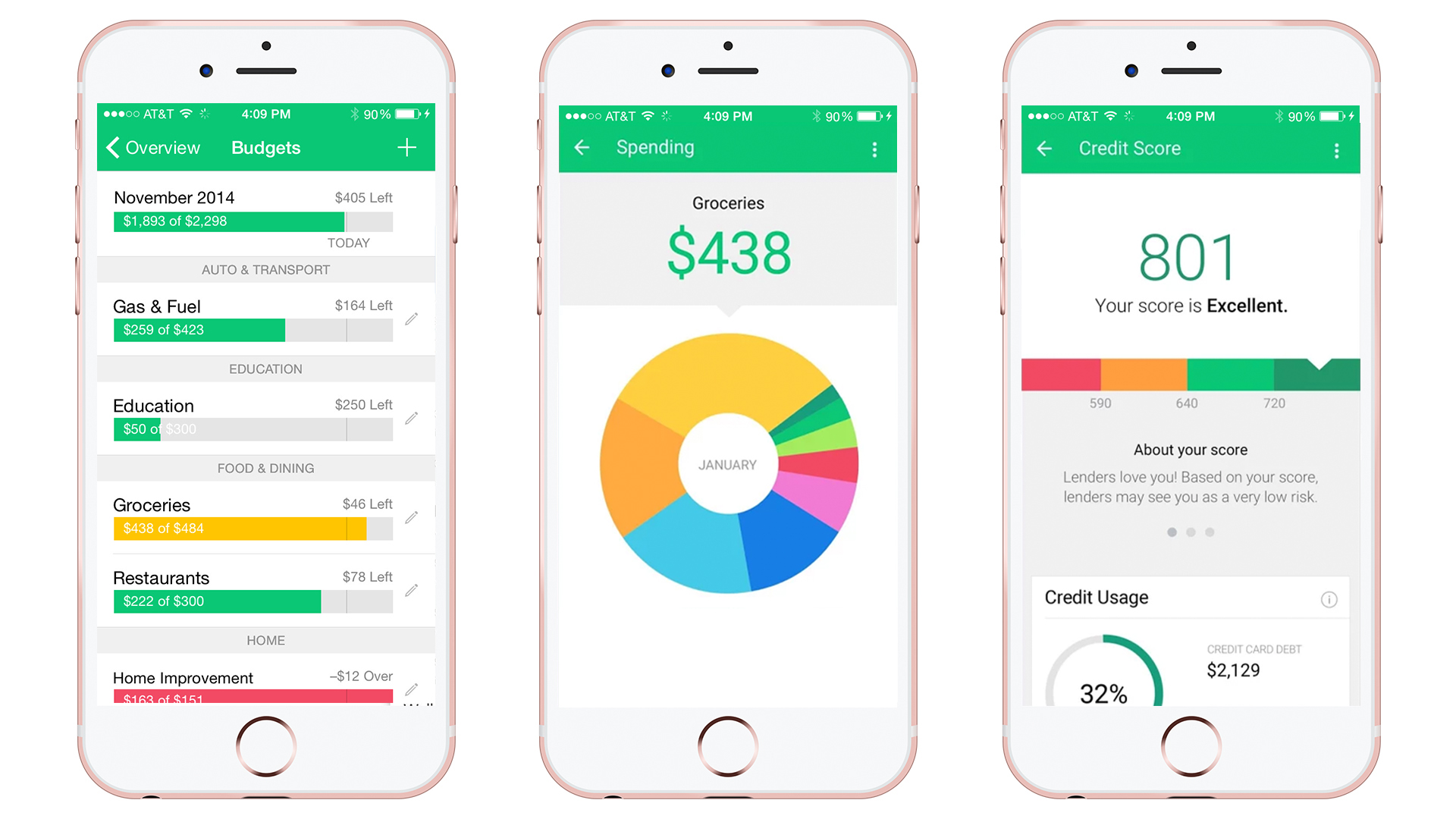 Mint helps you track and pay your bills, manage your budget, and track investments. You can also track your credit score and compare credit cards, bank accounts, investments and insurance products. Mint is a product of Intuit — which also produces Quicken, QuickBooks and TurboTax — so their money management roots go deep.
Pros of Mint:
Offers budgeting, bill paying and investment tracking in one place
Provides tips on saving on credit cards, bank accounts, and investments
Cons:
Might be overly complex if you just want a budgeting tool
Price: Free
Devices: Apple, Android and online
Don't Miss: Most Effective Ways to Budget Your Money at Any Age
LearnVest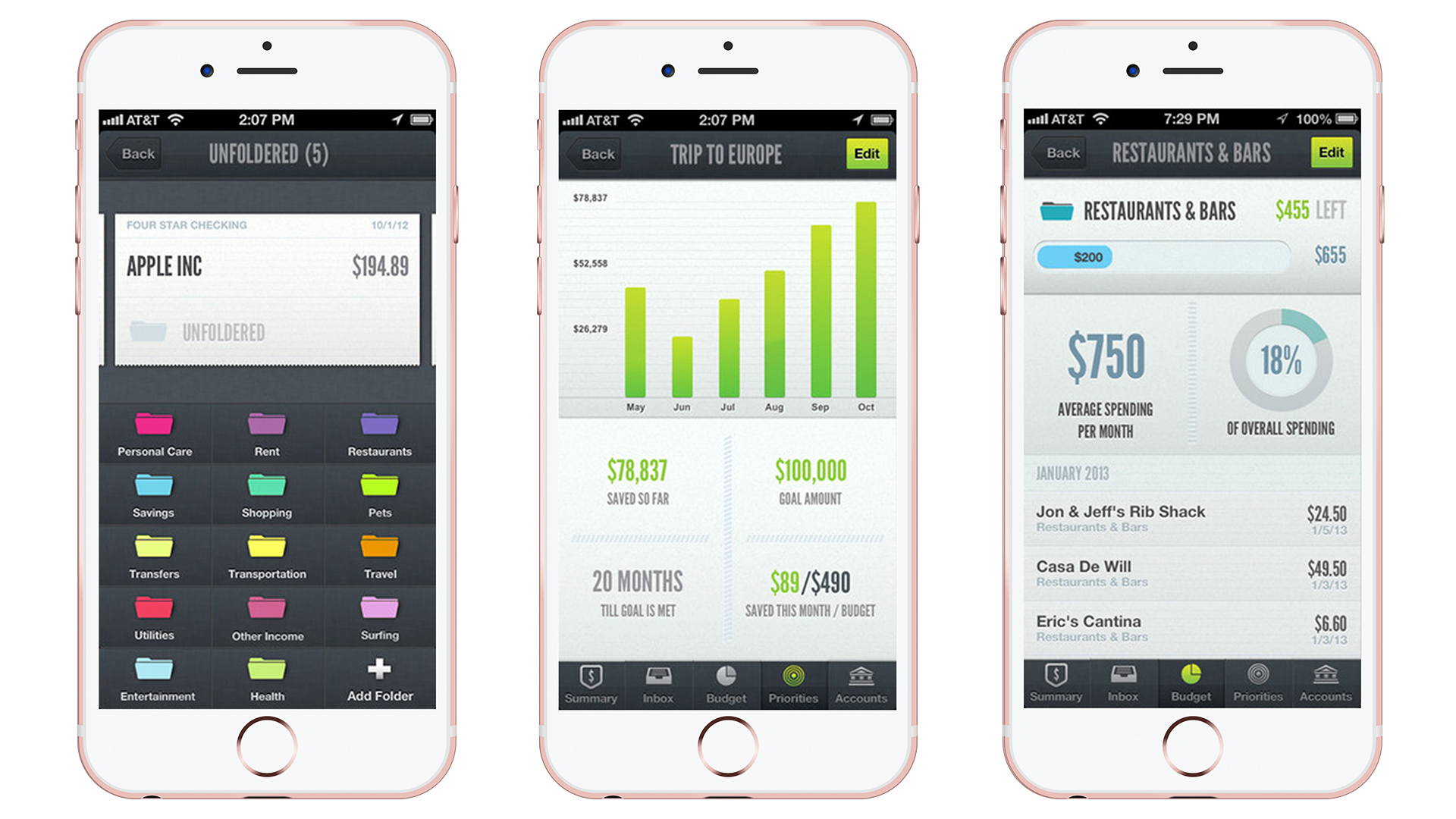 LearnVest is focused more on financial planning, such as saving and investing to meet your future goals. You get access to a human financial planner to answer questions and provide advice. To get your money's worth from this program, you should probably already have a handle on your spending habits, and you should have money that you want to invest.
Pros:
Inexpensive substitute for a fee-based financial planner
Cons:
Doesn't track your income and expenses
Can't pay your bills with the app
Pricey compared to other apps
Price: $299 initial setup fee plus $19 a month
Devices: Apple, Android, and online
Learn Why: Investing Should Be Part of Your Financial Plan
Penny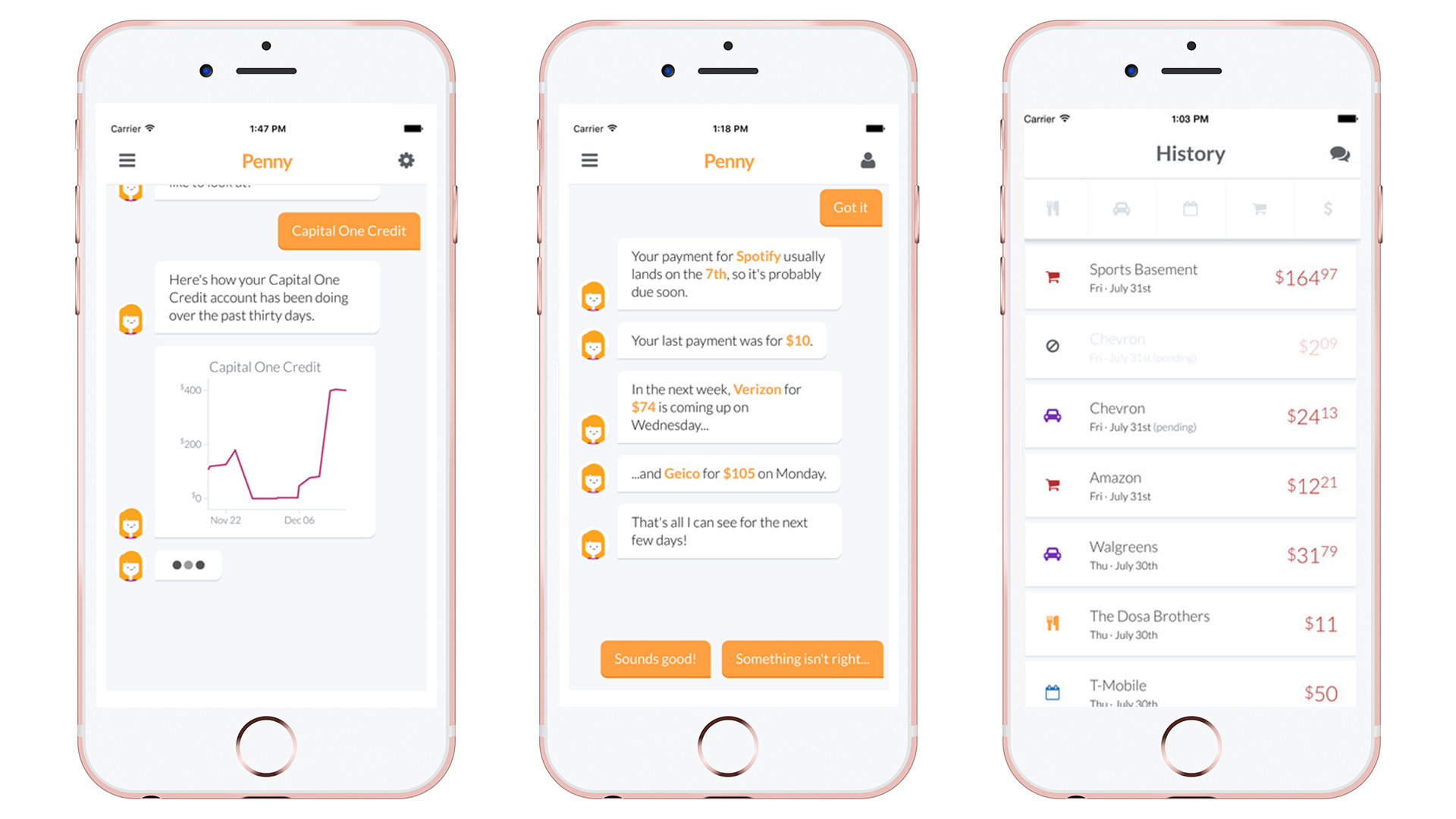 Penny helps you track income and spending on your phone. It's a straightforward money app without a lot of bells and whistles, making it a good choice for those who are just starting out or are intimidated by the thought of managing finances. It syncs with your banking information to offer advice and notify you when bills are due or you're in danger of overdrawing your account.
Pros:
Easy, friendly and straightforward
Cons:
Strictly a budgeting and bill-paying app
No support for investments
Price: Free, but a paid version is available with more features
Devices:  iPhone and Android phones only
Wallaby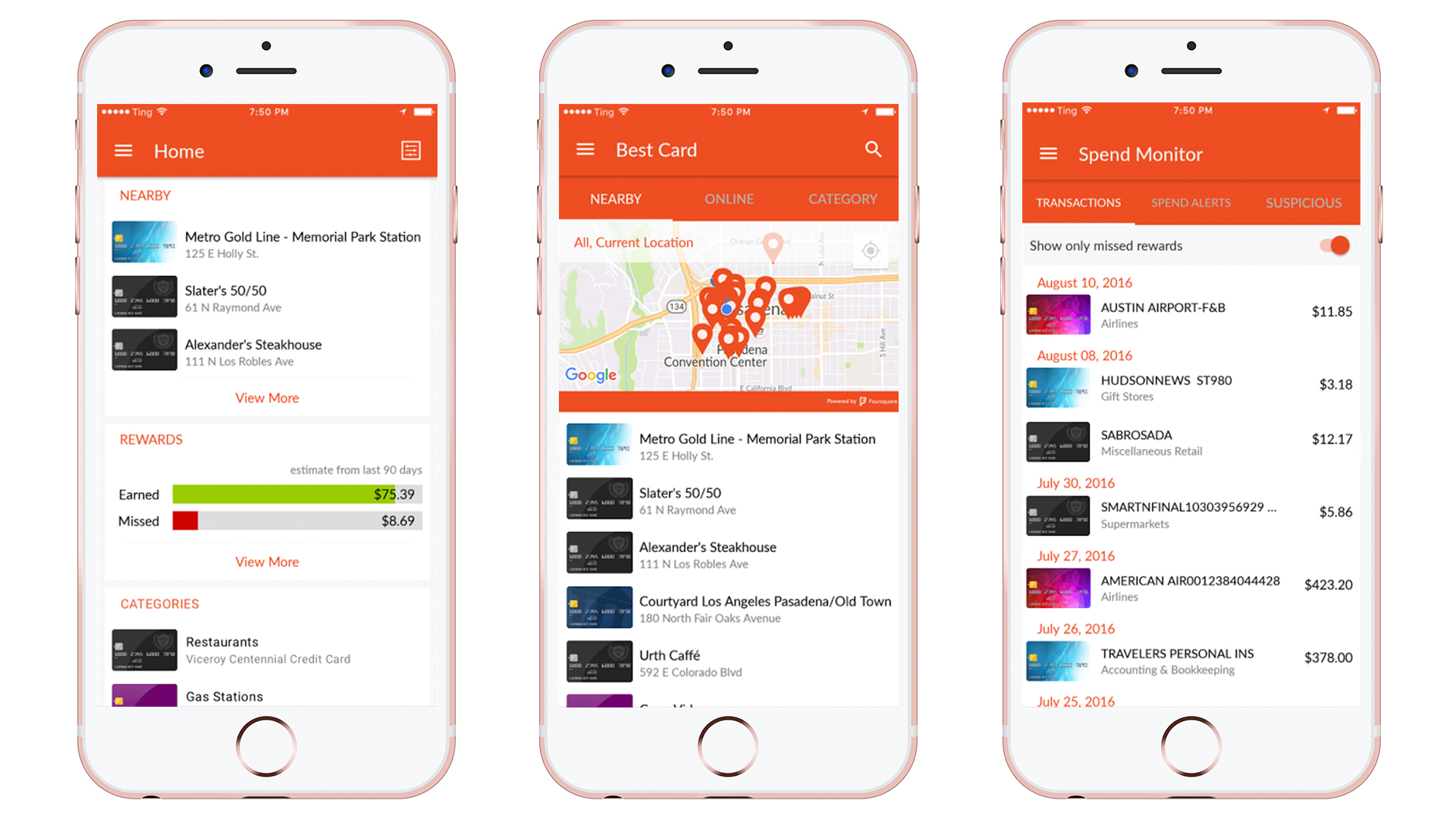 The Wallaby app keeps track of your credit card rewards programs and tells you which card to use when making a purchase in order to maximize your cash back. If you have multiple credit cards with different rewards programs, this will help you get the most out of them.
Pros:
Tracks credit card rewards programs to maximize your cash back
Suggests cards to get based on your spending habits
Cons:
No budgeting or investment tools
No access from a desktop or laptop computer
Price: Free
Devices: iPhone or Android phones only
Wally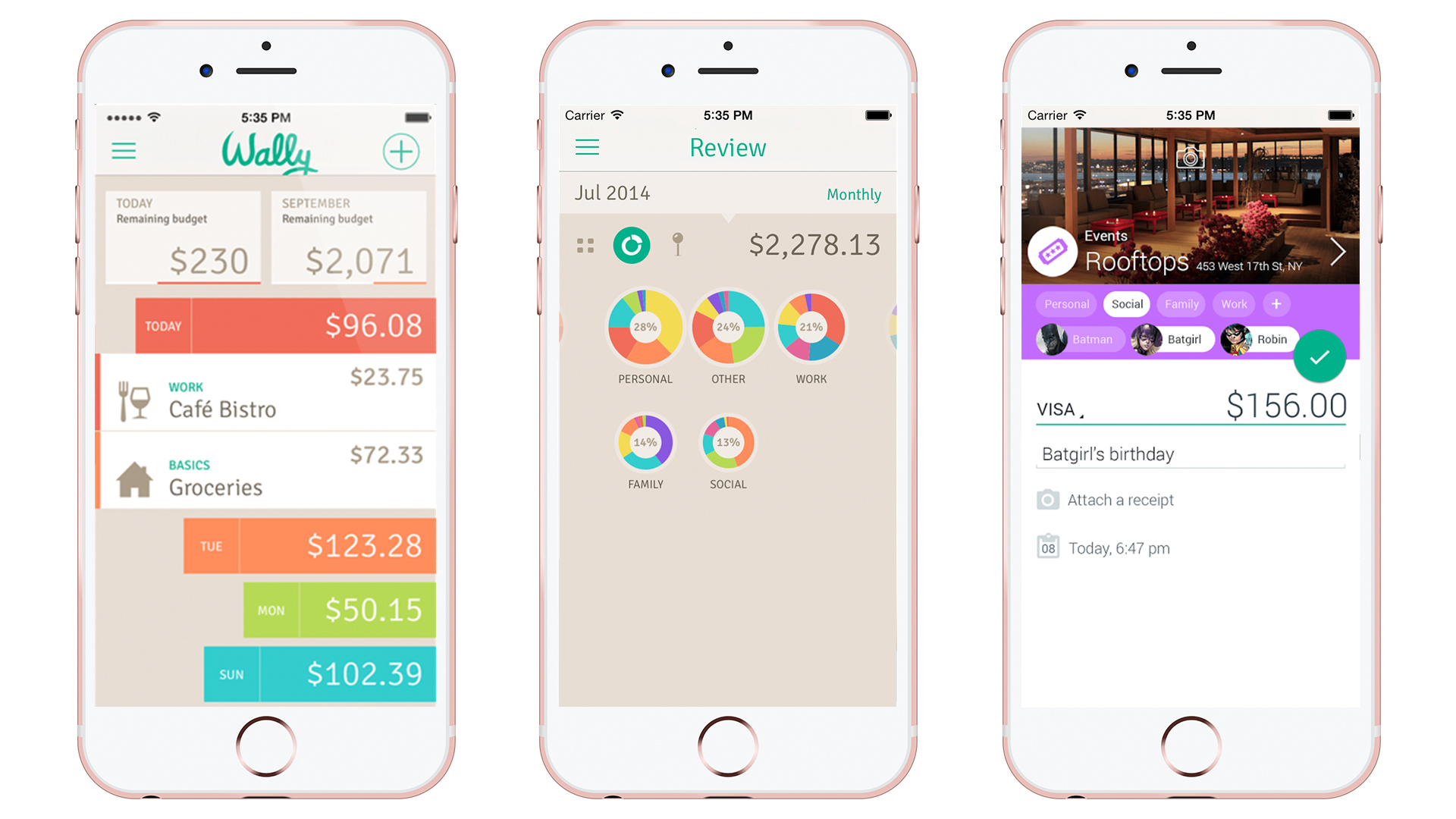 Wally lets you compare income to expenses, see where your money goes, and set financial goals. This app is a relatively new product, so more features are expected to be added shortly, some of which will be available for a fee.
Pros:
Compatible with all currencies, making it a good choice if you have accounts in countries other than the U.S.
Cons:
No access from your desktop or laptop computer
Price: Free
Devices: iPhone; more robust version called Wally+ is available for Android
EveryDollar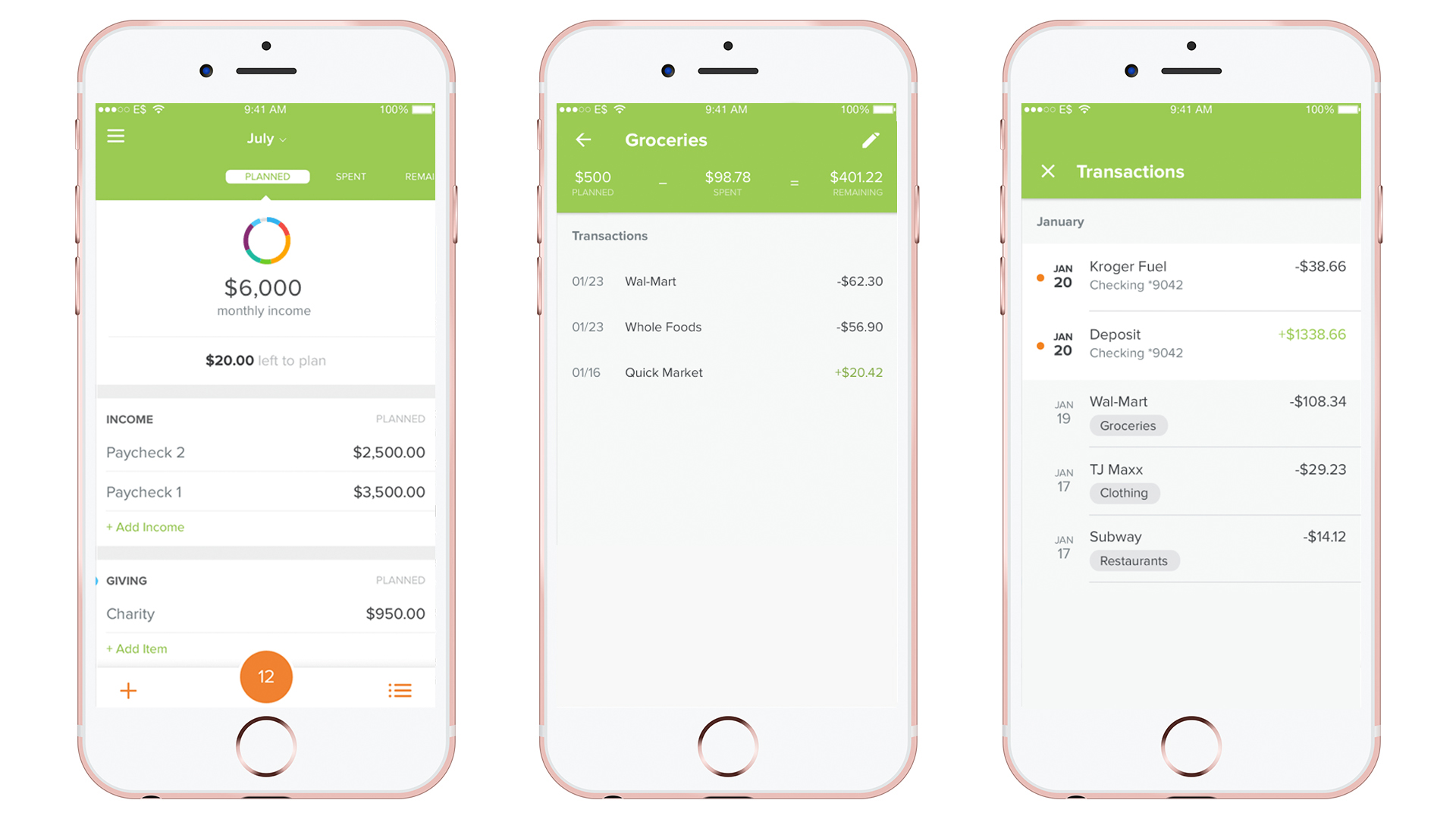 EveryDollar is a budgeting app that connects to your bank accounts to help you track your expenses and fine-tune your budget. The website offers useful budgeting information, and you have access to support and coaching on a call-back basis.
Pros:
Support for those creating a first-time budget or focused on getting out of debt
Straightforward charts and graphics
Cons:
No support for investments
Price: Free, with a more robust version, EveryDollar Plus, available for $99 a year
Devices: Apple, Android and online
Mvelopes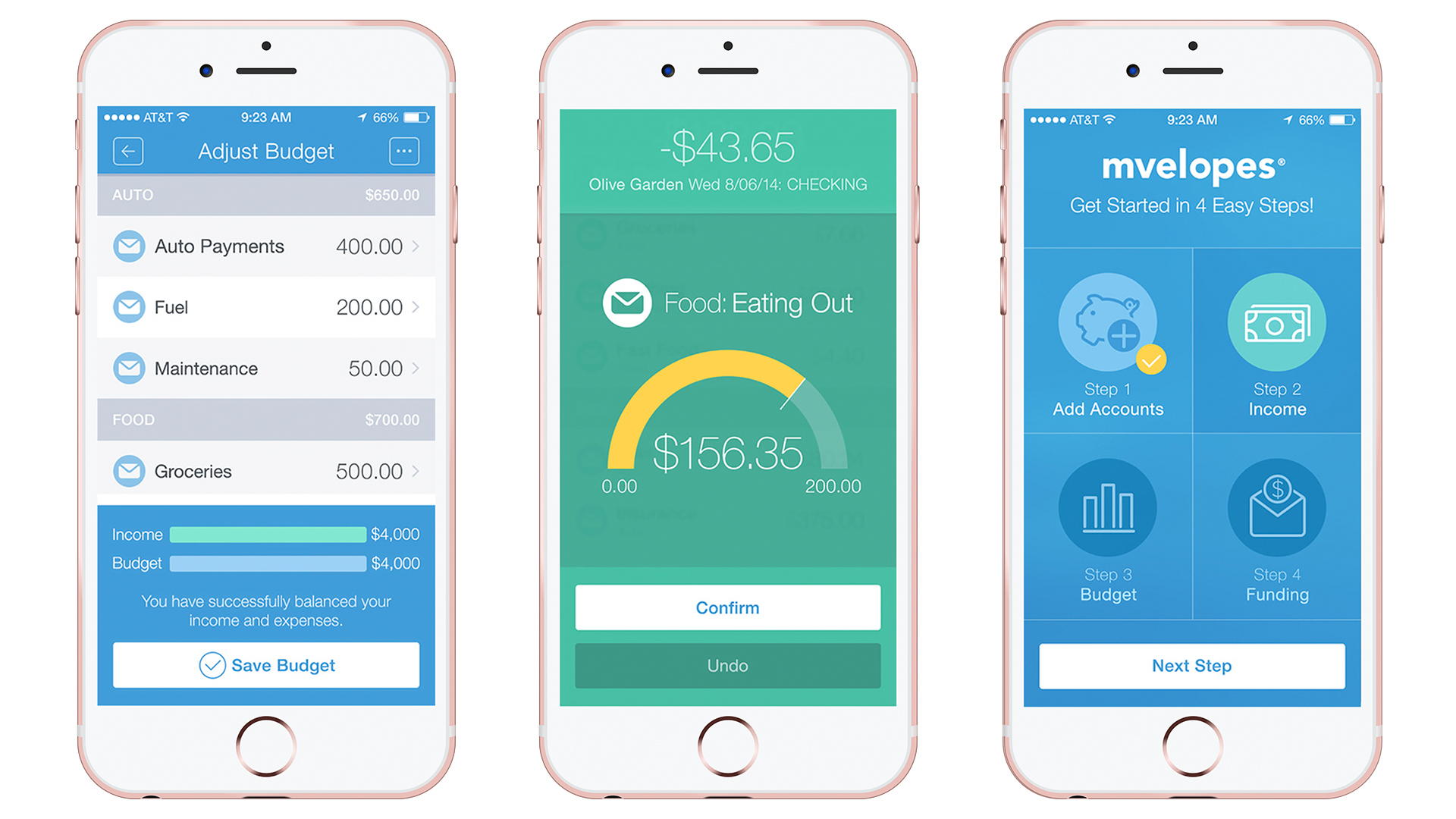 Mvelopes offers three levels of financial help. Mvelopes Basic is a spending-tracking app that tracks what comes in and what goes out. Mvelopes Plus helps you set and achieve short-term goals, like getting spending under control and paying down debt. Mvelopes Complete includes a personal finance trainer you can talk to once a month to create and manage your personal financial roadmap.
Pros:
Can choose from three versions to get the best set of features for your situation, with the option to upgrade later
Cons:
Monthly fee
Fewer features in basic version than some other free apps
Price: Basic is $4 a month; Plus starts at $19 a month and Complete starts at $59 a month on a limited time offer.
Devices: Apple, Android and online
GoodBudget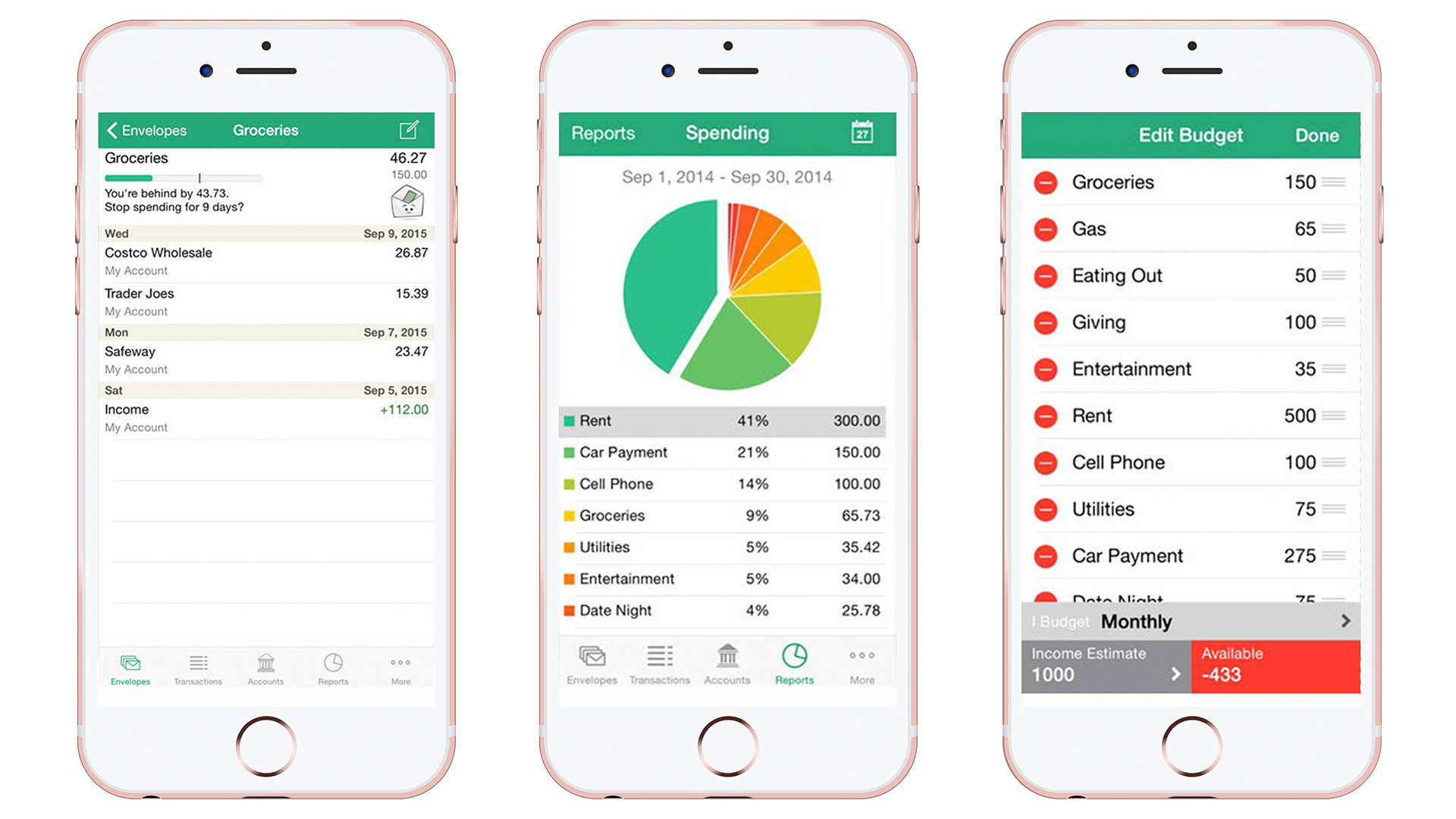 GoodBudget is a budgeting app that lets you set goals and track the progress you"re making toward meeting them. You can sync your budget and share it with your partner, so both of you can stay on track. It uses the "envelope method" to allocate each paycheck to your upcoming expenses.
Pros:
Cons:
No support for investments
Limited number of envelopes and accounts in free version
Price: Basic version is free; Plus version is $6 a month.
Devices: Apple, Android and online
To find which of these finance apps is best for you, narrow your choices based on your situation. For example, if you're looking for a budget, compare YNAB versus Mint. For financial planning, look at LearnVest versus Personal Capital.
Check out the website for each one, but also read app reviews. Mint reviews might convince you that's the app for you, but a YNAB review might point out something you don't like. Looking at LearnVest reviews and LearnVest competitors might provide some guidance as well. Once you've narrowed the choices, base your final decision on a side-by-side comparison.