Post-Comey: Christopher Wray's Net Worth as New FBI Director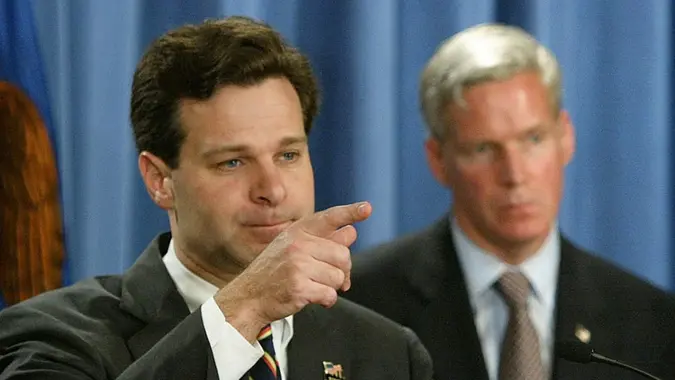 Mark Wilson / Getty Images
After practicing law in the private sector for many years, Christopher A. Wray is returning to Washington, D.C., as the new head of the FBI.
The Senate voted to confirm Wray as FBI director August 1. The vote comes nearly two months after President Donald Trump announced via Twitter on June 7 that he was nominating Wray to the post. The post had been vacant since Trump fired former director James Comey in mid-May.
I will be nominating Christopher A. Wray, a man of impeccable credentials, to be the new Director of the FBI. Details to follow.

— Donald J. Trump (@realDonaldTrump)

June 7, 2017
Here is a look at the wealth behind the new director of the FBI.
Christopher Wray Net Worth: Unknown
Considered a dark horse for the nomination by many, the 50-year-old's net worth is unknown. However, his career both in the private sector and in Washington has likely left him with a healthy bank account.
Wray is a former assistant attorney general who led the criminal division of the Department of Justice under President George W. Bush from 2003 to 2005, heading up the Enron Task Force and several other major fraud investigations. When he joined the DOJ as an associate deputy attorney general in 2001, the Yale Law School graduate earned an annual salary of between $125,000 and $185,000. He likely received several pay increases as he moved up the ranks to his eventual position as assistant attorney general.
Make Your Money Work Better for You
Make Your Money Work Better for You
Sponsors of
After leaving the public sector, Wray became a partner at the D.C.-based law firm King & Spalding. His bio on the firm's website lists that he focuses on white-collar crime, civil litigation and internal corporate investigations. Most notably, he served as New Jersey Governor Chris Christie's attorney during the "Bridgegate" trial in 2016.
Glassdoor reported that partners at King & Spalding make anywhere from $290,000 to $504,000 annually.
As FBI director, Wray will be paid an estimated annual salary of $187,000 as a Level II employee, according to the U.S. Office of Personnel Management. If he completes the position's 10-year term, he will earn more than $1.8 million.
See More: The Money Behind Donald Trump's Cabinet and Advisors
Christopher Wray Political History and Personal Life
Wray was among other Bush administration staffers who threatened to leave the White house over a controversial surveillance program in 2004. He stood up alongside James Comey and then-FBI Director Robert Mueller, who is now the special prosecutor leading the investigation into whether the Trump campaign colluded with Russia to win the 2016 election.
According to the Washington Post, those who know Wray consider his willingness to walk away from the Bush administration a marker that he'll be able to protect the FBI from current political interference.
Wray married his wife Helen in 1989 after meeting her at Yale. The couple has two children who they've raised in their home state of Georgia.
Make Your Money Work Better for You