What Will Trump's Finances Look Like After He Leaves Office?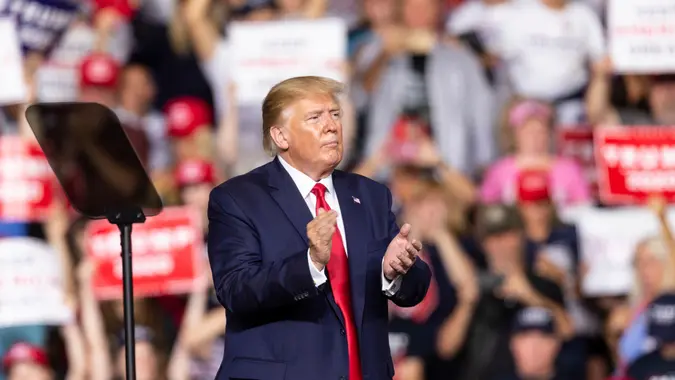 lev radin / Shutterstock.com
The extent of President Donald Trump's wealth has long been unclear, and he has refused to shed any light on it. In 2005, journalist Timothy O'Brien published a book called "TrumpNation," claiming that Trump's net worth was somewhere between $150 million and $250 million. Trump sued O'Brien for libel. Although the easiest defense would be to show documents proving that his net worth was a billion or so, Trump argued that O'Brien acted out of malice to sell books. O'Brien's defense was that he had documented sources that backed up his findings, and the judge agreed and dismissed the suit.
See: How Much Is President Donald Trump Worth?
Find: The Richest and Poorest US Presidents
Most observers took that suit to mean that Trump was not a billionaire. Others looked at Trump's various business ventures as indications that he needed cash. For example, Trump Vodka seemed like an unusual licensing agreement for someone who does not drink. A fraudulent real estate school, Trump University, seemed like an unnecessary distraction at best. It was certainly nothing like Stanford, Ball State or other universities named for wealthy benefactors.
Make Your Money Work Better for You
Plenty of documented billionaires are generous with their money. The Bill and Melinda Gates Foundation is pursuing the global eradication of polio. MacKenzie Scott just donated $4 billion to colleges and civic organizations that work with underserved populations. Meanwhile, The Washington Post was able to document only $7.8 million in charitable giving funded by Trump's own resources since the 1980s.
See: 2020 in Review — The Year for Bill Gates
Find: MacKenzie Scott, Jeff Bezos' Ex, Just Gave Away $4.2 Billion; Now One of World's Top Donors
Obviously, many wealthy people don't want other people to know how rich they are. They don't want security headaches, constant requests for money or employees looking for raises. But these people don't sue folks who guess at their net worth.
Part of the problem is that Trump's primary business is real estate. Buildings and land are illiquid, so owners often turn to loans against their value to raise cash. Real estate is also difficult to value. Bill Gates and MacKenzie Scott can get a rough estimate of their net worths every day by checking the prices of Microsoft (NASDAQ: MSFT) and Amazon (NASDAQ: AMZN) stock. Real estate values are a combination of the value of the land, the value of the buildings and the value of the activities that take place on the land and in the buildings. This makes it more difficult to determine how much each is worth.
Make Your Money Work Better for You
Also, remember that "net worth" is assets less liabilities. If you have a billion dollars in assets and a billion dollars in liabilities, you aren't a billionaire — you have nothing.
See: The Trumps, Clintons and More — The Wealthiest Presidential Families
Find: These Billionaires Got Richer During the Pandemic
Last year, The New York Times reported that President Trump had not paid taxes because he posted large losses. The reporters concluded that between business losses, debts and a tax audit that could cost him $100 million, the president's finances were precarious.
The story doesn't get better in the post-presidency. After leaving office, Bill Clinton made money from corporate speeches, and Barack Obama cut a production deal with Netflix, both of which made the two men wealthier than they were before they held office. Bill Clinton was in debt for his legal costs, but he owed nothing like the rumored $2.5 billion that the Trump Organization owes Deutsche Bank. CNN reports that $340 million of that comes due in the next few years.
Make Your Money Work Better for You
See: The 25 Companies Contributing 20% of Trump's Business Revenue
Find: PGA Pulls Event from Trump Golf Course, Shopify Terminates Trump's Online Stores, Banks Cut Ties
Furthermore, the activities of the last few weeks have damaged the Trump name. Following the attack on the Capitol on Jan. 6, President Trump has been impeached for the second time. The PGA announced that it would not hold the 2022 PGA Tournament at Trump's Bedminster, New Jersey, club, nor would it hold future events at Trump properties. The City of New York canceled its contracts with the Trump Organization to manage two ice skating rinks, a carousel and a golf course. The Girl Scouts of New York are trying to get out of their lease in a Trump building, and Cushman and Wakefield announced that it would no longer handle leasing at Trump properties.
In 1852 and 1853, Charles Dickens published the serialized installments of his novel "Bleak House." The central plot is a long-running lawsuit over a disputed estate. Nearly 175 years later, it may prove to be a guide for what we will see with the Trump family and what fortune it may have.
More From GOBankingRates
Last updated: Jan. 20, 2021 
Make Your Money Work Better for You