Donald Trump's Election Money To Be Seized 'If Obtained by Fraud' — Where Do Frozen Campaign Funds Go?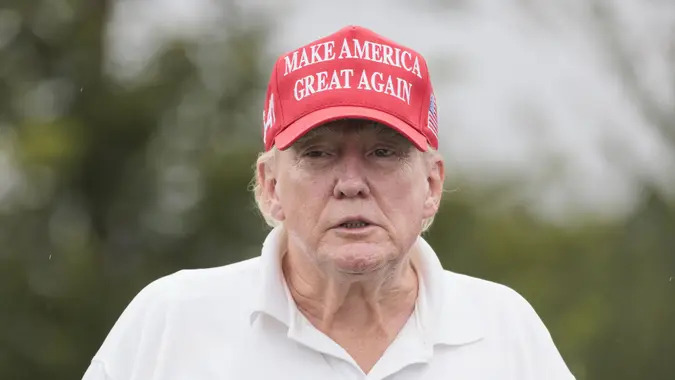 JUSTIN LANE/EPA-EFE/Shutterstock / JUSTIN LANE/EPA-EFE/Shutterstock
Former President Donald Trump's legal woes could extend into his campaign finances amid reports that his post-2020 election donation funds could be frozen. If so, it would deal a blow to both Trump's 2024 presidential run and his legal defense against federal indictments.
The issue surfaced during ongoing investigations of Trump by Special Counsel Jack Smith, Newsweek reported last week, citing comments from former FBI general counsel Andrew Weissmann. According to Weissmann, Smith's office is questioning people in connection to the money raised by Trump's Save America political action committee after he lost the 2020 presidential election.
In a recent interview with MSNBC, Weissmann said that if Trump's fundraising finances become a part of Smith's federal investigation, it could lead to "pretrial forfeiture." This would result in the money being frozen, Newsweek reported.
Tens of millions of dollars given to Trump's PAC were reportedly spent on his and other Trump-linked defendants' legal fees this year, according to Weissman.
"There could be other funds that are available, but if they are funds that have been obtained by fraud — obviously the government would have to prove that — you can get pretrial seizure orders," he said.
It is unclear exactly where frozen campaign and election donation funds go. What's known is that if federal authorities freeze the funds, Trump and his team won't be able to access them.
Make Your Money Work Better for You
Although PAC money purportedly goes to political causes like electing or defeating candidates or supporting/opposing ballot initiatives, much of the money donated to Trump's Save America PAC has been used to pay his legal bills, The Washington Post reported.
According to the Post, the PAC had more than $100 million at the beginning of last year. But that figure has dwindled down to about $3.6 million in cash on hand after it "became the vehicle used to pay millions of dollars in legal bills for the former president, his aides and his associates."
It's not unusual for PACs and similar funds to raise more money than they need to finance campaigns. Leftover money can be transferred to other candidates' races, political parties, PACs, charities and even potential recounts, NBC News reported. If candidates plan to run for office again, they can use leftover funds for another campaign.
"It's really only the people who are ending their kind of public life who really donate it to charity," Northwestern law professor Michael Kang told NBC News. "The other candidates are just taking a break, and they'll probably retain that money in some form or deploy it politically in ways that are useful for their career."
Candidates are not supposed to use leftover campaign money for personal use, but it's not always easy determining what constitutes "personal use."
"You couldn't use it just to buy pizza dinner on a Saturday night with your family," Kang said, though he added that you might be able to spend funds on a pizza dinner for campaign staff at work.
Make Your Money Work Better for You
More From GOBankingRates