Grant Cardone Asks How Politicians Making $100K Suddenly Become Multimillionaires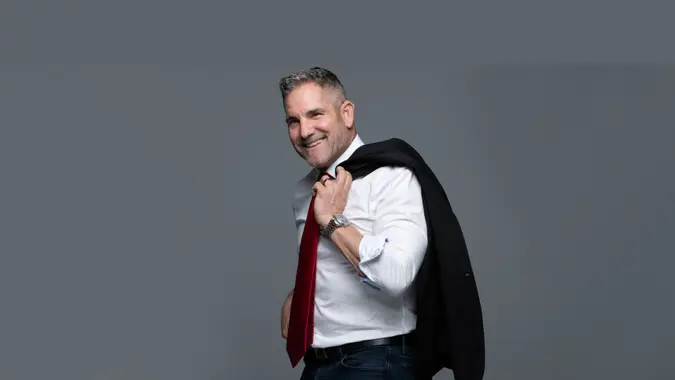 ©Grant Cardone
Grant Cardone knows all about being rich — and poor. The sales trainer, speaker and entrepreneur is worth an estimated $600 million, but part of his childhood was spent in poverty. When Cardone graduated from college in 1981, he was $40,000 in debt.
Given his experience on both sides of the wealth spectrum, Cardone probably has a natural curiosity about why some people become rich and others don't. That curiosity was shared on Twitter this week when Cardone issued the following May 4 tweet: "Can someone explain to me how public servants (politicians) are becoming multi-millionaires on $100,000 salaries?"
Cardone didn't provide further details on which public servants (and millionaires) he was referring to. Presumably, his tweet was mainly meant for members of the U.S. Congress. According to a 2020 report from Open Secrets, more than half of the 535 members of Congress are millionaires.
It is also unclear where Cardone got his $100,000 figure. The average annual salary of a rank-and-file Congressional member is $174,000, according to a 2019 report from the Congressional Institute. That lines up with more recent estimates reported by the Washington Post.
The Speaker of the House earns $223,500 a year, the Congressional Institute noted, while the Senate President pro tempore and Majority and Minority leaders each earn $193,400.
Those are excellent salaries — and much higher than the figure Cardone tweeted — but they don't necessarily turn you into a millionaire. What they do offer is a nice base to build upon if you plan to supplement your income while serving in Congress.
There's nothing preventing Congressional members from earning incomes outside their official duties, according to Open Secrets. However, there are restrictions. For example, they can't earn more than 15% of the Level II of the Executive Schedule, which determines the pay scale of political appointees in the Executive branch. Members must also file disclosures detailing the source of both earned or passive income, such as stock dividends.
Make Your Money Work Better for You
Stock investments are a likely source of income for many members of Congress, just as they are with the general public. But as The New York Times reported last year, economist Serkan Karadas found a "suspicious pattern" of Congressional members earning higher-than-average returns on their stock investments.
Karadas' findings "suggested that at least some Congress members were profiting off their jobs," according to the NYT. This could come in the form of insider knowledge about upcoming policy changes or economic shifts that can potentially impact stock performance.
In some cases, members of Congress were simply born rich. An example is U.S. Sen. Mitt Romney (R-Utah), whose father George was CEO of American Motors before becoming governor of Michigan. Others married rich — including former House Speaker Nancy Pelosi (D-Calif.) and Sen. Diane Feinstein (D-California).
Having personal wealth before you enter politics can go a long way toward financing successful campaigns — especially for those with no previous legislative experience.
Other members of Congress amassed wealth in the business world before entering government. For example, Sen. Rick Scott (R-Fla.) built a net worth of $300 million, mainly by founding Columbia Hospital Corp., which used a series of buyouts to evolve into Columbia/HCA, the world's largest healthcare provider.
More From GOBankingRates
Make Your Money Work Better for You