How Much Is Colorado Governor Jared Polis Worth?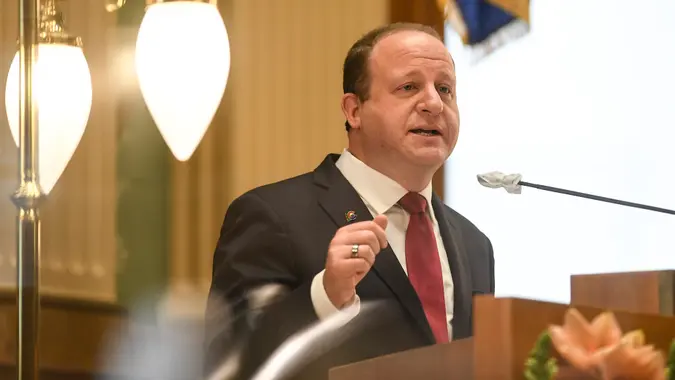 AAron Ontiveroz / DP
With just over 40 days left in Colorado's 2023 legislative session, Gov. Jared Polis is making headlines by signing a slew of bills into law and proposing sweeping new legislation intended to address the state's affordable housing problem.
Learn:
Focused on bringing down the high cost of living in the Centennial State and steadfast to his political views on education, environment, energy, technology and health, Polis began his political career on the State Board of Education in 2000 before moving on to a congressional chair in 2008 then into the Cheesman-Boettcher Governor's Mansion in 2018.
Polis is one of the richest politicians in the U.S., making his fortune in the technology world with a number of online businesses before branching out into politics. He has continued to grow his net worth through investments. But just how rich is he?
Let's take a closer look at Jared Polis' net worth to see where it comes from and how he's managed to amass such an impressive fortune.
Jared Polis Net Worth: $400 Million
Before being elected to his current position as the 43rd governor of Colorado, Polis was a member of Congress, as the representative for the second congressional district of Colorado for 10 years. Prior to that, he served one six-year term as a member of the Colorado State Board of Education.
Make Your Money Work Better for You
While high-ranking government salaries are nothing to sneeze at, Polis' wealth comes primarily from starting and selling several businesses during his life. His net worth had been estimated at over $300 million for years, but Celebrity Net Worth has his fortune currently listed at $400 million.
While Polis was still at Princeton, he embarked on a career in business with two friends, founding an internet provider service called American Information Systems. According to the glbtq Encyclopedia Project, the company was sold in 1998 for more than $22 million.
After graduating from Princeton University in 1996, he established a successful online greeting card company called BlueMountainArts.com with his parents (an online offshoot of his parents' book and greeting card company). In 1999, the family sold the company for $780 million in cash and stock.
In 1998, Polis founded ProFlowers.com, an online flower delivery company that was later renamed Provide Commerce Inc. After going public in 2003, Polis sold the company two years later to Liberty Media for $477 million, per The New York Times.
Make Your Money Work Better for You
With entrepreneurs David Cohen, Brad Feld and David Brown, Polis founded TechStars in 2007. The startup accelerator has a cumulative market cap of $96 billion, according to its site.
?
Investments and Income
Back in 2017, OpenSecrets had Polis as the third-richest member of the House of Representatives with an estimated net worth of over $306 million. Included in this were substantial holdings in real estate ($25,974,000) and health services and HMOs ($15,032,500).
Additionally, the governor had just over $50 million invested in Jovian Holdings LLC, a Polis family-run management services business, and more than $37 million in his Jared Polis Qualified Brand Trust.
As Axios states, Polis' 2021 taxes divulged more than $1 million in income, most of which was from investment dividends (although he also claims deductions of over $300,000 in losses, making his adjusted gross income around $734,000).
The website also reported that the governor paid under the average worker's 19% tax bracket (11.8% in 2021 and 8.2% between 2021 and 2018) and, according to leaked documents, avoided paying federal taxes at all from 2013 to 2015 through legal, philanthropic loopholes.
Make Your Money Work Better for You
Presidential Aspirations
On Nov. 8, 2022, Polis was reelected for a second term as an incumbent by winning the Colorado gubernatorial election handily over Republican representative Heidi Ganahl. Garnering 58.53% of votes, Polis became the first openly gay politician to get reelected as state governor and received the most votes ever for a Colorado governor, beating the competition by almost a 20-point margin.
Polis remains highly popular in Colorado for his strong political freedom leanings and support for social issues. But what are the chances that "the most libertarian governor in America" will want to throw his hat in the ring to seek the nation's highest office?   
The answer is "not great," at least from all outward appearances. When asked in an interview on CBS's weekly political podcast "The Takeout" whether he has aspirations to run for the Democratic nomination in '24, Polis said, "No … I really don't have the fire in my belly to do that."
Although he has thus far left the door open to not running for reelection, the general assumption is that President Biden will announce his reelection in April. Polis opposes Biden on a number of issues but, for now, it looks like he is content to democratically represent and govern his home state.
Make Your Money Work Better for You
"As a Democrat, we obviously salivate at the prospect of being able to defeat President Trump again," he said on "The Takeout." "But as an American, I'd like to see a healthier body politic and would love to see somebody who believes in our Constitution, our system of governance and believes in the integrity of elections on both sides of the aisle."
Should he change his point of view or should Biden decide not to run, Polis might do a dramatic about-face. If he does, he is very popular (albeit state-wide), unconventional and exceedingly set up for a well-funded, fresh-start campaign.
Personal Life
Jared Polis was born in 1975 in Boulder, Colorado, to Stephen Schutz and Susan Polis Schutz, although he grew up and went to high school in California before attending Princeton where he earned a bachelor's degree in political science.  
As mentioned above, Polis has made history several times throughout his political career as a gay man. America's first openly gay man elected as governor and Colorado's first Jewish governor married his husband, Marlon Reis, in September 2021, and is the father of a son and a daughter.
Make Your Money Work Better for You
More From GOBankingRates