15 Most Memorable Moments of This Wild Election Year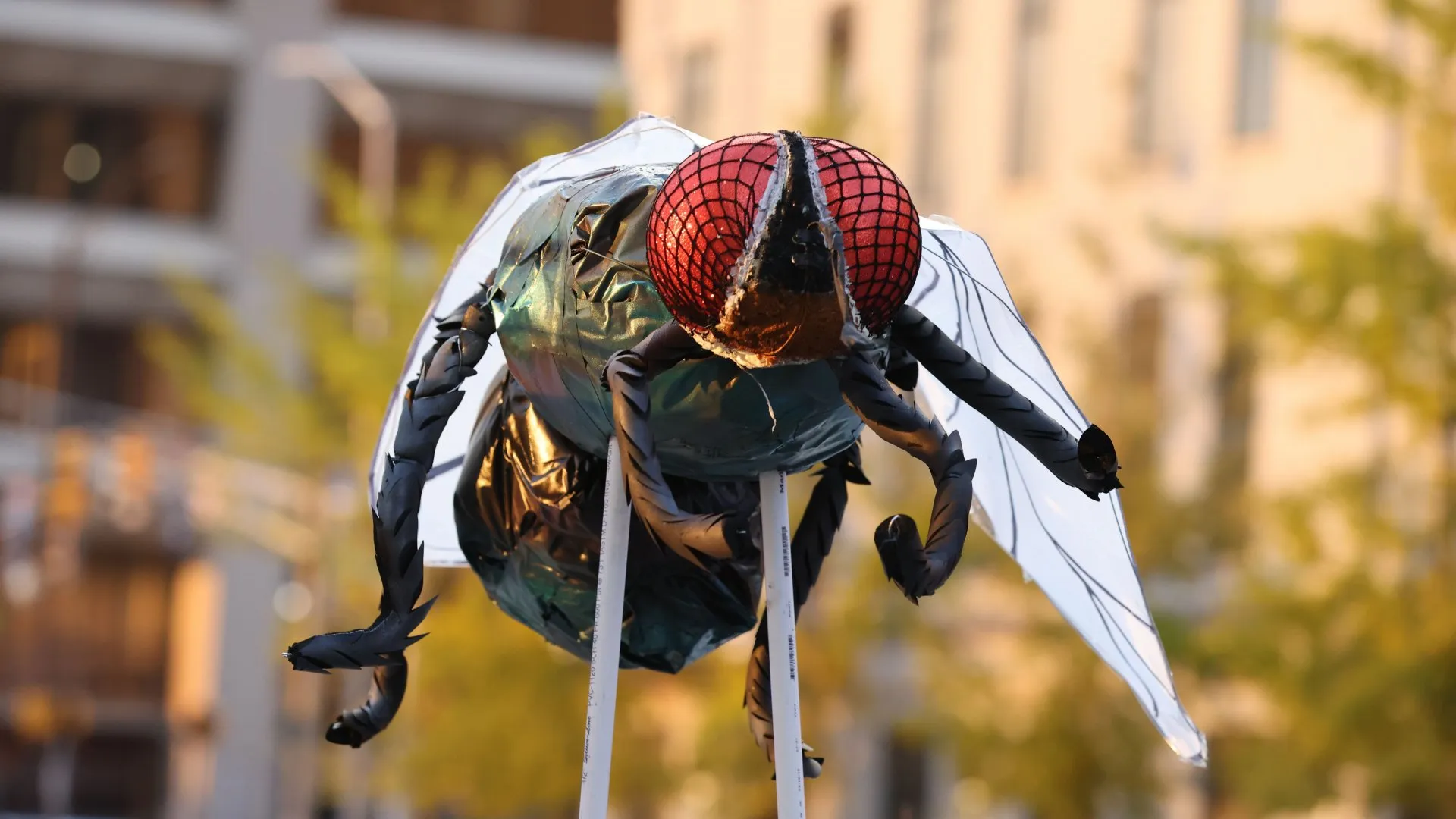 Tech Fail at the Iowa Caucuses
With everything that's happened since March, it's easy to forget about January and February, and how the Democratic primaries made headlines across the country. Particularly this headline.
In early February, candidates for the Democratic nomination were duking it out in Iowa: a key state for early momentum. But as the votes started pouring in, it became clear something had gone terribly wrong. The new, untested app that state Democrats were using to record results had malfunctioned, reporting only partial data from the polls.
This news caused a political firestorm — calling into question not only the caucus results but the use of technology in elections altogether.
Elizabeth Warren Destroying Mike Bloomberg's Campaign
But the drama at the polls in Iowa was far from the only drama in February. In the Democratic debate on Wednesday, Feb. 19, Sen. Elizabeth Warren seemed to have only one goal: to absolutely demolish Mike Bloomberg.
Bloomberg, the former mayor of New York, was notably the wealthiest of the Democratic candidates, with a net worth of $54.9 billion, as of Nov. 2. (He wasn't the only billionaire, but it's universally agreed upon that hedge fund manager Tom Steyer wouldn't hurt a fly.) In any case, Bloomberg's billionaire status made him an easy target for Warren's attacks.
She set the tone for the night with a scathing remark: "I'd like to talk about who we're running against. A billionaire who calls women 'fat broads' and 'horse-faced lesbians.' And no, I'm not talking about Donald Trump. I'm talking about Mayor Bloomberg." 
Warren went on to bring up Bloomberg's history of mistreating of women in the workplace, including the nondisclosure agreements he had them sign. And Bloomberg, for his part, did a terrible job of defending himself.
"They signed the agreements, and that's what we're going to live with," he said. His total speaking time was only 13 minutes.
Even President Trump wanted a piece of the action. "Mini Mike Bloomberg's debate performance tonight was perhaps the worst in the history of debates, and there have been some really bad ones," he tweeted after the debate.
Bloomberg refused to drop out until after Super Tuesday, when it became clear he could not secure the nomination.
Make Your Money Work Better for You
Bernie Sanders Smashing Fundraising Records
Meanwhile, progressive Sen. Bernie Sanders was busy pulling in an astonishing $46.5 million in campaign donations in February. The funds came from 2.2 million individuals in a remarkable showing of grassroots organization.
In comparison, Warren won second place with $29 million in donations, and former Vice President Joe Biden trailed in third with just $18 million.
Early in the game, it wasn't just donations that were making Sanders look good. His supporters were representing at the polls. He finished in a virtual tie with Pete Buttigieg in Iowa and followed that up with back-to-back wins in New Hampshire and Nevada. At that point, it was starting to look like the senator from Vermont may run away with the race.
Joe Biden Winning Super Tuesday
However, Biden won a critical race in South Carolina on Feb. 29, and that momentum drove him to victory on Super Tuesday in early March. While Sanders snagged four states in total — including Colorado, Utah, Vermont and the delegate-rich California — Biden racked up big wins in Texas, North Carolina and Virginia, among others.
What's interesting about the results is that they were actually pretty close. By the end of it all, Biden's delegate count totaled 664, while Sanders' totaled 573 — by no means an insurmountable gap. But Sanders' biggest win, California, wasn't called until very late in the day, with voters waiting hours in line to cast their ballots. The same problem became prevalent in Texas, in what was an extremely narrow win for Biden.
After the needle swung in Biden's direction — the media hot on its tail — Sanders was never able to recover momentum, and Biden soon cinched the nomination.
Make Your Money Work Better for You
Kanye West Running for President
On July 4, famous rapper and sneaker aficionado Kanye West tweeted his bid for the presidency. "We must now realize the promise of America by trusting God, unifying our vision and building our future. I am running for president of the United States!" 
The announcement was foreshadowed at the 2015 MTV Video Music Awards when West said essentially the same thing while accepting an award. For those hoping it was a joke…well, it clearly wasn't.
This move still came as a surprise to many, given that West is a known Trump supporter and has been seen wearing his signature MAGA hat. Speculation came about that West was simply working to siphon votes away from the Democratic nominee, thereby ensuring Trump's 2020 reelection.
Whatever his motives, West secured at least some big-name approval. Tesla co-founder Elon Musk and "Shark Tank" entrepreneur Mark Cuban tweeted their support.
Donald Trump's Tax History Revealed
In a major move on Sept. 27, The New York Times published a more than 13,000-word article detailing Trump's tax history — and it was ugly.
Trump has long been criticized for refusing to release his tax returns; and it's become pretty clear why he didn't. In the first two paragraphs of The Times' report, a conclusion is immediately drawn: "Donald J. Trump paid $750 in federal income taxes the year he won the presidency. In his first year in the White House, he paid another $750. He had paid no income taxes at all in 10 of the previous 15 years — largely because he reported losing much more money than he made."
While the article sparked outrage among Democrats across the U.S., Republicans have fired back. Arguments range from The Times lacking evidence to Trump transferring his White House salary to Trump using perfectly legal tax breaks to avoid paying more in taxes.
But Trump's taxes — or lack of them — aren't his first scandal, and they probably won't be his last. After all, a (debatably) worse scandal broke before the 2016 election…and he won anyway.
Make Your Money Work Better for You
The First Presidential Debate
The first presidential debate between incumbent President Donald Trump and Democratic nominee Joe Biden took place on Sept. 29, and it was about as pleasant as the rest of 2020.
That is to say, it was a veritable dumpster fire.
Fox News' Chris Wallace served as the moderator, although people didn't think he did a very good job of it. The 90-minute debate featured Trump repeatedly speaking over Biden, to the eventual exasperation of the vice president. "Will you shut up, man?" Biden said.
Although Wallace tried to keep the focus on policy, plenty of personal attacks were leveraged, including one against Biden's son, Hunter. At one point, instead of agreeing to condemn the white supremacist group the Proud Boys, the president told them to "stand back and stand by."
By the end of the night, most people were likely wishing they'd never turned on the television.
Donald Trump Contracting COVID-19
Just days after the debate aired, Trump tweeted that he and the first lady had tested positive for COVID-19 and that they were going into quarantine together. "We will get through this TOGETHER!" he wrote.
The news was met with a mixed reaction — especially as conflicting reports began to arise on the state of the president's health. Many Democrats pointed out how Trump often made fun of Biden for wearing a mask; meanwhile, Trump had been attending campaign rallies without one. Following Trump's positive test, a whole slew of White House workers came down with the virus, including presidential advisor Hope Hicks.
After his recovery, Trump has continued to attend campaign rallies without a mask.
Make Your Money Work Better for You
Claudia Conway Going Viral on TikTok
TikTok has made multiple headlines in 2020; from its Gen Z users reserving fake tickets to a Trump rally in Tulsa, Oklahoma — which ended with fewer than 6,200 people in attendance — to the president's ongoing attempts to ban the Chinese app.
But a truly special spotlight has been cast on viral TikTok user Claudia Conway, who is the daughter of Kellyanne Conway, the former counselor to the president.
Kellyanne first stirred up the media in August when she made the decision to leave her position as Trump's counselor, citing the need to "devote more time to family matters." And when you look into those matters, it makes sense. Her husband, George T. Conway III, is a Trump critic and former member of the Lincoln Project, and their daughter is a leftist and supporter of the Black Lives Matter movement.
Unfortunately, though, their family matters don't seem to be resolved. In 15-year-old Claudia's viral videos — many of which have since been deleted — she's expressed the desire to be emancipated from her parents, and has alleged physical and verbal abuse from both of them. However, she's been displeased with the media attention following her posts.
"I am not the 'whistleblower' of our time. I am simply a 15-year-old girl with a following and bad luck when it comes to media coverage. Leave my family and me alone," she said on Oct. 6.
Mike Pence's Fly
Thankfully, the vice presidential debate had a more humorous takeaway than the debate between the presidential candidates. While acting Vice President Mike Pence and Biden's running mate, Sen. Kamala Harris, weren't afraid to trade verbal blows, they would be overshadowed by something else.
That something else being the house fly that decided to perch on Pence's head.
Although Pence didn't notice the intrusion to his personal space, viewers certainly did. It wasn't long before the scene went viral on TikTok and Twitter, with users claiming the fly was a Biden supporter. "I'd like to know when CNN acquired that tiny drone shaped like a fly," tweeted comic strip author Scott Adams.
Award-winning singer Lizzo recently made news for dressing up as the fly for Halloween.
Make Your Money Work Better for You
Donald Trump Delaying Stimulus Legislation
In early October, Trump put a stop to the congressional deadlock over the second stimulus bill, tweeting, "I have instructed my representatives to stop negotiating until after the election when, immediately after I win, we will pass a major Stimulus Bill that focuses on hardworking Americans and Small Business." 
Americans have been struggling to get by for months without federal support, as millions remain unemployed and unable to pay rent.
Jaime Harrison's Fundraising Tally in South Carolina
While the presidential election has captured most of the country's attention, there are key elections happening all over the U.S., including the Senate race in South Carolina. Democrat Jaime Harrison is currently running to unset Republican Sen. Lindsey Graham, who has been attacked for a comment that many are calling racist.
"I care about everybody. If you're a young African American, an immigrant, you can go anywhere in the state, you just need to be conservative not liberal," Graham said in the viral 10-second video.
Although Graham's campaign has since backpedaled, saying the video was taken out of context, it could be the difference in the race. Harrison has been reported to have raised $57 million in the final quarter of the campaign, demolishing Senate funding records.
"This campaign is making history, because we're focused on restoring hope back to South Carolina," Guy King, a spokesman for Harrison, said in a statement.
Justice Amy Coney Barret Sworn In
Since the passing of Justice Ruth Bader Ginsburg on Sept. 18, Democrats have been doing everything in their power to delay the confirmation of a new justice to the Supreme Court. After all, President Barack Obama was unable to confirm a new justice at the end of his term, with Republicans saying it was unfair to do so before the election.
However, the GOP was unafraid to be hypocritical on this stance. On Oct. 26, Justice Amy Coney Barrett was sworn in; cementing the Supreme Court's conservative majority and raising fears for the future of women's and LGBTQ+ rights.
Early and Mail-In Voting Breaks Records
We already knew the election would look different during a pandemic. Most states have allowed voters to request mail-in ballots due to the virus, and it seems that voters have taken advantage of it.
But even in states without the mail-in vote, the practice of early voting has changed the election landscape. Over 9.6 million people in Texas voted during the three-week early voting period — already beating out the total number of votes in 2016 (9 million).
This influx of mail-in ballots has raised concerns, though — especially about how quickly Americans can expect results on Election Day. If there are either Trump or Biden landslides in key swing states like Florida, North Carolina and Georgia, the race could be called pretty early on. But if it's a close election, we may be waiting a lot longer.
The New York Times has been quick to point out that the U.S. has never, technically, had all votes counted by midnight on Election Day.
Make Your Money Work Better for You
Businesses Boarding Up in Preparation for Election Day
There are a lot of things that set the 2020 election apart from elections past. One of the most obvious is the coronavirus pandemic. But aside from the virus, these are very visibly tumultuous times. Case in point: Businesses across the country are taking the time to board up their storefronts for fear of violent rioting following the election.
This decision comes after months of civil unrest, which has included looting and various other forms of property damage. The right is pinning it on Democrats and the Black Lives Matter movement, while the left asserts that far-right extremists have been infiltrating peaceful protests to cause chaos.
With entire streets of plywood doors and windows, 2020 Election Day is already shaping up to be one for the history books.
More From GOBankingRates