What's John Hickenlooper Worth? A Look at the Finances of the Presidential Candidate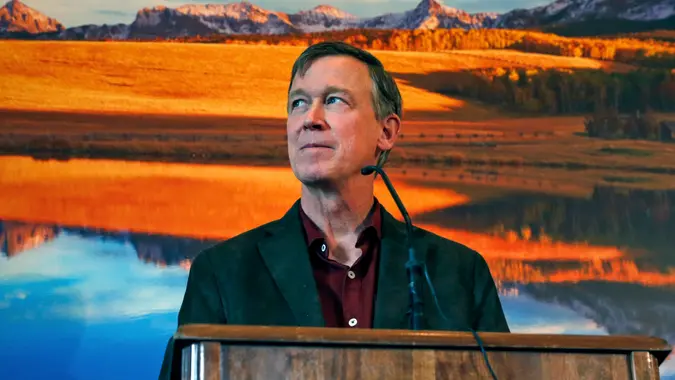 Brennan Linsley/AP/REX / Shutterstock.com
Former Denver mayor and Colorado governor John Hickenlooper announced his 2020 presidential candidacy on March 4.
The Democratic centrist is not a career politician but a former geologist who started a successful chain of microbreweries and restaurants.
The 67-year-old's net worth is at least $5 million, and he made $90,000 a year as governor.
Democratic 2020 hopeful John Hickenlooper has already raised over $1 million within 48 hours since announcing his presidential run on March 4. Impressive for a candidate with little visibility up until now.
As with the other 2020 presidential candidates who elected to announce their candidacy through media, Hickenlooper released a nearly two-and-a-half-minute video titled "Standing Tall" in which he illustrates his experience and introduces his biography to Americans.
Even though the field is wide and likely to expand as more Democrats prepare their candidacy announcement, political analysts suspect that centrist Hickenlooper nabbing the nomination is a long shot.
Birthdate: Feb. 7, 1952Net worth: At least $5 millionSources of income: Co-founder of a microbrewery, politicianCareer highlights: Former mayor of Denver, former governor of Colorado
Check Out: The 2020 Democratic Primary Debates
John Hickenlooper Net Worth: At Least $5 Million
Hickenlooper's net worth is unclear. A 2010 Denver Post editorial estimated his net worth as between $5 million and $10 million; however, that figure has very likely increased since then. Hickenlooper made just $90,000 a year while serving as Colorado's governor.
Many candidates ride on campaign donations, but Hickenlooper probably has the means to self-fund his presidential bid as the co-founder of a microbrewery and restaurant empire. However, the company's financials remain private as it's not publicly traded.
Also Check Out: What's Donald Trump Worth? A Look at the President's Finances
Make Your Money Work Better for You
John Hickenlooper Background
Hickenlooper's path to politics, like President Donald Trump, also started in business. He grew up in the Philadelphia suburbs and was educated at Connecticut's Wesleyan University. After graduation, he set his sights westward and worked as a geologist in Colorado. After an economic downturn, Hickenlooper found himself unemployed and directionless, and he decided to strike out on his own.
In a 180-degree pivot from geology, Hickenlooper taught himself how to write a business plan from books he read at his local library and secured a bank loan for a microbrewery. Within a few years, Wynkoop Brewing Co., the microbrewery he co-founded, took off and was the catalyst for a neighborhood revival while additional locations popped up around Denver and eventually the country.
Start a Business: 101 Side Business Ideas and How to Start Without Quitting Your Job
His success and good community standing naturally segued into a 2003 political bid for mayor of Denver. After eight years as mayor, Hickenlooper shifted his sights to the entire state and successfully ran for governor, a position he served in up until January 2019.
Find out which presidential candidate leads the race in fundraising.
More on Net Worth
We make money easy. Get weekly email updates, including expert advice to help you Live Richer™.
Make Your Money Work Better for You
Sean Dennison contributed to the reporting for this article.