Quirky Money Facts About US Presidents

9 min Read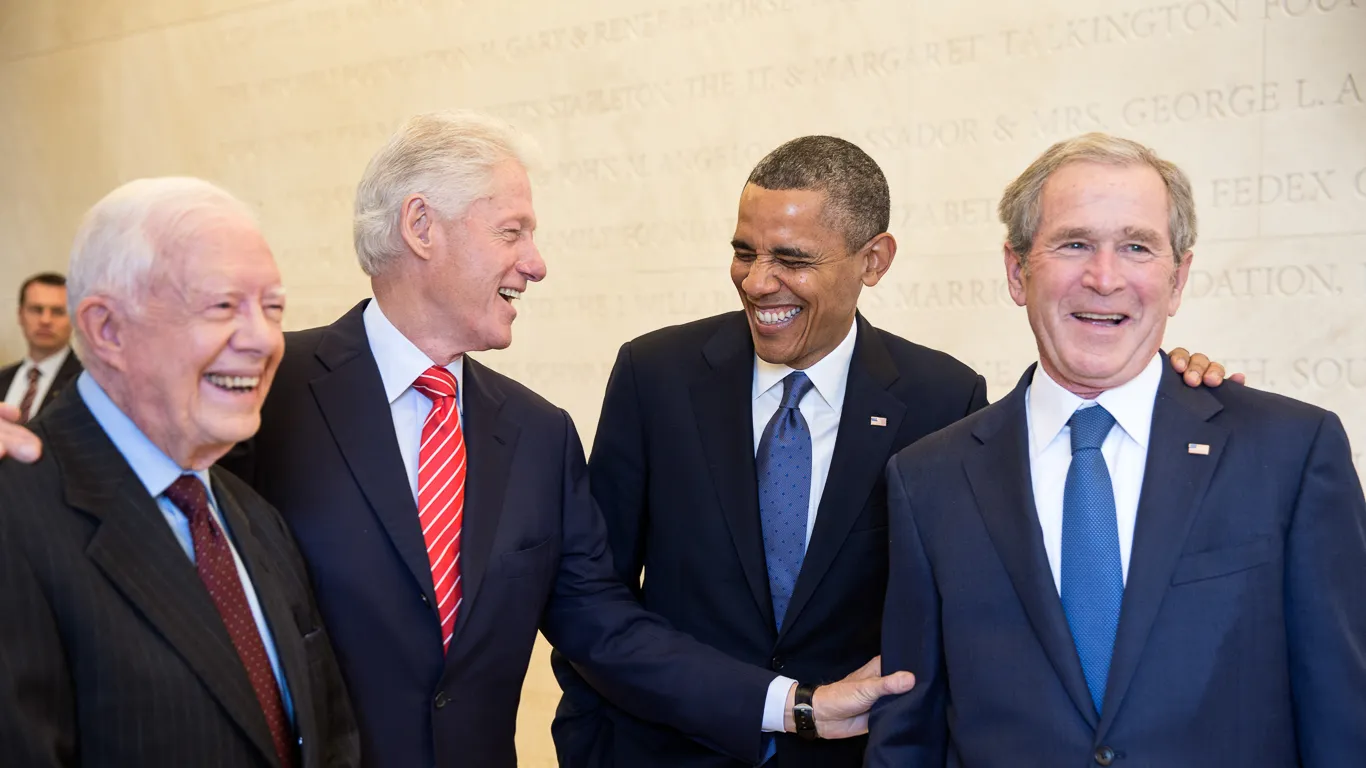 Some presidents were born into the American aristocracy. Others have rags-to-riches stories that embody the American dream. The path to becoming president isn't cheap, and most commanders-in-chief have a history that includes one or two oddball curiosities related to money. Check out these odd, little-known and offbeat financial facts about presidents.
Make Your Money Work Better for You
Donald Trump
With an estimated net worth of $3.5 billion, our current president is by far the wealthiest in American history. He was actually doing better, however, before he began his journey to the White House. President Donald Trump lost a cool $800 million between September 2015 and the run-up to his election, according to Forbes.
Read More: President Donald Trump's Net Worth Falls to $3.5 billion
George W. Bush
As part-owner of the Texas Rangers, President George W. Bush signed off on the trade of 20-year-old rookie Sammy Sosa in 1989. Sosa would go on to become one of the game's biggest stars. The trade is now regarded as one of baseball's worst transactions.
Bill Clinton
Bill Clinton's $15-million deal for his 2004 memoir was the biggest presidential book deal ever — that is, until Barack and Michelle Obama got their record-breaking $60 million book deal in 2017, according to The Guardian. New York Magazine estimated his pay at about $33 per word. He falls short of former first lady and two-time presidential candidate Hillary Clinton, who commands about $38 per word.
Where Are They Now: What's Keeping Past Presidents and Vice Presidents Wealthy?
Ronald Reagan
Contrary to popular belief, Ronald Reagan made most of his money as a spokesman for General Electric, not as a film actor. In 1954, Reagan had starred in a few westerns, but he got his big financial break when he signed on to host General Electric Theater, which was then a new television series. He introduced each program, acted in a few episodes and cemented his position as the face of GE.
Make Your Money Work Better for You
Jimmy Carter
Prior to his role as leader of the free world, Jimmy Carter was a peanut farmer. He started selling boiled peanuts from his father's farm when he was 5 years old. When his father died in 1953, Carter resigned from the Navy to run the farm, which he expanded and made more profitable.
Gerald Ford
When Gerald Ford graduated from college in 1941, he earned some extra cash by posing as a model. Shortly after joining the Navy in 1942, Ford appeared on the cover of Cosmopolitan magazine in his full uniform. The future president, however, was not credited for the photo. He would meet his future wife at a modeling gig.
Richard Nixon
Although he resigned in disgrace, Richard Milhous Nixon earned a multimillion-dollar fortune in real estate, TV and book deals after leaving office. One of his properties was La Casa Pacifica in Orange County, California, which was nicknamed "The Western White House." When he died in 1994, President Nixon was worth $15 million.
Lyndon Johnson
The richest president of the last half-century prior to President Trump, Lyndon Johnson came from humble beginnings. His wife, Lady Bird, however, succeeded in several shrewd investments. Her savvy business moves brought the couple a fortune of nearly $100 million.
John F. Kennedy
The embodiment of American aristocracy, John Fitzgerald Kennedy actually lived off a $10 million trust fund. His father, a businessman, politician and bootlegger, amassed a fortune of nearly $1 billion. That money, however, was held in a family trust.
Also See: The Wealthiest Presidential Children
Dwight Eisenhower
Dwight David "Ike" Eisenhower's face appeared on the Eisenhower dollar coin, which was issued from 1971 to 1978. The reverse of the coin is emblazoned with the Apollo 11 mission. The mint produced both silver dollars and copper-nickel clad coins for circulation.
Make Your Money Work Better for You
Harry S. Truman
Probably America's poorest president, Harry Truman suffered multiple business failures. His government salary when he was in office would remain his most significant source of income. His Army pension also paid him $112 per month. He and his wife received the first Medicare cards ever issued.
Franklin D. Roosevelt
A true American aristocrat, Franklin D. Roosevelt's overbearing mother Sara wielded control over his $60 million fortune for most of his life. According to reports, his wife, Eleanor, resented the relationship. Sara did, however, give the couple a townhouse as a wedding gift.
Herbert Hoover
Although he served during the Great Depression, Herbert Hoover had a net worth of $75 million. He donated his presidential salary, as well as the bulk of his fortune, to philanthropic causes. Under his watch, the national unemployment rate rose from 3 percent to 23 percent.
Warren Harding
A notorious gambler, Warren Harding once lost a priceless set of White House china in a poker game. The circumstances surrounding the game are not widely known, but his biggest scandal was the Teapot Dome crisis. No china was involved, but it did beget massive bribery and corruption among his highest officials.
Woodrow Wilson
Can you break a $100,000 bill? If you're carrying money that features a picture of the 28th president, that's a question you might have to ask. Woodrow Wilson's face appears on the $100,000 bill. The high-end currency went out of vogue when wire transfers entered the picture.
Discover: 20 Hidden Secrets of the $1 Bill
William Howard Taft
William Howard Taft is the highest-paid president in history when adjusted for inflation. His $75,000 salary would net him today's equivalent of $1.9 million. He beat out No. 2, Woodrow Wilson, by around $400,000 in today's money. Coming in last is Bill Clinton, who earned a measly $290,000 when adjusted for inflation.
Make Your Money Work Better for You
Theodore Roosevelt
Theodore Roosevelt made a long succession of bad investments early on that nearly left him broke. However, he bounced back with several savvy real estate deals. In the end, he wound up with a $125 million net worth — enough to land him among history's 10 richest presidents.
William McKinley
Three years before becoming president, when he was still governor of Ohio, William McKinley faced bankruptcy when he was unable to pay a $130,000 debt. Fortunately, his wealthy friends bailed him out and he recovered. McKinley would later be assassinated after winning reelection as president.
Grover Cleveland
Most presidents had to find a way to earn a living before they hit it big, and Grover Cleveland was no different. Prior to serving as president, Cleveland worked as an executioner in Erie County, New York. After carrying out several executions, he picked up the nickname "Buffalo Hangman."
Chester A. Arthur
Known as one of history's best-dressed presidents, Chester A. Arthur owned 80 pairs of pants. His fashion sense extended to interior design, as well. He hired a stained glass artist and designer to redo White House state rooms, auctioning off 20 wagon loads of furnishings from past presidents along the way.
From the Gardener to the Chief of Staff: How Much Trump's White House Staff Makes
Ulysses S. Grant
There are several peculiar financial facts about the Union hero general of the Civil War, Ulysses S. Grant. Not the least of which is that it cost $600,000 to build Grant's Tomb in New York City after he died in 1885. Also, Grant was once issued a $20 speeding ticket in Washington, D.C., for riding too fast on his horse.
Abraham Lincoln
Widely considered to be America's finest president, Abraham Lincoln is known for preserving the union and ending slavery. But Honest Abe, who was a licensed bartender, was also the co-owner of a saloon before he became president. The Springfield, Illinois, watering hole that the 16th president founded was called Berry and Lincoln.
Make Your Money Work Better for You
William Henry Harrison
Since he spent just a month in office, during most of which he was stricken with pneumonia, William Henry Harrison signed very few documents. This makes for an interesting presidential money fact: His White House signature is the most valuable in presidential history. One signature sold for $90,000 at auction. His complete letters fetch hundreds of thousands of dollars.
Martin Van Buren
In one of history's more ironic twists, Martin Van Buren spent most of his inaugural address talking about American prosperity. His presidency, however, was largely dedicated to managing the country's first great financial panic. The downturn was part of the century's boom-and-bust financial cycle, but historians agree that Van Buren's policies didn't help matters.
James Monroe
When James Monroe died in 1831, tensions had not yet reached a boil between the North and South. However, that was no longer the case 27 years later. In 1858, exactly 100 years after his birth, the state legislature in Monroe's native Virginia appropriated funds to have the late president's body moved from its burial place in New York City to his home state.
James Madison
James Madison, with plenty of help from an irresponsible stepson, blew through a $101 million fortune. After he died, his wife, Dolley, lived in poverty. She was forced to sell the family's Montpelier, Va. estate to survive.
Thomas Jefferson
Thomas Jefferson lived most of his life in crushing debt and blew an estimated $234 million on his lavish lifestyle. There was no such thing as declaring bankruptcy in Jefferson's time, but his reputation kept his creditors from moving on him. When he died, he left debt totaling between $1 million and $2 million in today's money.
Make Your Money Work Better for You
George Washington
Our country's very first president, George Washington, initially refused to accept his $2,500 salary while he was president. Eventually, he caved to pressure and accepted his compensation. Adjusted for inflation, he would have earned about $560,000 in today's money.
Up Next: 15 Crazy Perks of Being President
About the Author