A Democrat Just Bumped Trump as the Richest Politician in America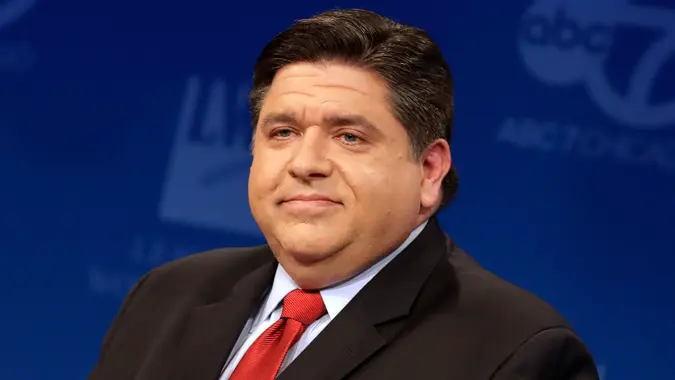 Nam Y. Huh/AP/REX/ / Shutterstock.com
President Donald Trump still carries the title of commander in chief, but as of Tuesday's midterm elections, the controversial president who's worth $3.1 billion is no longer Washington's wealthiest politician.
Billionaire and Illinois Gov.-elect Jay Robert "J.B." Pritzker, 53, is now the wealthiest elected official. The Democrat beat fellow billionaire and Republican incumbent Bruce Rauner by a comfortable margin and pumped a record $171.5 million of his personal fortune into his campaign. Pritzker was one of several super-wealthy candidates who self-funded their campaigns for the record-breaking midterm elections.
Jay Robert Pritzker Net Worth: $3.2B
The record-breaking $171.5 million Pritzker funded his campaign with came from his personal funds. The billionaire is estimated to be worth $3.2 billion.
The multigenerational Pritzker family is something akin to American royalty. Brothers Jay and Donald Pritzker — J.B.'s uncle and father — struck fame and fortune as the respective founder and development manager of high-end Hyatt Hotels Corporation in the mid-1950s.
Greed and feuds — problems not uncommon with families in the highest echelons of wealth — have long plagued the Pritzker family. Upon the elder Jay's passing in 1999, the family fortune — rumored to be $15 billion — was divvied up 10 ways. Each family member received an inheritance of $1.4 billion.
Despite the infighting, members of the Pritzker family, the 15th wealthiest in the country, have branched out and made their own fortunes beyond hospitality and hotels. J.B., alongside his brother Anthony, founded a private equity firm in 1996.
Make Your Money Work Better for You
Check Out: The Richest Politician in Every State
The Pritzkers serve as a shining example of philanthropic families, especially in the family's hometown of Chicago. Numerous tourist attractions, landmarks, museums, schools, universities and public spaces are named in honor of the family's generous contributions to the city. J.B. and his wife created the J.B. and M.K. Pritzker Family Foundation, a nonprofit dedicated to early childhood development, healthcare and human rights.
Click to read about Bush, Trump and the other wealthiest presidential families.
More on Politicians' Net Worths
We make money easy. Get weekly email updates, including expert advice to help you Live Richer™.
Net worths are accurate as of Nov. 8; they are sourced from Forbes, which is updated in real time.