Trump and Biden's Campaign Funds Go Head to Head in Final Stretch Before Election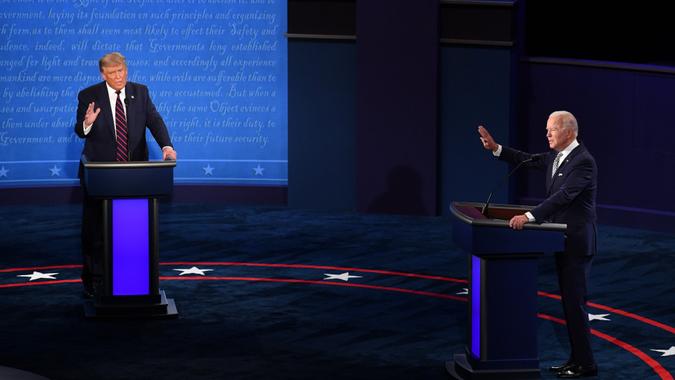 Shutterstock / Shutterstock
Going into the final stretch before Election Day, President Donald Trump's campaign and the Republican National Committee have outraised former Vice President Joe Biden's campaign and the Democratic National Committee by $140 million, according to data collected by NPR. As of September, the Trump campaign and RNC had raised a total of $1.49 billion, while the Biden campaign and DNC had raised $1.35 billion. (It is important to note that the Trump campaign got a head start on fundraising.)
However, Biden and the DNC well outraised Trump and the RNC during the month of September. Over those 30 days, the former vice president's campaign and the DNC raised $358 million, while Trump's campaign and the RNC raised $153 million.
Biden has also raised more overall if you exclude funds raised by party committees. As of September, Biden's principal campaign committee had raised $822.2 million — more than any former president's principal campaign committee has raised in the past. Trump's principal campaign committee has raised $569.1 million, which is slightly less than what former President Barack Obama's campaign had raised in 2012 during this point in the election cycle.
Make Your Money Work Better for You
The NPR data also breaks down campaign contributions by city. Most of the funds for Biden's campaign have come from Los Angeles, New York and King County, Washington. Trump's campaign has also received the most donations from people in Los Angeles, followed by Harris County, Texas, and Maricopa County, Arizona.
When it comes to overall spending, the Trump campaign and the RNC have spent more campaign dollars, with $1.38 billion spent so far. The Biden campaign and the DNC have spent $1.08 billion. Although some of Trump's campaign spending might be considered questionable.
More From GOBankingRates
Make Your Money Work Better for You