After the Midterms, One Party Controls All the Wealthiest Congressional Districts
See where the richest congressional districts in the U.S. are.
Money and politics have become inseparable in America, with elections and campaigns more expensive than ever, especially in light of the 2018 midterm elections. Super PACs, although barred from coordinating with politicians directly, can help raise millions of dollars for a campaign and singlehandedly sway the outcome of an election.
GOBankingRates explored the connection between politics and money in a new analysis that determined the wealthiest congressional districts in the U.S. after the 2018 midterm election results came in. The report analyzed all 435 congressional districts in the nation, using income data sourced from the Census Bureau's 2016 American Community Survey.
Although Florida has plenty of wealthy individuals, incomes in the state are quite low, overall. Low incomes bring down the median income of the population. Add on the manner in which congressional districts are drawn, and the result is that Florida is not among the wealthiest in the U.S.
Keep reading to find out where the richest congressional districts are in America — and which party represents them.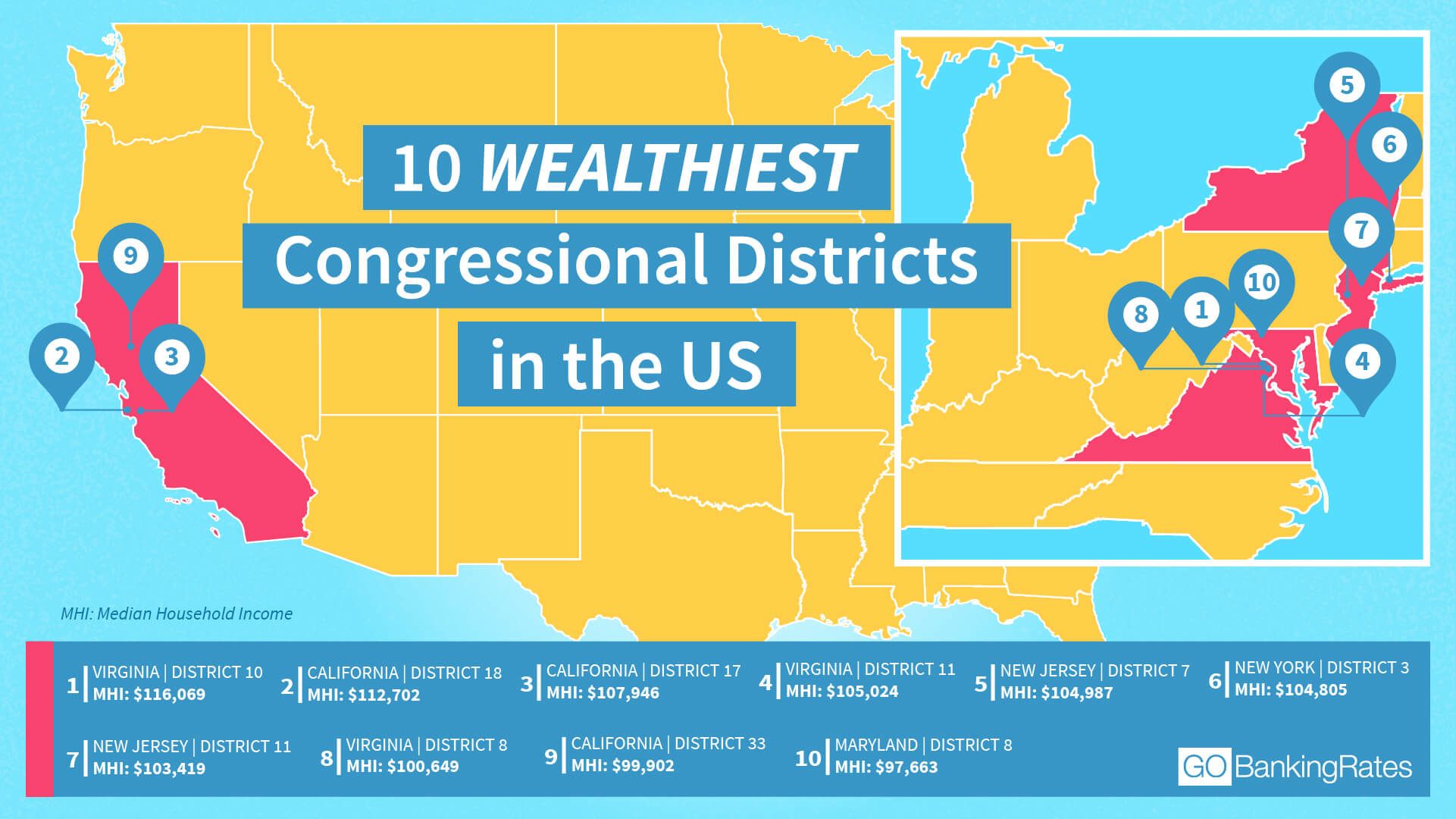 Top 10 Wealthiest Congressional Districts in the US
California, New Jersey, New York and Virginia dominated the top 10 wealthiest congressional districts. Out of the wealthiest 50 districts, 13 are located in California; eight are in New York; five in New Jersey; and four in Virginia. Massachusetts, which didn't make the top 10, still sports four of the nation's richest congressional districts.
Here are the 10 richest congressional districts in the U.S. by median household income:
Congressional District 10, Virginia: $116,069 | Democrat
Congressional District 18, California: $112,702 | Democrat
Congressional District 17, California: $107,946 | Democrat
Congressional District 11, Virginia: $105,024 | Democrat
Congressional District 7, New Jersey: $104,987 | Democrat
Congressional District 3, New York: $104,805 | Democrat
Congressional District 11, New Jersey: $103,419 | Democrat
Congressional District 8, Virginia: $100,649 | Democrat
Congressional District 33, California: $99,902 | Democrat
Congressional District 8, Maryland: $97,663 | Democrat
Virginia's 10th Congressional District is the wealthiest in the country and will now be represented by the Democratic Party. This sprawling district in Northern Virginia is home to some towns well-known for their affluence. Great Falls boasts a median household income of $230,304, according to the Census Bureau. McLean isn't too shabby, either, at $190,258. Newly elected Democrat Jennifer Wexton represents the district.
California's 17th and 18th Districts can be found in the San Francisco Bay Area. The 17th District includes Cupertino, Fremont, Santa Clara, San Jose and Sunnyvale, places that are well-known for surging home values and tech industry wealth. The same goes for the 18th District, which covers Mountain View, Palo Alto, Redwood City and Santa Cruz. California's 33rd District is in Southern California and stretches from Malibu in the northwest to Ranchos Palos Verdes in the southeast, covering all the wealthiest parts of Los Angeles.
Look: You're Probably Richer Than These Members of Congress
List of the Richest Congressional Districts in the US
Among the top 10 richest congressional districts, Democrats now represent all 10. Out of the 50 richest districts, Democrats have 41 to Republicans' nine.
Check out the 50 wealthiest congressional districts in the nation:
50 Wealthiest Congressional Districts in the US

Wealth
Ranking
State
District
Median Household Income
Representative
Party
1
VA
10th
$116,069
Jennifer Wexton
Democrat
2
CA
18th
$112,702
Anna Eshoo
Democrat
3
CA
17th
$107,946
Ro Khanna
Democrat
4
VA
11th
$105,024
Gerald Connolly
Democrat
5
NJ
7th
$104,987
Tom Malinowski
Democrat
6
NY
3rd
$104,805
Thomas Suozzi
Democrat
7
NJ
11th
$103,419
Mikie Sherrill
Democrat
8
VA
8th
$100,649
Donald Beyer
Democrat
9
CA
33rd
$99,902
Ted Lieu
Democrat
10
MD
8th
$97,663
Jamie Raskin
Democrat
11
CA
15th
$97,232
Eric Swalwell
Democrat
12
NY
4th
$96,078
Kathleen Rice
Democrat
13
NJ
5th
$95,701
Josh Gottheimer
Democrat
14
CA
45th
$93,995
Mimi Walters
Republican
15
IL
6th
$93,839
Sean Casten
Democrat
16
CA
14th
$93,666
Jackie Speier
Democrat
17
NY
12th
$93,559
Carolyn Maloney
Democrat
18
MD
5th
$92,295
Steny Hoyer
Democrat
19
NY
17th
$91,734
Nita Lowey
Democrat
20
MA
4th
$91,203
Joseph Kennedy III
Democrat
21
NY
2nd
$90,614
Peter King
Republican
22
TX
22nd
$90,194
Pete Olson
Republican
23
CT
4th
$90,142
James Himes
Democrat
24
CA
12th
$88,364
Nancy Pelosi
Democrat
25
NY
1st
$88,242
Lee Zeldin
Republican
26
TX
3rd
$86,783
Van Taylor
Republican
27
IL
14th
$86,449
Lauren Underwood
Democrat
28
MA
5th
$86,416
Katherine Clark
Democrat
29
CA
52nd
$86,174
Scott Peters
Democrat
30
WA
1st
$85,293
Suzan DelBene
Democrat
31
CA
19th
$85,010
Zoe Lofgren
Democrat
32
CA
48th
$83,894
Harley Rouda
Democrat
33
PA
7th
$82,483
Susan Wild
Democrat
34
GA
6th
$82,390
Lucy McBath
Democrat
35
NY
10th
$81,814
Jerrold Nadler
Democrat
36
MN
3rd
$81,804
Dean Phillips
Democrat
37
MA
6th
$81,711
Seth Moulton
Democrat
38
TX
26th
$81,425
Michael Burgess
Republican
39
NJ
12th
$81,115
Bonnie Watson Coleman
Democrat
40
MD
3rd
$81,032
John Sarbanes
Democrat
41
CA
39th
$80,844
Young Kim
Republican
42
VA
1st
$80,492
Robert Wittman
Republican
43
PA
8th
$79,615
Matt Cartwright
Democrat
44
NY
18th
$79,539
Sean Maloney
Democrat
45
MA
8th
$78,995
Stephen Lynch
Democrat
46
CA
11th
$78,487
Mark DeSaulnier
Democrat
47
NJ
4th
$77,685
Christopher "Chris" Smith
Republican
48
PA
6th
$77,580
Chrissy Houlahan
Democrat
49
CA
49th
$77,558
Mike Levin (projected win)
Democrat
50
MN
2nd
$77,468
Angie Craig
Democrat
Click through to read about the states that spend the most and least on welfare.
More on Money and Politics
We make money easy. Get weekly email updates, including expert advice to help you Live Richer™.
Methodology: The study analyzed every congressional district in all 50 states, determining the wealthiest congressional districts based on the highest median household income, sourced from the Census Bureau's 2016 American Community Survey. The mean household income was included in our data for representational purposes. Information on representatives and political parties was sourced from GovTrack.