Biggest March Madness NIL Deals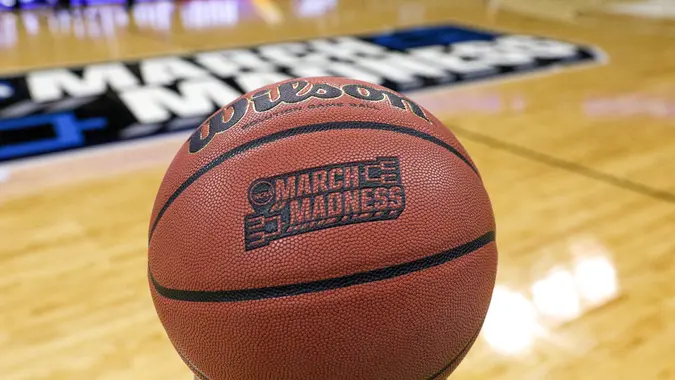 ©Shutterstock.com
If you're a college basketball fan, March is your time of the year to go crazy — with the start of March Madness. Some players aren't celebrating just on the court but off the court as well, making big bucks when they cash in NIL deals — money for the usage of their names, images and likeness (NIL).
It's big money for NCAA athletes now, and each year college basketball has a few players who score good deals.
As the NCAA tournament tips off, here are players who made the top-earning list with March Madness NIL deals and the dollars they're racking up.
Great Clips
Player: Matthew Mayer, Illinois. NIL value: $115,000.
Player: Caroline Ducharme, UConn. NIL value: Unknown
Self-declared as the "official hair salon of March Madness," Great Clips is making a splash with the 2023 March Madness NIL deals, rolling out the "Hats Off Sweepstakes" and signing partnerships with Mayer and Ducharme, according to On3.
Crocs
Player: Armando Bacot, North Carolina. NIL value: $551,000.
Player: Deja Kelly, North Carolina. NIL value: $223,000.
Player: Julian Strawther, Gonzaga. NIL value: $189,000.
Make Your Money Work for You
When Russell Steinberg tweeted that "Crocs has announced its new NIL class," it was just another slam dunk for one of the most popular brands of shoes in the world.
While Strawther is an up-and-comer, Bacot and Kelly are pioneer college athletes who are currently planning pairs of crocs that salute the University of North Carolina.
Athletic Brewing
Player: Boogie Ellis, USC. NIL value: $180,000.
Player: Rori Harmon, Texas. NIL value: $35,000.
Player: Marcus Sasser, Houston. NIL value: $542,000.
Now the leading non-alcoholic craft beer company, Athletic Brewing is claiming its stake and securing its spot in March Madness NIL deals by being the beer company that can get around the NIL policy that prohibits endorsed athletes from promoting alcohol, tobacco and gambling.
According to On3, Ellis, Harmon and Sasser have all been promoting Athletic Brewing on their Instagram pages as the March Madness NIL deals heat up.
Cuts Clothing
Player: Kyle Filipowski, Duke. NIL value: $546,000.
Cuts Clothing proudly boasts that they create apparel that's designed to fit all spaces, "from the boardroom to the beach and everything in between." This might be why one of the biggest March Madness NIL deal signers you'll see on the court this season is Filipowski, who became one of the top NIL earners in the NCAA after winning ACC Rookie of the Week over and over again all season.
Make Your Money Work for You
Sleep on Latex
Player: Caleb Love, North Carolina. NIL value: $371,000.
At the start of last summer, Love inked a deal with Priority Sports & Entertainment. He ended summer with another deal, this time his own mattress with Sleep on Latex, the first mattress-in-box company to use paper packaging instead of plastic.
Even if Love is not going pro, there's no doubt that his March Madness NIL deals so far and his 32,000 TikTok followers will help ensure big money in his future.
BOA Nutrition
Player: Armando Bacot, North Carolina
Player: Jeremy Roach, North Carolina. NIL value: $267,000.
UNC keeps making records and racking up March Madness NIL deals, this time with BOA Nutrition. Not only does this keep Bacot as the estimated No. 1 March Madness NIL deal earner, it puts teammate Roach nipping at his heels.
This is BOA Nutrition's first time making March Madness NIL deals. BOA Nutrition makes an oral aerosol that promotes hydration "up to 10 times faster than liquids, powders or pills." Bacot and Roach can be seen facing off in a video featured on BOA's Instagram page.
Make Your Money Work for You
Uber
Player: Matthew Cleveland, Florida State. NIL value: $227,000.
While Florida State might be having a rough season, it's a different story for star player Cleveland, who rose to the ranks of starter after being crowned the ACC Sixth Man of the Year last season.
As far as March Madness NIL deals, Cleveland's recent stats on the court have let him partner up with Uber. He recently promoted the ride-sharing giant on Instagram, showing his 12,600 followers how to verify their rides.
More From GOBankingRates