How Much Is Coach Mike Krzyzewski Worth?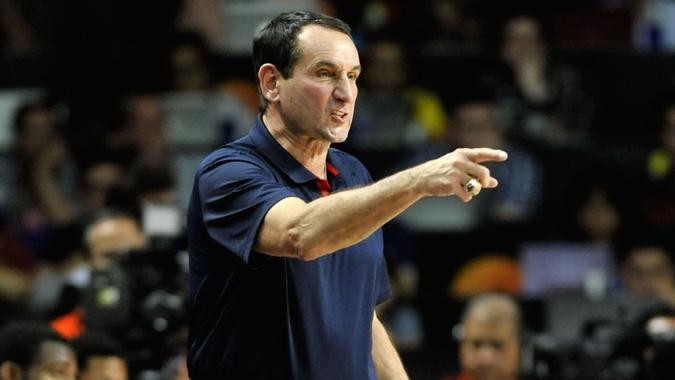 Marcos Mesa Sam Wordley / Shutterstock.com
Mike Krzyzewski, coach for the Duke University Blue Devils NCAA college basketball team, is one of the most well-known and renowned coaches in the game. His record of just five NCAA championship wins across his 40 years coaching the Duke team belies his true capabilities. He has captured nearly every coaching record during his tenure, Celebrity Net Worth reported, and has won 1,157 games — the most of any coach in the history of college basketball.
See: The Highest-Paid College Basketball Coaches in America
Affectionately and respectfully called Coach K, Krzyzewski's teams have also won 15 ACC Championships, and competed in 12 Final Fours and 36 NCAA Tournaments, with the most recent NCAA win coming in 2015. Krzyzewski has won five Olympic gold medals for his coaching. He also is an inductee in three halls of fame: the College Basketball Hall of Fame, the Naismith Memorial Basketball Hall of Fame, and the United States Olympic Hall of Fame.
Make Your Money Work for You
Consider: Is It Financially Worth It for Schools To Play College Sports Right Now?
Coach K's Net Worth: $45 Million
Krzyzewski's net worth stands around $45 million in 2021, according to Celebrity Net Worth. His base salary is $7,048,206, with the potential to earn up to $10 million based on his team's record. His salary plus bonuses make him the second-highest-paid coach in college basketball behind Kentucky Wildcats coach John Calipari, according to Essentially Sports.
See the List: These Universities Profit the Most Off Their Student-Athletes
Turning Down the NBA
With his outstanding record, it's no surprise Krzyzewski has been approached by multiple NBA professional basketball teams over the years. Celebrity Net Worth reports that he's turned down offers from the Boston Celtics, Los Angeles Lakers, Minnesota Timberwolves and New Jersey Nets. These contracts have ranged from $12 million to $40 million plus ownership shares, Celebrity Net Worth reported.
Make Your Money Work for You
How He Spends His Millions
It seems $10 million and the ability to influence young lives and mentor great college players is enough for Krzyzewski. He and his wife share a 7,636-square-foot mansion in Durham, North Carolina, near Duke University. Celebrity Net Worth reports he purchased the home for just under $1 million dollars in 1997 and it's likely worth as much as $3 million today.
Needing Help: Colleges Asking for Donations To Cover Lost Money From Athletics
He is also a supporter of multiple charitable organizations, according to EssentiallySports.com. He founded the Emily Krzyzewski Center in 2006, a Durham not-for-profit aimed at helping children from first grade through college break the cycle of poverty in families with various community-based and virtual programs, according to the organization's website.
More From GOBankingRates
Last updated: March 15, 2021
Make Your Money Work for You