How Much Is Coach Roy Williams Worth?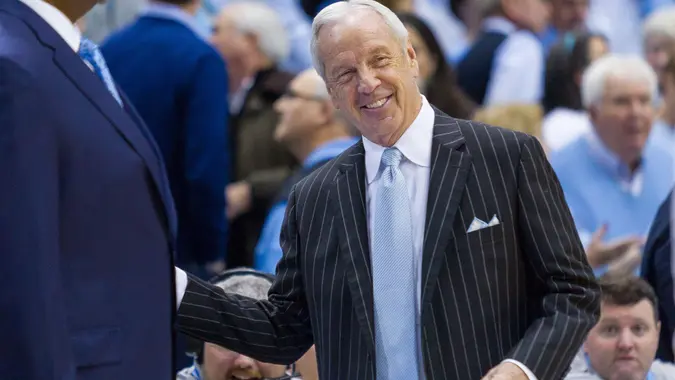 ©Scott Kinser/CSM/REX/Shutterstock
Roy Williams, who's spent 18 seasons as the head coach for the Division 1 University of North Carolina Tar Heels, announced his retirement in a Thursday morning press conference.
"It's been a thrill. It's been unbelievable. I've loved it. It's coaching and that's all I've ever wanted to do since the summer after my ninth grade year in high school. No one has ever enjoyed coaching like I have for 48 years," he said in an emotional speech.
Williams stands as one of only four Division 1 coaches to achieve 900 wins for his team, ESPN.com reported this February. He achieved this milestone after just 1,161 games with the Tar Heels. The achievement marked the team's 15th win of the season and came during North Carolina's first home game with fans in attendance, according to ESPN.com.
Consider: Is It Financially Worth It for Schools To Play College Sports Right Now?
Roy Williams Net Worth: $12 Million
Celebrity Net Worth estimates Williams' total net worth at $12 million, with an annual salary of $2,381,250 million from UNC, according to USA Today. His total pay for 2020 totaled $4,168,250, USA Today reported, which includes $1,517,000 from multimedia and marketing rights. He may also receive an additional $1.8 million if he stays with the Tar Heels on the final day of the season.
Make Your Money Work for You
See: The Highest-Paid College Basketball Coaches in America
In 1982, UNC won the NCAA Championship while Williams served as an assistant coach. But that wasn't his crowning achievement. He is known for recruiting NBA player and basketball legend Michael Jordan to the team.
He went on the coach the Kansas Jayhawks, and other than his first year when the team was on probation, he brought them to the NCAA Tournament every year he was there, with record wins and the highest winning percentage for any NCAA team in a decade. He found his way back to North Carolina, however, leading the team to national championships in 2005, 2009 and 2017, according to GoHeels.com, the official site of The University of North Carolina of Chapel Hill NCAA men's basketball team.
See the List: These Universities Profit the Most Off Their Student-Athletes
Williams is, additionally, the only coach to win the Associated Press Coach of the Year Award twice, according to Celebrity Net Worth.
More From GOBankingRates
Last updated: March 15, 2021