How Much Is Coach Tom Izzo Worth?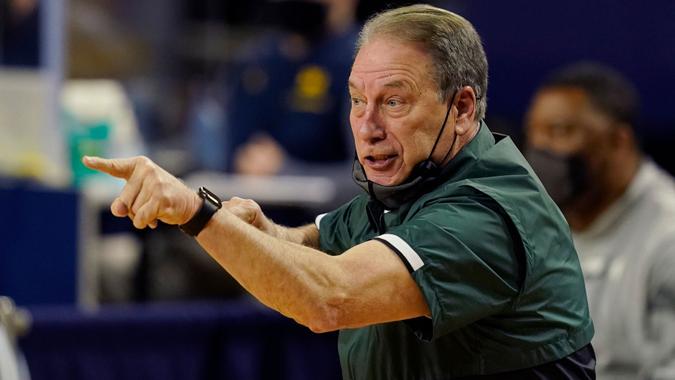 Carlos Osorio/AP/Shutterstock / Carlos Osorio/AP/Shutterstock
Tom Izzo is the head coach for the Michigan State University NCAA men's college basketball team, the Spartans. With a salary of $3 million per season, he has garnered a net worth of $13 million, according to Celebrity Net Worth.
See: How Much Is Coach Roy Williams Worth?
Tom Izzo Net Worth: $13 Million
A former basketball player at Northern Michigan University, Izzo moved on to become an assistant coach for the team through 1983.
Check Out: The Highest-Paid College Basketball Coaches in America
He worked briefly as an assistant coach at Michigan State University (MSU), and then returned as head coach in 1995. At that point, he earned the title of longest-tenured Big Ten coach. Spending more than two decades at MSU, he has led the Spartans to six Final Fours, seven Big Ten Championships, four Big Ten Tournaments and the 2000 NCAA National Championship, according to Celebrity Net Worth. He also has the most wins in MSU history.
Make Your Money Work for You
Consider: Is It Financially Worth It for Schools To Play College Sports Right Now?
Along with his winning records, Izzo has earned the National Coach of the Year Award from Associated Press in 1998 and was recognized as the Big Ten Coach of the Year in 1998, 2009 and 2012, Celebrity Net Worth reports.
Realtor.com reported that Izzo owned an 8,000-square-foot home in East Lansing, near MSU. He also owns a $1.6 million lakefront property on Spring Lake, Michigan, the real estate site reveals.
More From GOBankingRates
Last updated: March 16, 2021
Make Your Money Work for You