The Financial Impact of COVID-19 on College Athletics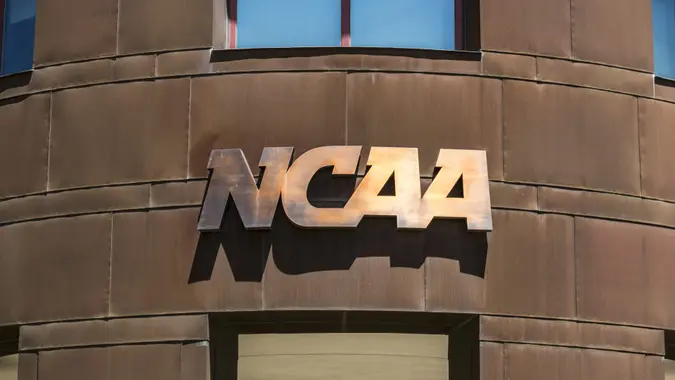 Jonathan Weiss / Shutterstock.com
Before COVID-19, Penn State was pulling in more than $38 million a year in ticket sales alone from its 107,000-seat Beaver Stadium. The poster child for financially vulnerable giants, the University of Michigan lost roughly half its massive $200 million athletic budget thanks to COVID-19-related postponements and cancellations. Some of the biggest schools in the Big Ten and Pac-12 conferences stood to lose $150 million from the decision to play conference-only games. Individual stories of COVID-19's wrath on college athletics are not hard to come by. What's more elusive is an overall view of just how far the ripple effects have spread.
Read: Is It Financially Worth It for Schools To Play College Sports Right Now?
A UNC Fundraiser Tells the Tale of College Sports
Like many schools, the University of North Carolina compensated for COVID-19-related athletic losses by reaching out to its donors. A UNC  fundraiser from November 2020 revealed just how dire the situation had become. Without fans, the biggest names in college sports were struggling to support the immense size of their own programs. The Tar Heels sent an urgent letter to university boosters asking for whatever donations they could afford to help rescue UNC's 28 financially foundering varsity programs. Combined, those programs did revenue of nearly $108 million in 2018 but were expected in 2020 to lose between $30 million and $50 million to missed ticket sales and TV revenue.
Make Your Money Work for You
Find Out: How Rich Are Roy Williams and These Other High-Profile NCAA Basketball Coaches?
Schools Ditched Non-Revenue Programs
When COVID-19 forced schools to make tough choices about which programs to fund and which ones to drop, the ones that don't fill stadiums and command TV ad buys were the most vulnerable. Old Dominion cut its wrestling program. Central Michigan cut indoor and outdoor men's track and field. LaSalle cut men's swimming, diving and water polo.
See: Colleges That Have Cut Athletics Due to Budget Constraints
Worst of all was Stanford, where the realities of COVID-19 made it impossible to continue funding the school's gargantuan D-I athletic program, which included a whopping 36 varsity teams. The pandemic culled that inventory by nearly one-third. Administrators advised in an open letter, "Stanford will discontinue 11 of our varsity sports programs at the conclusion of the 2020-21 academic year: men's and women's fencing, field hockey, lightweight rowing, men's rowing, co-ed and women's sailing, squash, synchronized swimming, men's volleyball and wrestling."
Make Your Money Work for You
Non-Revenue Programs Give Rise to Tomorrow's Olympians
Much has been written about the star student-athletes whose professional prospects were jeopardized by shortened or canceled senior-year seasons, but the NCAA doesn't only funnel talent to the NBA, NFL, NHL and MLB. College sports doubles as the feeder system for the Olympics, which draws talent from those now-threatened non-revenue college programs. 
Find Out: How Will This Year Impact Long-Term Earning for Athletes?
A lightweight rower named Emily Molins was one of the 300 student-athletes and staff who were affected by Stanford's program cuts. She was on the fast track to competing in the Olympics, according to NBC. When Stanford cut rowing, she had no outlet available for the pursuit of elite athletics — a requirement for anyone trying to compete at the Olympic level. 
Similar scenarios played out for countless Olympic hopefuls across the country. The individual athletes are obviously facing an uncertain future in terms of their ability to compete and earn sponsorships and money after college, but it doesn't stop there. America's Olympic teams might soon find it hard to fill rosters with the kind of top-level talent needed to compete on the world stage. 
More: 8 Momentous Times Sports Were Canceled Throughout History
It Doesn't Start or Stop With College Athletics
COVID-19's impact can be felt much farther down the athletic food chain than among the NCAA's top pro prospects and future Olympians. High school sports were canceled, postponed and otherwise interrupted across America, just like college and the pros. U.S. News and World Report chronicled how that dynamic threw a wrench into the big-money business of college recruiting.
Make Your Money Work for You
Just like college upperclassmen with NFL or NBA dreams, high school juniors and seniors lost crucial playing time in their most important season — many lost the entire season altogether. This handicap left them with fewer minutes of good film to show recruiters and fewer opportunities to impress anyone who might be watching. It also made it harder for college scouts and recruiters to identify and funnel the country's top young talent into cash-cow college athletic programs like the University of Texas ($224 million in revenue), Texas A&M ($213 million) and Ohio State ($211 million).
More From GOBankingRates
Last updated: March 19, 2021