New NCAA Rule Allows College Athletes To Get Paid — Here's the Financial Impact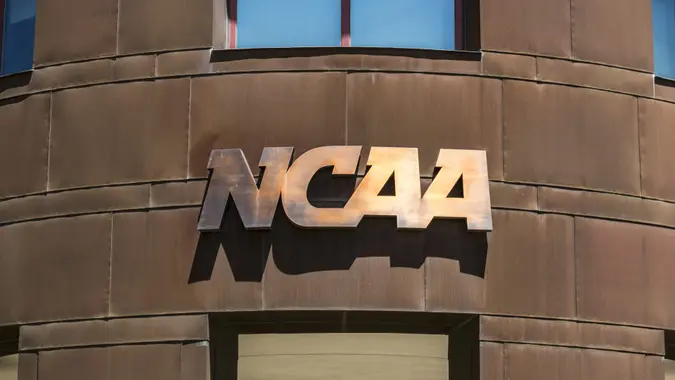 Jonathan Weiss / Shutterstock.com
On June 21, the Supreme Court handed down a decision in Alston v. NCAA, an antitrust lawsuit that would forever change the nature of both higher education and sports marketing in America. The decision effectively ended the NCAA's longstanding ban on players profiting from their names, images and likenesses (NIL).
Find Out: Most Successful Athlete From Every Decade
Take a Look: Pro Athletes Who Have Lost Millions of Dollars
It's no secret that college sports are drenched in corporate cash — Capital One Orange Bowl or Goodyear Cotton Bowl, anyone? But with the exception of scholarships, none of that money ever filtered down to the student-athletes themselves. June 21 changed all that. Now, student-athletes in all three divisions can get paid for the use of their NIL — and the impact of the court's ruling was as enormous as it was immediate.
Wealthy Names: How Rich are Michael Jordan, Alex Rodriguez And 13 More Incredibly Wealthy Retired Athletes?
From the Drop of the Gavel, It Was Off to the Races
The court's verdict came down on June 21. By June 30, the NCAA had adopted a temporary set of rules that basically instructed schools to set their own individual NIL policies and guidelines. The very next day on July 1, according to ESPN, the new rules took effect and the first athletes began signing NIL contracts just minutes after the stroke of midnight.
Make Your Money Work for You
"Since the Supreme Court's ruling to allow college athletes to profit from their name, image, and likeness, it's been a mad rush to the bank," said Ivan Parron of Parron Law, which specializes in legal matters related to sports, entertainment, and media. "The promotional opportunities for college athletes in traditional and non-traditional sports are limitless. Sports merchandising was estimated at approximately $15 billion the last few years, and with the new NIL ruling, it is poised to grow by leaps and bounds."
See: The Richest Athletes in the World
Things are moving so quickly, in fact, that it has a Wild West kind of feel where the law seems to be one step behind the money. 
"Colleges and universities are scrambling to figure out how to comply and enforce the new NIL rules, and there are some legal questions to consider as well," Parron said. "For instance, will universities allow athletes to profit from a team's logo? In some cases, universities are discussing a 50/50 merchandising split."
Make Your Money Work for You
Discover: Here's How Rich Every NFL Team Is

So, How Are Athletes Making Money?
Student-athletes still don't collect paychecks for their performance on the field the way the pros do, but they can now sell themselves as a brand, just like their counterparts in the big leagues.
"College athletes and recruiters can now make money off of activities like endorsements, autograph signings, and personal appearances," said Megan Ayala, a fitness and health expert with the blog Patricia and Carolyn. "I think from a financial standpoint, it is an effective policy that can help college athletes to support themselves and their passion. They can take advantage of this new policy substantially as they can monetize their social media accounts and participate in advertising campaigns. Players will be able to become more professional in their field and the game can be made more interesting now." 
Take a Look: Most Successful Athlete From Every Decade
What Kind of Cash Are We Talking About?
For many professional athletes, tournament winnings and on-field salaries are a pittance compared to what they earn from their corporate NIL contracts, a fact that NCAA athletes are now starting to understand.
"Opportunities are plentiful, as college athletes can now license and profit from their name, image, and likeness as well as launch their own merchandising companies," Parron said. "Conservative estimates are that some All-American college athletes are earning as much as $500,000 to $1 million through social media marketing alone, including personalized video greetings, sponsored posts, and signing on as brand ambassadors for corporations."
Make Your Money Work for You
Those numbers did turn out to be conservative, after all. 
On July 29, ESPN reported that Alabama quarterback Bryce Young, who had yet to play a single game in his brand-new career, had signed $800,000 worth of NIL deals already and was poised to accept well over $1 million more.
Standout athletes in big-money athletic programs will naturally command the lion's share of the fortune, but savvy athletes in lower-tier sports have already found ways to nibble around the edges. 
"Athletes in non-traditional sports such as tennis, lacrosse, gymnastics, or swimming are now charging $1,000 or more for local appearances at sporting goods stores, restaurants, and sports bars," Parron said. "The NIL ruling has definitely opened up more opportunities for female athletes and those in non-traditional sports."
Learn More: The 25 Richest NFL Team Owners
Sport Stars: LeBron James and More of the Richest Athletes Younger Than 40
The Scholarship Concept Could Change
The NCAA's Division III consists of schools that don't offer athletic scholarships. For student-athletes at those schools, the new rule changes could mean the difference between being able to afford college or not. 
"At the Division III level, we're seeing athletes get sponsorships and benefiting from those already," said David Stone, an assistant track and field coach at Elmhurst University. "We are not capable of providing athletic scholarships in this division, so any extra benefits that can be provided to our student-athlete eases the burden of the cost of attendance."
Find Out: How Rich Are These Big-Name NASCAR Drivers?
But cash-flush schools might be able to bend the new rules to offer the equivalent of scholarships dressed up as something else. Stone imagines a scenario where brand-name universities with deep ties to big corporations — like Oregon (Nike) and Arkansas (Tyson/Walmart) — use the rules essentially to deliver scholarships to student-athletes who wouldn't have otherwise received them. 
And where there's money, there will always be a disparity. 
"When you're looking at a sport that has a limit of 12-16 scholarships, a company that can supplement that by providing funds to cover the cost of attendance will provide an advantage that smaller or less-connected schools cannot match," Stone said. "I expect we'll see a larger shift toward the bigger schools increasing the gap on smaller schools."
More From GOBankingRates
Last updated: Sept. 1, 2021
Make Your Money Work for You