Floyd Mayweather's Net Worth, Riches and Controversies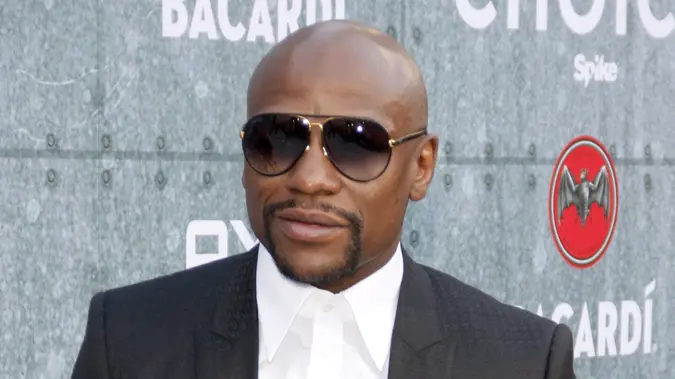 Floyd Mayweather Jr.'s net worth stands at an estimated $560 million thanks to a wildly successful boxing career.
One of the richest and most accomplished athletes of his generation, Mayweather topped Forbes' annual Celebrity 100 list of the world's highest-paid entertainers in June.
The controversial boxer continues to enjoy a lavish lifestyle in retirement. He recently flaunted an $18 million watch on his popular Instagram account, personally dubbing it "The Billionaire Watch."
One of the most acclaimed, controversial, successful and highest-paid athletes of all time, Floyd Mayweather, Jr. is one of just three athletes to earn over $1 billion in his career after a reported $275 million payday for his fight with Conor McGregor in August of 2017. While he remains undefeated as a boxer, rumors are swirling about a potential end to his retirement in the form of one or more MMA fights.
Net worth: $560 million
Age: 41
Primary source of wealth: Boxing
Career highlight: Retired with an undefeated record of 50-0
Here's a closer look at Floyd Mayweather's net worth in the context of his successful career in the ring and controversial personal life.
Click here to read about the dumbest ways Floyd Mayweather and other athletes have wasted millions.
Floyd Mayweather Net Worth: $560 Million
Floyd Mayweather has a net worth of $560 million, according to Celebrity Net Worth. His career earnings as an athlete are estimated to be in excess of $1 billion, which would put him in the hallowed company of just Michael Jordan and Tiger Woods as only the third athlete to reach $1 billion in earnings in their career. Woods and Jordan each have earned about $1.5 billion over the course of their careers.
Make Your Money Work for You
Mayweather most likely entered the elite $1 billion club after his fight with infamous MMA fighter Conor McGregor in August 2017. That fight had a total purse estimated at over $400 million after factoring in the various revenue streams, and Mayweather's share was likely in excess of $275 million. If that's accurate — precise figures on the fight's revenue and the split of the purse aren't released — he will have reached that hallowed $1 billion tier based on the $700 million in estimated career earnings prior to the fight.
That was the second time in his career that Mayweather earned nine figures for a single fight. He collected an estimated $250 million for his 2015 bout with Filipino boxer and politician Manny Pacquiao. He's made at least $40 million on four other fights in his career.
Mayweather also recently topped Forbes' annual Celebrity 100 list, which ranked the world's highest-paid entertainers based on their pretax earnings from June 1, 2017, to June 1, 2018. He earned a reported $285 million during that period, beating out celebrities like George Clooney (No. 2, $239 million), Kylie Jenner (No. 3, $166.5 million) and Cristiano Ronaldo (No. 10, $108 million).
Check Out: These 12 Athletes Agreed to the Most Lucrative Endorsement Deals
Floyd Mayweather Career
Floyd Mayweather is widely considered to be among the best pound-for-pound fighters of all time, having never been defeated in his professional career.
He began boxing as a child under the direction of his father and uncle, who were both successful professional boxers. By the time he turned pro in 1996, he had already won an Olympic bronze medal and three national Golden Gloves titles.
Make Your Money Work for You
With a record of 50-0, Floyd Mayweather has never lost a professional bout. Twenty-seven of his 50 wins have been by knockout, and he's boxed some 397 rounds over the course of his 21-year professional career. His win over Conor McGregor allowed him to pass a notable milestone: The career record of legendary undefeated heavyweight champion Rocky Marciano, who retired at 49-0 in 1955.
Floyd Mayweather vs. Conor McGregor
The McGregor fight is by far Mayweather's biggest payday in addition to being the highest-grossing boxing match of all time and the second-most ordered pay-per-view event in history. It drew 4.3 million pay-per-view purchases, which was 300,000 orders short of the record held by the Mayweather-Pacquiao fight. That fight ended up grossing over $600 million — including $72 million in live gate sales to just $55.4 million for the McGregor fight — and Mayweather's share came out to an estimated $250 million.
The McGregor fight might also mark the beginning of a new chapter in Mayweather's career as rumors continue to swirl about the boxer potentially coming out of retirement to pursue a career as an MMA fighter. Mayweather told ESPN in April 2018 that if he comes out of retirement, it would be for an MMA fight and not a boxing match. He's also told TMZ that he's serious about plans to make the transition, training with UFC welterweight champion Tyron Woodley. What's more, UFC President Dana White has confirmed that they're in negotiations, and Mayweather has applied for an MMA license.
Floyd Mayweather Personal Life
Floyd Mayweather is known as much for his flashy spending and lavish lifestyle as his unprecedented boxing career. His fans and detractors follow his exploits through his Instagram account, where he routinely shares photos of jets, boats, mansions and — most frequently — stacks of cash.
Make Your Money Work for You
Among his inventory of high-end vehicles is a fleet of all-white luxury cars, a fleet of all-black luxury cars, a $1.7 million Bugatti Veyron and a $4.8 million Koenigsegg CCXR Trevita.
Mayweather made headlines again when he bought a diamond-encrusted watch, which he dubbed "The Billionaire Watch," for an astonishing $18 million in June of 2018.

But with lavish spending comes consequences. In July 2017, news broke that Mayweather owed more than $30 million in unpaid taxes to the IRS. Records showed that he owed $7.2 million from 2010 and another $22.2 million from 2015. Mayweather responded by paying an initial $3.3 million — resulting in the IRS releasing his tax lien — and then making a reported agreement to use his earnings from the McGregor fight to pay the remaining $29 million he still owed.
Floyd Mayweather Family and Controversy
Mayweather was in the news again in May of 2018 after the founders of cryptocurrency company Centra Tech — which used an initial coin offering (ICO) to raise $32 million selling its own cryptocurrency in October of 2017 — were found guilty of attempting to defraud investors. Prior to the ICO, Floyd Mayweather was one of the celebrities who had endorsed Centra Tech, stating in a now-deleted Instagram post that he was using the company's products.
Floyd Mayweather has a long history of legal trouble and personal instability similar to that which plagued his parents during his childhood. In December 2011, he was sentenced to 90 days in jail for domestic violence and harassment stemming from an incident with ex-girlfriend Josie Harris, who is the mother of three of Mayweather's four children. One particularly chilling piece of evidence was a handwritten letter to police from Mayweather's then 10-year-old son, Koraun Mayweather, who witnessed the assault.
Make Your Money Work for You
Mayweather has been arrested multiple times for incidents involving violence and battery. When former UFC champion Ronda Rousey — who was publicly feuding with Mayweather at the time — won Best Fighter at the 2015 ESPYs, Rousey said in a TMZ Sports interview, "I wonder how Floyd feels being beat by a woman for once."
Aside from Koraun, Mayweather's other children are Iyanna Mayweather, Jirah Mayweather and Zion Mayweather.
Click through to read about the slippery slope that led these celebrities from riches to rags.
More on Sports
Andrew Lisa and Chris Jennings contributed to the reporting for this article.