7 Highest-Paid Baseball All-Stars, From Clayton Kershaw to Ryan Howard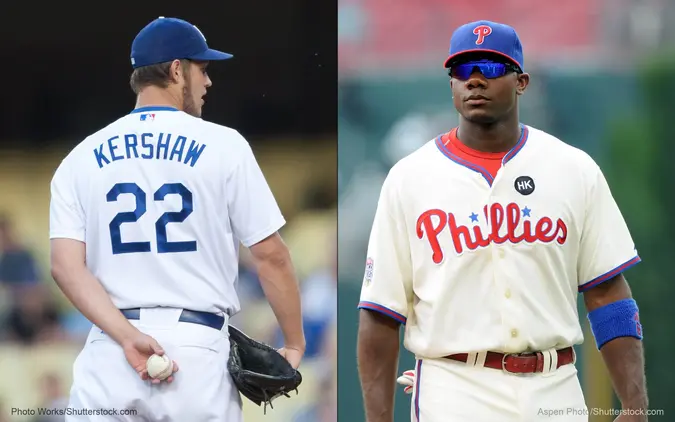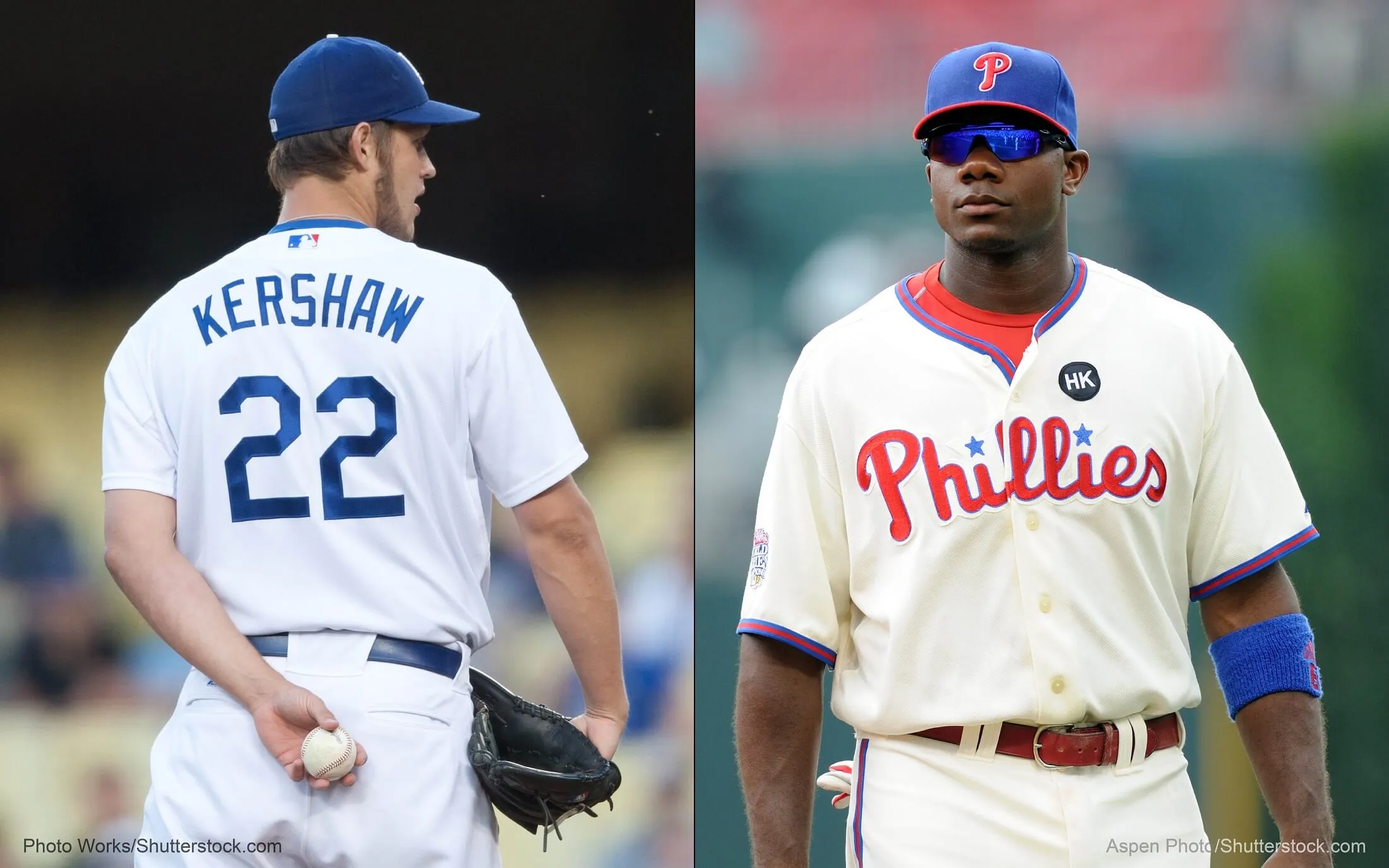 Major League Baseball contracts come with a lot of money, with some MLB salaries running in the tens of millions. With the MLB All-Star game coming up in July, get a look at some of the top-earning baseball players on the field.
Find Out: Most Expensive and Cheapest Stadiums for MLB Games
7. Clayton Kershaw Net Worth: $25 Million
Clayton Kershaw, the 28-year-old pitcher for the Los Angeles Dodgers, has a net worth of $25 million. In his brief career, Kershaw has won numerous awards, including The Gold Glove, Cy Young, Triple Crown and Roberto Clemente Award. Between 2011 and 2015, Kershaw was an All-Star for the Dodgers.
Kershaw once commanded a $4 million salary for the Dodgers, and in 2015 he earned $30 million, reported Spotrac, a sports team and player contract resource. In 2016, he'll earn $32 million, with a bump to $33 million in 2017 and 2018. His salary is due to a seven-year, $215 million deal he signed with the Dodgers.
In 2015, Clayton Kershaw broke the record for 300 strikeouts in a single season, the first pitcher to pick up the record since 2002. Here's a look at his 300th strikeout:
6. Jon Lester Net Worth: $30 Million
This year, Jon Lester will see a $20 million salary for the MLB season, a modest $5 million bump from last year's earnings. The six-year, $155 million deal he signed with the Chicago Cubs will carry him through to 2021, according to Spotrac.
Lester's previous contract with the Red Sox in 2014 paid out a little over $10.5 million. As of June 2016, he's amassed 1,763 strikeouts with a 136-82 win-loss ratio. In 2010, 2011 and 2014, he was an All-Star for Boston. Jon Lester's net worth is $30 million.
Make Your Money Work for You
5. Cliff Lee Net Worth: $50 Million
Cliff Lee has had a lucrative career as a pitcher, playing for the Cleveland Indians, Seattle Mariners, Texas Rangers and, most recently, as starting pitcher for the Philadelphia Phillies. The 37 year old made his debut with the Indians and has gone on to win numerous accolades, including the Cy Young Award in 2008. He has played in the All-Stars for Cleveland, Texas and Philadelphia.
Cliff Lee's net worth is estimated at $50 million.
4. Robinson Cano Net Worth: $50 Million
Seattle Mariners second baseman Robinson Cano has a net worth of $50 million and a base salary of $24 million, according to celebrity finance source Celebrity Net Worth. The Dominican-American MLB star made his debut as a New York Yankee in 2005 and made his name over the years by winning numerous accolades.
Cano is a World Series champion and six-time All-Star. In 2016, Cano reportedly earned $24.7 million, reported Forbes.
3. Zack Greinke Net Worth: $60 Million
Pitcher Zack Greinke plays for the Arizona Diamondbacks, having previously pitched for the Dodgers and Kansas City Royals, among others. Greinke is a three-time All-Star.
In 2015, he signed a six-year, $206.5 million contract with the Arizona Diamondbacks, reported Spotrac. He has the distinction of winning one of MLB's most coveted awards for a pitcher: the Cy Young Award in 2009. Zack Greinke's net worth is $60 million.
2. Justin Verlander Net Worth: $60 Million
Just what is the "Versexy?" It's the unique, four-seam fastball pitching style of longtime Detroit Tigers Justin Verlander. Forbes reported the right-handed pitcher signed a seven-year, $180 million contract in 2013 with the Tigers.
Make Your Money Work for You
Justin Verlander's net worth is $60 million. Pitching a no-hitter in his second professional season, and with a career that's amassed 164 wins, Verlander is easily among the highest-paid baseball players. He's also a six-time All-Star with Detroit.
1. Ryan Howard Net Worth: $60 Million
Philadelphia Phillies first baseman Ryan Howard ties with Justin Verlander for the highest-paid baseball player on this list. With a net worth of $60 million, the career Phillie began his stint on the team in 2004, where he showed strong rookie promise, hitting 48 home runs and earning numerous league awards over the following years.
Howard signed a five-year, $125 million contract with the Phillies, earning him an average salary of $25 million. Howard maintains numerous endorsement deals with names like Subway, Powerade, Adidas and Verizon. He was an All-Star for Philadelphia in 2006, 2009 and 2010.
All net worth figures are according to CelebrityNetWorth.com unless otherwise noted.
Paul Sisolak contributed to this article.