How Much Are Super Bowl Coaches Sean McVay and Zac Taylor Worth?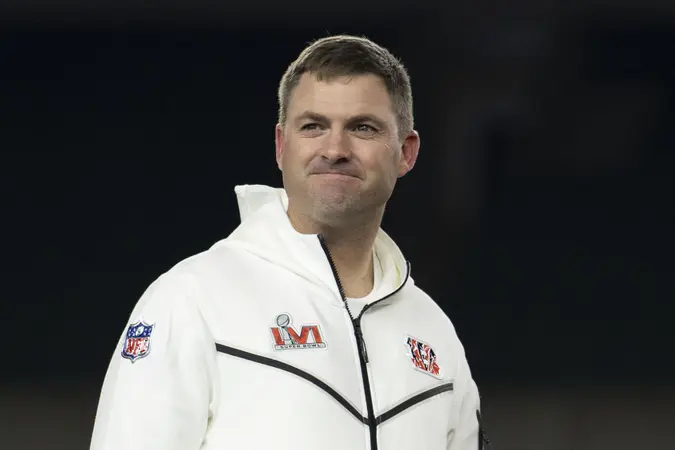 Jeff Dean/AP/Shutterstock / Jeff Dean/AP/Shutterstock
As with every big game, Super Bowl LVI has plenty of intriguing stories and subplots. Among the most interesting is the chess match that will occur on the sidelines between Sean McVay of the Los Angeles Rams and Zac Taylor of the Cincinnati Bengals, who are the two youngest coaches in the NFL.
The two know each other well. McVay hired Taylor on his staff in 2017 as an assistant wide receivers coach and promoted him to quarterbacks coach the following season.
Related: How Much Are the Owners of the Rams and Bengals Worth?
Also See: Who Are the Richest Quarterbacks in 2022?
McVay, 36, and Taylor, 38, are at the top of the sport right now and are being handsomely compensated for it. While the salaries of coaches rarely are announced, it is believed only a handful of coaches earn more than McVay; and, with Taylor due a contract extension, a hefty raise should be forthcoming.
Make Your Money Work for You
With years of coaching ahead of them, their earning potential is huge. But just how much are Sean McVay and Zac Taylor worth today?
Sean McVay, Rams' coach
Reported net worth: $3 million to $7 million
It was five years ago — Jan. 12, 2017 — that the Rams made history with the hiring of McVay as their coach. Just 12 days shy of his 31st birthday, McVay became the youngest head coach ever in the NFL. He had spent the previous three seasons as the offensive coordinator of the Washington franchise, and the task ahead of him was huge: Turn around a team that hadn't had a winning season since 2003.
While contract terms weren't announced, it was believed McVay was the lowest-paid coach in the league at the time. And the job came with some of the highest expectations.
"We are confident in his vision to make this team a consistent winner and we will all continue to work together to achieve our ultimate goal — bringing a Rams Super Bowl championship home to Los Angeles," team owner Stan Kroenke said at the time.
Make Your Money Work for You
From the Top: Jerry Jones, Robert Kraft and 23 More of the Richest NFL Owners
McVay is almost there. In his five seasons in Los Angeles, the Rams have been to the playoffs four times. They advanced to the Super Bowl following the 2018 season — losing 13-3 in Super Bowl LIII to the New England Patriots — but have a chance to erase that memory on Sunday against the Bengals.
Recognizing the impact McVay has had on the franchise, the Rams signed him to a contract extension through the 2023 season. Again, financial terms were not disclosed, but NFL.com said the new deal was "expected to put McVay in the upper echelon of NFL head coaches in terms of compensation."
NBC Sports pegs McVay's salary at $8.5 million a year.
Zac Taylor, Bengals' coach
Reported net worth: $2 million to $5 million
It has been a meteoric rise for Taylor, from assistant wide receivers coach to head coach in just five years. When the Bengals hired him on Feb. 4, 2019, he took over a team coming off three straight losing seasons. The franchise hadn't won a playoff game since the 1990 season.
Make Your Money Work for You
Bengals ownership didn't set as high of expectations for Taylor as the Rams did for McVay.
"Zac is a bright coach with an offensive mind and background, which is important to have in today's NFL," owner Mike Brown said at the time. "And he's young. He embraces new ideas and new ways to do things, which will be a good thing for us. I believe our team will be exciting and fun to watch with him at the helm."
Bengals fans couldn't be more excited for Super Bowl LVI. And with a dynamic young quarterback/wide receiver combination in Joe Burrow and Ja'Marr Chase, it could be just the beginning of deep runs in the playoffs for the franchise.
Taylor signed a three-year contract when he was hired; but, after a 6-25-1 record in his first two seasons, a fourth season wasn't guaranteed. NBC Sports said the contract was worth $4.5 million annually.
A contract extension undoubtedly will be a first priority for the Bengals after the Super Bowl — win or lose.
More From GOBankingRates
Make Your Money Work for You