How Much You Need To Earn To Be as Rich as Aaron Rodgers, Megan Rapinoe and Other Famous US Athletes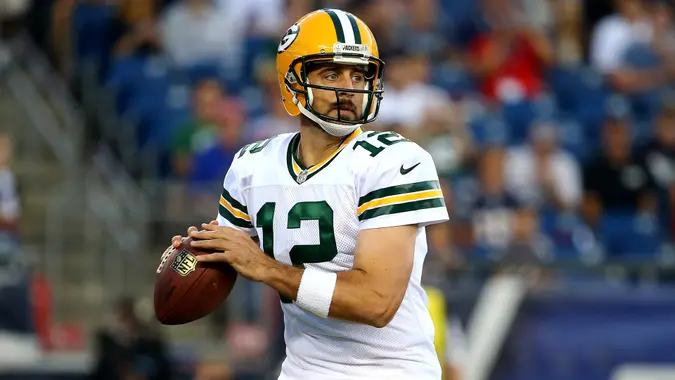 Maddie Meyer / Getty Images
Wondering what it takes to achieve the high-roller swank that defines the daily lives of America's greatest athletes? GOBankingRates examined the net worths, salaries and high-profit side hustles that allow the biggest names in sports to live lives of wealth and splendor. The results shed light on the finances of the top dogs from a variety of sports, how they got there, and what you would need to do to land the same station in life. 
Find Out: Which Athletes Earn the Most Per Hour?
Ouch: Injuries Cost These 13 Athletes a Fortune
Megan Rapinoe Net Worth: $3 Million
If you're a girl or a woman who wants to be rich like soccer great Megan Rapinoe, all you have to do is be so good that they have to pay you what you're worth. Starting with Mia Hamm in the earliest days in the Women's World Cup, soccer was one of the only sports in America where women were more famous and more celebrated than their male counterparts. But their salaries rarely reflected that reality — until recently.
Make Your Money Work for You
Rapinoe is known for her activism as much as for the magic in her feet, and when she and her teammates sued the United States Soccer Federation (USSF) for higher wages in 2019, the world was shocked to learn that if they wanted equal salaries, the women would have to take a pay cut. According to the Boston Herald, the Women's National Team earned more than men both in total and per game. The female plaintiffs were earning $11,356 to $17,416 per game compared to $10,360 to $13,964 four the four highest-paid males.
It also helps to be highly visible and marketable. According to the International Business Times, Rapinoe rakes in hundreds of thousands per year from lucrative endorsement deals with brands like Nike, Samsung, Smirnoff, BodyArmor, Hulu and Vitamin Water.
Most recently, she stoked controversy when she became a brand ambassador with Victoria's Secret.
Learn More: How Rich are Michael Jordan, Alex Rodriguez And 13 More Incredibly Wealthy Retired Athletes?
Candace Parker Net Worth: $5 Million
Candace Parker was a legend of Tennessee, the Final Four and NCAA athletics, in general, when the Sparks picked her No. 1 overall in the 2008 WNBA draft. Although her extraordinary career is winding down now, it's winding down in style. The Chicago Sky are paying her $190,000 this year and $195,000 next year as part of a two-year $385,000 contract, according to Spotrac. That's a big pay bump from her former contract with the Sparks, which ran from 2016-2020 and paid her $577,500 over five years for an average salary of $115,000.
Make Your Money Work for You
Her $5 million net worth includes money that her husband brought into the marriage — and that's quite a bit, considering he's former NBA star Shelden Williams. After six years in the league spread between six different teams, Williams earned $11,813,949 in salary.
See: The True Heirs to Air: Athletes Earnings Most of Their Cash From Endorsements
Aaron Rodgers Net Worth: $120 Million
Aaron Rodgers has been in the news for all the wrong reasons lately — mostly COVID and his sore toes — but behind the tabloid drama, he's engineering yet another impressive season at Lambeau Field. Are you strategizing to rake in nine figures like the now-controversial Green Bay great? First, throw 300 passing TDs in your first 144 games to break the all-time record, then earn the highest passer rating in NFL history.
Once you do that, just pay HR a visit and let them know you'd like to make an hourly wage of $2,471 every hour all year round. But keep in mind that it's not just the four-year, $134 million contract that puts food on Aaron Rodgers' table. According to Forbes, he also earns $9 million a year in endorsements — that combination landed him $31.1 million in 2020 alone.
Make Your Money Work for You
On top of that, Rodgers is a cross-sport earner, buying a minority stake in the Milwaukee Bucks in 2018. One year later in 2019, he started a $50 million venture and growth-stage fund with Roth Capital.
Read: Lessons To Live By From These 13 Rags-to-Riches Athletes
Tom Brady Net Worth: $250 Million
So, you want to live large like Super Bowl machine and apparent fountain-of-youth discoverer Tom Brady? Start by telling your boss that you'd like to be paid $2,854 an hour, every hour, all year long — that's the wage that history's greatest quarterback commands.
The $76 million he earned in 2021 was enough to land him a spot in the Forbes list of the top 10 highest-paid athletes — not just football players — in the world. He earned $45 million of that on the field and another $31 million from endorsement deals with companies like Under Armour and T-Mobile. An aggressive entrepreneur, the QB GOAT owns a lifestyle brand called TB12, an NFT company called Autograph and a media company cheekily called 199 Productions — for context, the underrated Brady was drafted with the No. 199 pick in the 2000 draft.
Find Out: Famous Athletes Who Got Rich for Something Other Than Sports
LeBron James Net Worth: $500 Million
If you want to get your hands on a fortune worth a half-billion dollars like King James, all you have to do is earn $3,931 an hour — every single hour of the year — in salary alone. The NBA will pay James $41.2 million for the upcoming 2021-22 season, according to Forbes. Tack on another $70 million, which Forbes reports as the haul from the King's off-court ventures, and LeBron crushes basketball's annual earnings record with income of $111.2 million in a single year.
The previous record was $96.5 million, which LeBron set last year. That makes the King the first NBA baller to cross into nine-figure territory on a single year's income. His portfolio, which is the envy of the league, includes AT&T, Nike, GMC, PepsiCo, Walmart and Beats Electronics. He also owns his own media company and his own production company.
More From GOBankingRates
All net worth information comes from CelebrityNetWorth.com and all hourly pay statistics come from internal research from GOBankingRates.
Make Your Money Work for You