How To Invest In Your Favorite Athletes' Careers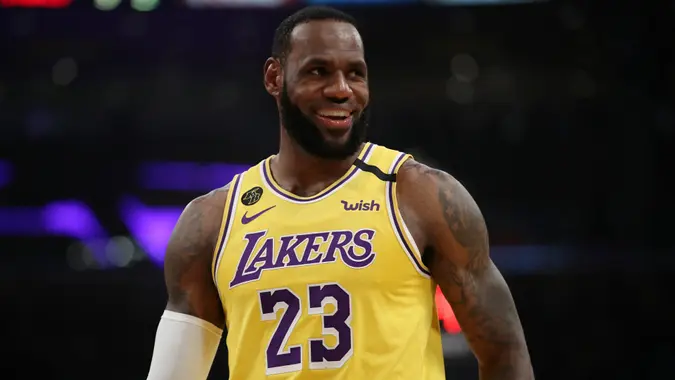 Katelyn Mulcahy / Getty Images
Fans have many ways to show their allegiance, from cheering at games to wearing apparel to flying flags and sporting bumper stickers.
Take a Look: How Rich are Michael Jordan, Alex Rodriguez And 13 More Incredibly Wealthy Retired Athletes?Rank: The Richest Athletes in the World
But just as some fans are more passionate than others, there are ways to take your devotion to another level.
From buying products (or shares of a company) that an athlete endorses to more direct support, such as investing in the Name, Image and Likeness (NIL) of a college athlete, fans who want to back up their support with cold, hard cash can do that.
Some athletes such as LeBron James have their own companies that the public can invest in, and there are firms being launched that would allow fans to buy shares of a company and get a portion of the money generated by the athletes it signs.
Learn More: Most Successful Athlete From Every Decade
Dedicated devotees can even become shareholders of the Green Bay Packers if they truly want to be part of the team.
Let's take a look at some of the many ways fans can put money where their mouths are.
Make Your Money Work for You
Backing an Athlete's Endorsers
From obvious candidates — Nike, Gatorade, etc. — to firms you might not think of right away, such as Tag Heuer or Bridgestone tires, companies spend big bucks to get athletes' endorsements. An easy way to show your loyalty to your favorite athlete is by buying the products he or she shills for. You're buying his or her brand.
To find a list of your favorite athlete's endorsers, you can do an easy internet search. GOBankingRates compiled 24 superstars who make most of their money from endorsements. For instance, LeBron has deals with Nike, Coca-Cola, 2K Sports, GMC, AT&T and more. He made $111.2 million last year, and around $70 million of that is from endorsements.
Investing In Name, Image and Likeness
This is closely related to supporting an athlete's endorsers, but it's more specific to college. As of July 1, college athletes can profit off their name, image and likeness. This means an athlete can make money for appearing in a video game such as EA Sports' NCAA Football, or a volleyball player can sell promotions based on her TikTok followers.
Make Your Money Work for You
Division I college athletes could make up to $1.5 billion in earnings in 2021, Opendorse estimates.
So one way to invest in your favorite college athlete is to support the local business he or she is endorsing. Another way would be, if you own a local business, to sign your favorite athlete to a deal. Deals with many college athletes are far more reasonable than trying to sign Tom Brady.
Buy Shares in an Athlete's Company
More and more athletes are forming companies to accomplish their business goals. LeBron James owns a media company named SpringHill Company, which might get significant investments from Nike, among other companies. Since Nike is publicly traded, that's another avenue for you to support the basketball great.
Venus and Serena Williams have clothing lines, Kevin Durant owns a media company and Tony Hawk has a skateboarding line.
Buy Shares in an Athlete
This is one of the newest ways to support your favorite athlete, but it's not necessarily going to help you to invest in big-name stars such as James Harden.
Firms such as Evolution Development Group Inc., a sports management company, allow investors to buy in to the company. The firm provides young pro athletes with support, paying for travel and other expenses, and in exchange, investors can receive 5% of an athlete's earnings.
Make Your Money Work for You
This provides a way to invest in what the firm hopes are up-and-coming young pro stars. EVO is focusing on athletes just turning pro or working through the minor leagues in motorsports, boxing, golf and tennis.
Become Part of the Team Ownership
You can't just buy into the Dallas Cowboys — Jerry Jones probably won't be letting go of that franchise any time soon. But you can become an investor in the Green Bay Packers, the only publicly owned NFL franchise.
For $250, you can buy a share of the Packers. It pays no dividends and there are no earnings, but the chance to be a part-owner is irresistible for many.
More From GOBankingRates