How Much Bigger Will Lebron James' Bank Account Be If He Wins a 2nd NBA Championship?
How much more could we see Lebron James' savings grow?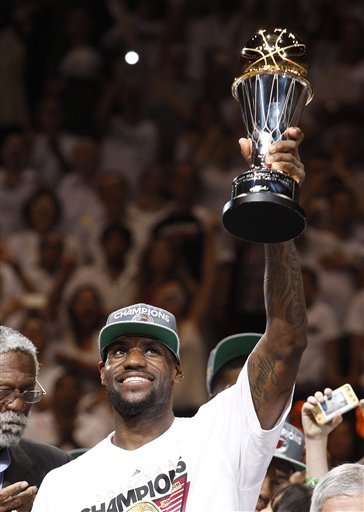 Millions of pro basketball fans around the world are tuning into this year's NBA playoffs, eager to find out which team will emerge as the winner of the NBA Finals 2013. Some have speculated since last year that the Miami Heat will win a trophy for the second year in a row. Of course, in a league featuring so much great talent, nothing is promised.
But let's suppose that the Miami Heat does pull off another impressive win. How much bigger will the already massive bank account of Lebron James be if he wins a 2nd NBA title?
Lebron James Net Worth and Salary
Lebron James has been a fixture in the NBA over his nine-year career. In fact, many sports experts proclaim self-titled "King James" the "greatest player on the planet." Some argue against this proclamation while others say he clearly lives up to the hype with stats as rock solid as his imposing and often menacing physique.
Despite the struggles Lebron faced with the Cleveland Cavaliers in winning a championship, he's won league MVP four times along with his first of (possibly) several NBA championship trophies in the 2011-2012 season.
One thing's for sure — Lebron James' income matches his bigger-than-life reputation.
As of the 2012-2013 NBA season, Lebron's salary was set at $17.5 million. Raking in millions in endorsements, the Lebron James net worth is estimated upwards of $90 million.
But surprisingly, despite Lebron's reputation as a top player, he is not the highest on the list of most paid athletes in terms of salary.
According to ESPN, his 2012-2013 salary lands at #13 (tied with Chris Bosh) and falls behind big names like Kobe Bryant ($27.8 million), Dirk Nowitzki ($20.9 million) and Carmelo Anthony ($19.4 million) thanks to the pay cut he took when he joined the Miami Heat.
If his team is able to pull off another impressive win, how much more could we see Lebron James' savings grow?
What a Miami Heat Championship Ring Means for Lebron James' Bank Account
It's obvious what a win would mean to Lebron James emotionally. But how could a win impact his bank accounts? Let's take a look at the financial impact of winning an NBA title.
2013 NBA Championship Prize Money
Determining the bonus payout for players who win an NBA championship can be a bit tricky. Unlike other sports tournaments like the PGA Masters with pots that are easy to calculate, NBA championship prize money varies and must be split among players and staff.
According to NBA.com, the NBA playoff pool in 2012 was $13 million. It appears that this number remained the same for the 2013 NBA playoffs.
When broken down per category, let's take a look at how the Miami Heat would fair if the team went all the way:
Teams with best record in its conference: $328,078
Team with best record overall: $347,947
Teams participating in the first round: $194,016
Teams participating in the second round (Conference Semifinals): $230,853
Teams participating in third round (Conference Finals): $381,482
Winning team in NBA Finals: $2,302,232
Total Team NBA Championship Winnings: $3,784,608
Of course, Lebron James is not entitled to the entire pot. The winnings are typically divided among the team's 15 players, along with team staff members who work closely with the players.
Let's just suppose that the team members and top executives, limited partners, vice presidents, coaching and medical staff split the winnings evenly (not likely, but for math purposes, why not?). With 72 people to split the winnings between, Lebron would be looking at a boosted income of $52,564.
Of course, with the likelihood of a Lebron James MVP trophy for the Finals, he'd probably be paid much more. But we'll still keep it at an even cut for simplicity.
Lebron James Endorsement Deals
While Lebron's salary may not be the largest in the league, his endorsement deals are undoubtedly making up the difference.
Bob Dorfman of Baker Street Advertising in San Francisco shared in a 2012 Forbes Magazine article that Lebron James endorsement deals, including Nike, McDonald's and State Farm have resulted in a whopping $40 million annually for the superstar athlete.
He was already ranked first among team sport players on Forbes' 2012 list of highest-earning athletes. With another league MVP this year and potential for a second finals MVP and championship, he could easily rake in millions more in endorsements.
Miami Heat Championship Ring
Championship rings vary in value from team to team, but can be extremely expensive, to say the least.
When the Dallas Mavericks won the NBA title in 2011, owner Mark Cuban reportedly paid for the nicest championship rings ever made. Packed with diamonds from top to bottom, each ring was estimated at $150,000 – $200,000.
There are no official estimates available for the worth of the 2012 Miami Heat championship ring. However, it's made of 14k white and yellow gold with a whopping 219 diamonds and three Onyx stones. Another ring in 2013 would undoubtedly add a minimum of tens of thousands to Lebron James' net worth.
Lebron James Salary 2013-2014
It's hard to say what the Lebron James salary will be in the 2013-2014 season, but he has argued that his monetary value to the NBA is worth far more than what he's earning. In fact, he's argued that his worth is more than the league's current salary caps (gulp!).
"What I do on the floor shows my value. At the end of the day, I don't think my value on the floor can really be compensated for, anyways, because of the (collective bargaining agreement)," James said ahead of a game against the Indiana Pacers in February 2013.
While maybe not the humblest of statements, some would argue that his pay should be higher. Should he help bring home another NBA championship for the Miami Heat, maybe the team's executives will make some salary adjustments to give Lebron his wish (in all honesty, they probably still will).
But while still working on completing this season, he's certainly not hurting for money. And if he wins a second championship this year, he's likely to rake in another $50 million during his 10th season. Not bad!
Image: nmalbaugh.blogspot.com